Profile of Château Coutet
Château Coutet is one of the oldest estates in the Sauternes wine country, with a history that dates back to the 13th century. Indeed, visitors to the Château will be shown the thirteenth-century tower and fourteenth-century chapel, a reminder of its long and varied life. Few other properties in the Barsac appellation of Bordeaux can offer such an interesting history or make such fabulous wines! The estate even acted as a military center in the 100 Years War. How many wineries today could make that claim?
The documented history of the Château began in 1643 when the estate was brought by an infamous politician, Charles de Guerin. Then in 1788, Coutet was purchased by Gabriel Barthelemy Romain de Filhot, who also owned Filhot. The poor man only had another five years to enjoy his properties, as he was guillotined during the French Revolution. The Château would change hands several times again before being brought in 1977 by the present owners, the Baly family of Strasbourg. Today, Philippe Baly is the ever-effusive face of Coutet, welcoming wine lovers to the property with a broad smile, alongside his charming niece Aline, recently returned from the States and famed for her warm hospitality.
Not only is the Château a beautiful and captivating place to visit, but it is also renowned as a top producer in the region. Their vineyards in Barsac, which are unaltered in location and extent since 1855, surround the Château. The terroir is complex, with a mixture of silt, fine gravel, and sand in the soil. The lucky ones who have tasted the wines speak of vanilla, honey, and cinnamon aromas – a fine wine indeed. If the region needs an ambassador to the world for the quality of its dessert wines, then it knows where to look!
Wines produced
Château Coutet (Grand Vin) (Sweet White Wine)

75% Semillon, 23% Sauvignon Blanc, 2% Muscadelle, 16 months in new French oak (50%).

Chartreuse de Coutet (second wine of the property) (Sweet White Wine)

75% Semillon, 23% Sauvignon Blanc, 2% Muscadelle, 50% of the harvest is bottled as the second wine. Less concentration and power than the first wine.

Cuvée Madame (Prestige wine of the property)(Sweet White Wine)

75% Semillon, 23% Sauvignon Blanc, 2% Muscadelle, 3 Years in new French oak (50%).
Winery details
Barsac
33720 Bordeaux
France
Tel +33 556 27 15 46
Fax +33 556 27 02 20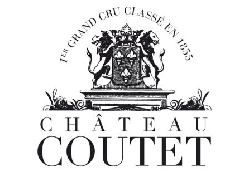 Appellation

AOC Barsac-Sauternes / First Growth

Founded

1643

Area under vine

38 ha

Age of vines

35 years+

Oak barrel origin

French
Winemaker

Laurier Girardot

Owner

Philippe and Dominique Baly

Production

80,000 bottles