Fans of the film Under the Tuscan Sun will find Cortona instantly recognizable. Large parts of that great movie – based on a book by Frances Mayes – were shot in the majestic landscape surrounding the town. Locals like to joke that rooms with a view are the rule rather than the exception in this spectacularly situated hill-top town. Below you is the Val di Chiana, a broad green valley that stretches south from Arezzo into the province of Siena, punctuated by gently rolling hills, orchards, and olive groves. Little wonder then, that the great artist Fra' Angelico lived and worked in Cortona in the 14th century, while fellow artists Luca Signorelli and Pietro da Cortona were born within its walls.
History
Cortona's history is long and complicated. It was initially known as Curtun, a settlement which belonged to the neighboring region of Umbria. However, as the Etruscans rose to power in central Italy, a decision was made to join the Etruscan League in the 7th century BC. At the height of their power, the Etruscans were a mighty civilization, the Godfathers of Tuscany's wine industry. Of course, with power and influence comes rivalry and jealously; neighboring Rome set its sights on conquering the Etruscan territory, and war soon broke out. In 265 BC, Etruria fell to Rome – Cortona eventually became a Roman colony under the name Corito. Yet, its citizens continued to resist Roman rule fiercely. They conspired with the Carthaginian ruler Hannibal against Rome during the Punic Wars. It was not until 88BC that the constant civil disobedience was curtailed when Rome granted the province of Tuscia autonomy.
However, Cortona's prosperity was not to last. During The Gothic War between the Byzantine Empire during the reign of Emperor Justinian I and the Ostrogothic Kingdom of Italy (535-554), Cortona was sacked and destroyed. Little is known about the settlement after this period. In essence, the Roman Empire was overrun by tribes from northern Europe in the 5th century AD, allowing the Lombards to assume control of Tuscany for over two centuries. However, in 773, the emperor Charlemagne conquered much of Western and Central Europe, including Tuscany, Emilia, Venice, and Corsica. After that, civil wars raged across Tuscany for many centuries between rival houses vying for power.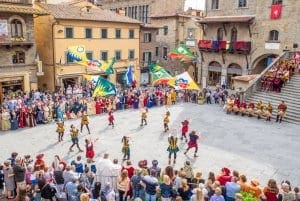 Middle Ages
By the 13th century, Tuscans wanted to change. Farmers and merchants needed peaceful piazzas to conduct their business, and the populace at large began to entertain hopes of actually living past the age of 40. Sadly, it was not to come. Tuscans had to endure a hellish succession of famine, economic collapse, plague, war, and tyranny throughout the 14th century. Approximately two-thirds of the population was lost in cities across Tuscany in the bubonic-plague outbreak of 1348, which ravaged the region for decades.
Yet out of the ashes rose the Renaissance, a time of great art and great tyrants. The balance of power in Tuscany became a casualty of the plague in the 14th century; political control was left to those who survived. Powerful families assumed control of city councils – everyone, including Cortona, had to take sides. The Rome-backed Guelphs and imperial Ghilbellines, loyalists of the Holy Roman Empire, were the two leading contenders. Cortona became a Ghibellinian city-state with its currency, ruled by the Ranieri-Casali family between 1325 to 1408.
However, in 1409 the Ladislaus dynasty conquered Cortona, selling the town to the Medicis in 1411. The Medici family patronaged and supported the Renaissance artists more than any other Tuscan family in history. Cosimo the Elder (1389-1464) managed to finagle a rare 25-year stretch of relative peace for Florence. His successor, Lorenzo de' Medici, was a legendary supporter of the arts and humanities, providing crucial early recognition and support for Leonardo di Vinci, Sandro Botticelli, and Michelangelo, among others.
The Medici dynasty ruled Tuscany until the 18th century – Maria Theresa of Austria installed her husband Francis as the grand duke of Tuscany in 1737. Her legacy in Italy was considerable. Mother of 16 children – including Marie Antoinette – Theresa kept local potentates in check. She pushed through reforms that banned witch-burning and torture while simultaneously establishing mandatory education and allowing Italian peasants to keep a modest share of their crops. Cortona, meanwhile, came under the authority of the House of Lorraine.
Sadly, in 1796 Italy was besieged by rival factions desperately attempting to seize control, including Napoleon, the Habsburgs, and their Russian allies. Much of the priceless cultural patrimony was divided up as the spoils of war. Napoleon Bonaparte took over swaths of Tuscany in 1779, yet he could not maintain his iron grip, finally losing the region to Grand Duke Ferdinando III in 1814.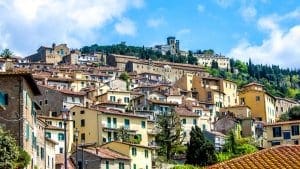 Modern Times
Nevertheless, the rest of the 19th century was no walk in the park for many Tuscans. During 1848 and 1849, a revolution broke out, and a radical government was temporarily installed in France. Nervous that the Austrians would invade, conservative Florentine leaders invited the Habsburg king Leopold II to return as archduke of Tuscany. However, rural unrest mixed with brutal repression galvanized nationalist sentiments in the region, culminating in creating an inaugural united nation-state. In 1871 Rome was proclaimed the capital of a newly unified Italy.
The 20th century would see Italy enter Two World Wars, mass strikes, social uprisings, and sweeping reforms in working and living conditions. In 1921 Mussolini formed the Fascist Party, with many Tuscans supporting his endeavors. The 1924 elections were 'overseen' by Fascist paramilitary groups, and the Fascists, unsurprisingly, won a parliamentary majority. In 1940 the Fascist Italian Empire joined Germany in declaring war on Great Britain and France. Yet Italy surrendered in 1943, although Mussolini refused to capitulate, and the fighting continued.
Nevertheless, the Italian Resistance joined the Allies against Mussolini, and the Nazis were eventually driven out of Tuscany, doing much damage as they left. When civil warfare ended in 1945, a temporary coalition government was formed. A referendum in 1946 voted overwhelmingly to make Italy a republic. Subsequently, the 1970s saw much social change: divorce and abortion became legal, and legalization was passed, allowing women to keep their names after marriage.
Cortona today, a town where the architecture soars, as do the souls of many of its visitors. Effectively a giant, open-air museum celebrating the best of the Tuscan landscape, culture, and gastronomy. Cortona is a feast for the senses and an essential stop on every Tuscan itinerary.
Gastronomy & Wine
There are plenty of dining options – considering its small size – in Cortona, ranging from bakeries, enoteche (wine bars), and cafes popular with locals to more formal, grandiose restaurants offering spectacular views. Yet what all of these share is strict adherence to regional cuisine. Tuscans, particularly in rural towns, do not willingly embrace the avant-garde in gastronomic terms.
Indeed, you'll hear the phrase "seasonal produce" a lot during your vacation in Tuscany, a cliché perhaps, but nonetheless an established and major part of the local culinary philosophy. Witness a perfectly cooked bistecca alla Fiorentina (chargrilled T-bone steak), pasta covered with white truffle shavings, and finocchiona (fennel-spiced sausage), served with roasted chard (when in season) and delicious rosemary potatoes. The Val di Chiana is the best place in Italy – some might say Europe – to sample beef, as the Chianina cows, one of the oldest breeds in Europe, are found abundantly. So too is all variety of apples and olives, in addition to tomatoes, wild fennel, black celery, red onions, artichokes, zucchini flowers, and black cabbage. Game and wild boar feature heavily when in season – pulses are available year-round and are a staple of many local dishes, including ribollita (a 'reboiled' bean, vegetable, and bread soup with black cabbage that is left to sit a day before being served).
While you wait, why not sample a glass or two of Tuscany wine? Chianti is usually what springs to mind, yet there is far more to this vine-rich region than the admittedly splendid, Sangiovese-based wines of that powerhouse region situated between Florence and Siena. We've fallen in love with Super Tuscans – their history is fascinating. In the 1960s, a revolution started to stir, as conscientious winemakers were increasingly sick of Chianti and Tuscan wine's falling reputation in general. The true Godfather of Super-Tuscans was Piero Antinori, who established what would become the first wine produced in the Chianti Zone that could not be classified as Chianti. The Antinori family had been producing wine in Tuscany since the fourteenth century, and after 26 generations of winemakers, Piero Antinori decided to modify the formula. Antinori's Tignanello wine, first released in 1971, incorporated small quantities of Cabernet Sauvignon, aged in French oak. It rapidly became a massive critical and consumer success and today fetch an understandably high price.
The Super-Tuscan formula, which remains mostly unchanged today, involved using previously forbidden international varieties in the wines. These were principally Cabernet Sauvignon and Merlot, either blended together or with the indigenous Sangiovese. However, in the law's eyes, they were considered mere table wines as they didn't comply with the strict rules at the time. It wasn't until later when the number of Super Tuscans had increased considerably, that the superior Indicazione Geografica Tipica (IGT) designation was created in 1992. Today Sassicaia, Solaia, Tignanello, and Luce are all super-hot Super Tuscans worth seeking out.