The prestigious Brunello di Montalcino maker Altesino is located in the elegant 14th century Palazzo Altesi on a beautiful estate stretching out over 80 hectares. While Altesino is a property blessed with tradition and history, the management has embraced an innovative and brave business approach, looking towards the future. They spearheaded the introduction of the Cru – single high-quality vineyard- in the Montalcino region (Montosoli) in 1975; they promoted the concept of "futures" ("vente en primeur," as it is known in France) of Brunello di Montalcino (Brunello Alltesino 1985), they were one of the first Italian wineries to introduce French barriques to the cellar for aging (1979). They made one of the first Grappa di Brunello (1977).
Elisabetta Gnudi Angelini has owned this iconic winery since 2002, and Altesino produces outstanding wines with the help of renowned enologists Pietro Rivella and Paolo Caciorgna. Their Brunello and Rosso di Montalcino wine styles are collectors' favorites, and their Super Tuscan wines Alte d' Altesi and Palazzo d'Altesi are top class. The wines are highly rated, with 95 points for Brunello di Montosoli in Wine Spectator, as an example. Apart from the historic wine cellars (actually inside the Palazzo), the estate is also home to a "Vinsantaia," where the drying of the grapes and aging takes place for their famed vin santo wine in "caratelli" barrels. Altesino's five "Cru" vineyards include Castelnuovo dell'Abate, Macina, Pianezzine, and Montosoli, a cru vineyard particularly famous for the exquisite wines made from the grapes handpicked here.
We can organize a VIP visit and even an intimate private lunch at Altesino as part of a luxury wine tour of Montalcino, where you will have the opportunity to discover the history and the origins of "Brunello di Montalcino," this noble wine made entirely with "Sangiovese Grosso" and their breathtaking vineyards in the hills northeast of Montalcino.
Wines produced
Brunello di Montalcino

Sangiovese 100%, Alc. 13-14%

Brunello di Montalcino Montosoli

Sangiovese 100%, Alc. 13,5-14%

Brunello Riserva

Sangiovese 100%, Alc. 13-14%

Rosso di Montalcino

Sangiovese 100%, Alc. 13-13,5%

Palazzo Altesi

Sangiovese 100%, Alc. 13,5-14,5%

Alte d'Altesi IGT

Sangiovese, Cabernet Sauvignon, Merlot, Alc. 13,5-14,5%

Rosso IGT

Sangiovese, Merlot, Cabernet Sauvignon, Alc. 13-13,5%

Vin Santo d'Altesi

Trebbiano Toscano, Malvasia Toscana, Alc. 14,5-17%

Grappa di Brunello

Distilled of fermented grapes of Sangiovese (Brunello), Alc. 42%

Grappa di Brunello Riserva

Distilled of fermented grapes of Sangiovese (Brunello), Alc. 42%

Brandy di Brunello

Distilled from wine in the process of becoming Brunello, Alc. 42%

Extra Virgin Olive Oil

Frantoiano, Leccino, Correggiolo olive varieties
Winery details
Località Altesino 54
53024 Montalcino (Siena)
Italy
Tel +39 0577 806208
Fax +39 0577 806131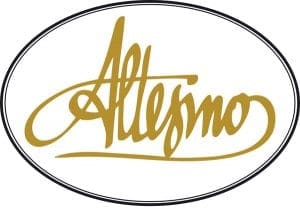 Appellation

Brunello di Montalcino, Rosso di Montalcino, Toscana IGT

Founded

1972
Winemaker

Pietro Rivella and Paolo Caciorgna

Owner

Elisabetta Gnudi Angelini

Grape varietals

Pietro Rivella and Paolo Caciorgna