Profile of San Fabiano Calcinaia
Tucked among the rolling hillsides of Chianti, the San Fabiano Calcinaia estate is one of Tuscany's most beautiful. Neat rows of impeccably tended vineyards extend away from the heart of the estate — a cluster of stone buildings that trace their origins all the way back to 1000AD when this was an independent village. Strolling among these ancient Tuscan constructions and the wonderful gardens interspersed among them is like taking a step back in time. Even if the wines weren't wonderful (which they are), this winery would be a magical place to visit thanks to its history and setting alone.
These days, the property is owned and run by Guido Serio, who bought it in 1983 and restored it in 1990. Serio and his wife worked tirelessly to renovate the estate and restore both the property's vineyards and dwellings and complement this unmatchable setting; they knew that a truly elite wine would be called for. Enter Carlo Ferrini, one of Italy's premier winemakers and, along with viticulturist Rocco Giorgio, the man responsible for turning San Fabiano Calcinaia from a must-see cultural sight into a truly remarkable wine producer. The pair has gained fame throughout the wine world for their consistently excellent creations of high-end and simpler wines.
San Fabiano Calcinaia's best-known, and most-awarded, creation is Cerviolo Rosso, a Super Tuscan blend; it is a vibrant and crisp wine often noted for its toasty oak and red berry aromas. Another iconic wine is the Chianti Classico Riserva Cellole, another highly prized blend known for its balance of ripe fruit, spicy notes, and a minerally tang. Enjoy these delicious wines on a Tuscany Wine Tour organized by Cellar Tours.
Wines produced
Chianti Classico San Fabiano Calcinaia

100% Sangiovese, aged in French oak for 12 months, 13.5% alcohol.

Chianti Classico Riserva Cellole

Blend of Sangiovese and Merlot; aged in French oak; 14% alcohol.

Cerviolo Rosso

Blend of Sangiovese, Merlot and Cabernet Sauvignon; aged in French oak for 15-16 months; 14.5% alcohol.

Cerviolo Blanco

Blend of Chardonnay and Sauvignon Blanc; aged in French oak for 6-8 months; 13-14% alcohol.

Casa Boschino

80% Sangiovese and 20% other grapes; 12.5% alcohol.
Winery details
Loc. Cellole
Castellina in Chianti (Siena)
Italy
Tel +39 0577 979232
Fax +39 0577 979455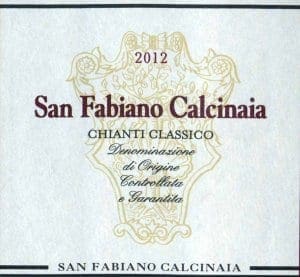 Appellation

(DOCG) Chianti Classico / (DOC) Vin Santo del Chianti Classico

Founded

1983

Area under vine

44 hectares

Age of vines

The oldest vines date back 1985, the youngest ones date to 2003

Oak barrel origin

French
Winemaker

Carlo Ferrini

Owner

Guido Serio

Grape varietals

Sangiovese, Merlot, Cabernet Sauvignon, Chardonnays, Sauvignon Blanc