There are many contestants for the Stellenbosch region's most beautiful vineyard prize, but we can assure you that Demorgenzon is ten leaps ahead of the rest. Indeed, the first glimpse of this majestic estate never fails to solicit countless oohs and aahs from visitors, its mountain vineyards clinging to the mighty Ribbokkop and its notable terroir. These ancient mountain soils yield slow ripening, highly aromatic fruit of the finest kind.
Demorgenzon, which means 'the morning sun,' takes its name from the first Afrikaans settlers, who aptly named this part of the Stellenbosch zone, which has long basked in the first rays of sunshine over the valley due to its high altitude. They planted vines across the Stellenbosch hills in the early 18th century, finding the climate and growing conditions highly favorable. Yet despite the historical lineage of vine growing in this part of Stellenbosch, Demorgenzon is in a sense a very new face in the region, having been purchased by legendary businesswoman Wendy Appelbaum in 2003. A former deputy Chairman of an investment group dedicated solely to women, Wendy, in collaboration with her husband Hylton, has channeled her considerable business acumen into quickly transforming Demorgenzon from an unknown entity into a first-class wine producer. The equipment has been replaced/upgraded, vines have been replanted, and a monumental amount of resources and time has been invested into propelling Demorgenzon into the Premier League of world wine estates.
Today, Demorgenzon is celebrated for its majestic beauty and crafting some of South Africa's most exciting and original wines. Winemaker Carl van der Merwe boasts an enviable palate of resources to choose from; his mountain vineyards on the slopes of Ribbokkop rarely give anything other than outstanding fruit quality. Besides, Demorgenzon encourages greater ripening by playing Baroque music to their vines and inside the cellar 24 x 7. Hylton Appelbaum believes that the vines respond positively to the music's waves. Although a definitive scientific study had not been undertaken, there is no denying the inherent quality and complexity of their wines. All impress, however, it is the Reserve Chenin Blanc that critics and connoisseurs really swoon over. Crafted from old Chenin Blanc vines in the finest terroirs across the mountain, it is arguably the Cape's greatest wine offering to the world. Or, in other words: a majestic, beguiling, and utterly wonderful drink.
Wines produced
Demorgenzon Reserve Chenin Blanc

100% Chenin Blanc. Produced from low yielding vines, the wine is fermented in 25% new French oak. It is then aged for 11 months, without batonage. Approachable on release, the wine will benefit from cellaring.

Demorgenzon Reserve Chardonnay

100% Chardonnay. The wine is fermented in 66% new French oak and the aged for a period of 9 months, with a selected portion of the wine aged for a further 3 months.

Demorgenzon Reserve Syrah

100% Syrah. Fermented in stainless steel tanks, with a small percentage of stems added. The wine is then aged for 10 months in 300L French oak barrels, before being subject to 10 months additional ageing in various vessels: 3000L Fourdré barrels and cement tanks (total 25% new wood).

Demorgenzon Chenin Blanc Method Cap Classique

100% Chenin Blanc. A traditional method sparkling wine, produced using base wines fermented in stainless steel tanks and older French oak barrels. The wine is aged for 5 months and on the lees for a total of 11 months before the base wine was prepared for bottling. It is then aged on its lees for 18 months in bottle before being disgorged.

Demorgenzon Maestro

26% Rousanne, 25% Chardonnay, 19% Grenache Blanc, 17% Chenin Blanc, 13% Viognier. The wine is fermented in a combination of French oak barrels and cement eggs. It is then aged for a period 10 months before bottling.

Demorgenzon DMZ Sauvignon Blanc

100% Sauvignon Blanc. Fermented in stainless steel tanks, the wine is aged on its lees and subject to batonage to encourage greater complexity and enhance the mouth feel.

Demorgenzon DMZ Pinot Noir

100% Pinot Noir. The wine is fermented in open top stainless steel tanks. It is then aged for a period of 12 months in French oak.

Demorgenzon DMZ Concerto Red

40% Syrah, 36% Mouvedre, 24% Grenache. Fermented with the addition of 10% whole bunches in tanks, followed by a 12 month period of maturation in oak cask and Foudre.
Winery details
Stellenboschkloof Road
Blottenburg Stellenbosch, 7599
South Africa
Tel (+27) 21 881 3030
Fax (+27) 21 881 3773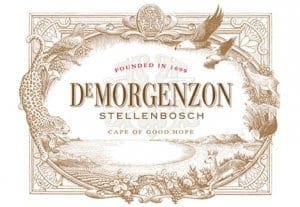 Appellation

WO Stellenbosch

Founded

1700s (first vines planted on the estate)

Area under vine

55 Hectares (owned)

Age of vines

30 years+ Low yields

Oak barrel origin

French
Winemaker

Carl van der Merwe

Owner

Hylton and Wendy Appelbaum

Production

Approximately 30,000 cases, depending on the vintage

Grape varietals

Chardonnay, Pinot Noir, Chenin Blanc, Syrah, Grenache Blanc, Rousanne, Viognier, Sauvignon Blanc, Cabernet Sauvignon, Mouvedre, Grenache