Itsasmendi winery was founded in 1995 initially in Muskiz and moved to its fabulous current location in 2002; steeply sloped vineyards looking out to the stunning Bay of Biscay in the heart of the Urdaibai Biodiversity Reserve, hence the name "Itsasmendi," which means sea and mountain in Basque. The recognition of this ancient wine region was thanks to partner and Technical Director Gari Ríos and fellow vine growers and winemakers getting together in 1989 and setting about to renew the vitiviniculture in the Bizkaia area. The appellation controlee or Dominación de Origen (D.O. Bizkaiko Txakolina) was established in 1994. The region has grown from strength to strength since, with Itsasmendi and its founders playing a significant role.
A state-of-the-art winery, totally integrated and respectful towards its surroundings, combined with sheer dedication and understanding of the intricate terroir of these lands with oodles of devotion to evolve and innovate are the key ingredients to Itsasmendi's success. With an average annual production rarely exceeding 200,000 bottles across the 5 wine range, the volumes are by no means large and can vary quite dramatically in some vintages, especially when mildew gets ahold (a fungal disease all too common in this cool climate). Traditional style, fresh, high acidity Txakoli is naturally produced and named simply Itsasmendi, and they are particularly pleased with their 2016 vintage. Yet one of Gari and his team's goals was to produce Txakoli with more body in order to accompany the rich Basque gastronomy, and they have achieved this with their star Itsasmendi 7. Artizar is produced from only a small number of carefully selected areas of different vineyards and is fermented in oak vats with aging on the lees in the same vat. Ureti is their sweetie from late harvest Hondarrabi Zuri and a small percentage of Izkiriot Handi, whilst Eklipse is a fascinating red from Pinot Noir and Hondarrabi Beltza. Itsasmendi is truly captivating for the wine lover; fabulous, inspirational wines to be sampled and savored in breathtakingly beautiful Gernika, Basque Country.
Wines produced
Txakoli Itsasmendi

Both Hondarrabi Zuri and Hondarrabi Zuri Zerratie grapes from a wide range of vineyards with their differing microclimates and soils are used. The harvest therefore being carried out for 3 weeks or more depending on the maturity of the different plots. 12% Alc. This young Txakoli is crisp with grapefruit notes and a touch of dry grass. Ideal for sipping with seafood, Idiazabal cheese (a buttery, smokey Basque cheese from sheep's milk) and particularly good with fried tapas, as the acidity cuts through the fat.

Itsasmendi 7

Hondarrabi Zuri, Hondarrabi Zuri Zerratie and Riesling. This blend benefits from several months on its lees in stainless steel vats providing a fuller bodied, more structured and smooth Txakoli, capable of considerable cellar ageing. 14% alc. Long and intense with floral and grapefruit aromas and slight balsamic notes. Fantastic with scallops, Tuna Ventresca and buttery fish dishes.

Itsasmendi Artizar

100% Hondarrabi Zuri. This is Itsasmendi's oaked example. Fermentation in French oak vats and then aged in the same vats for 7 to 8 months on its lees. The result is a much more complex, almost fatty texture. 13.7% alc. Works well with grilled seafood, white meat dishes and mild spicy foods.

Itsasmendi Uretzi

Hondarrabi Zuri Zerratie and a small percentage of Izkiriot Handi. This is Itsasmendi's sweetie; late harvest ripening allowing for botrytis rot to take place gaining a residual sugar of 90-100g, whilst still maintaining a good acidity. 12% alc. Beautiful golden yellow, orange peel and honey aromas with spiced notes from its short time in oak. Sweet and dense with a balanced acidity.

Itsasmendi Eklipse

Pinot Noir, Hondarrabi Beltz and Berdexa Zarie. This unique wine started as a R&D project in association with Bizkaia Council and has given way to a fascinating Atlantic Red Txakoli. Predominantly from the Muskiz vineyards, where the influence of the Bay of Biscay is apparent. Fermented in stainless steel and aged in 2000L French Oak vats for 10 months. 13.5% alc. Great with rich fish dishes.
Winery details
Barrio Arane, 3
48300 Gernika-Lumo
Bizkaia, Spain
Tel +34 94 627 0316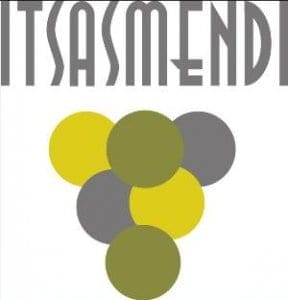 Appellation

Bizkaiko Txakolina (Bizkaia Txakoli)

Founded

Founded 2002 at current site (previously at Muskiz from 1995)

Area under vine

35 ha over 15 different plots

Age of vines

20 years

Oak barrel origin

French
Winemaker

Bingen Mendizabal and Gari Ríos

Owner

Gari Ríos

Production

200,000 bottles per annum

Grape varietals

Hondarrbi Zuri, Hondarrabi Zuri Zerratie, Pinot Noir, Izkiriot Handi, Hondarrabi Beltz, Berdexa Zarie