We have good news: Hondarrabi Zuri only very occasionally appears on wine labels. Gracias a Dios. For who could hope to pronounce this tongue twister of a grape variety – imagine being in a noisy tapas bar in San Sebastian and trying to shout over the din! Prolific across the exquisitely beautiful Basque Country, Hondarrabi Zuri is one of the key grapes used to make Txakoli, a fresh and fruity style designed for summer drinking. However, it is generally marketed under the appellation banner, so producers rarely feel the need to mention the specific varieties in the blend.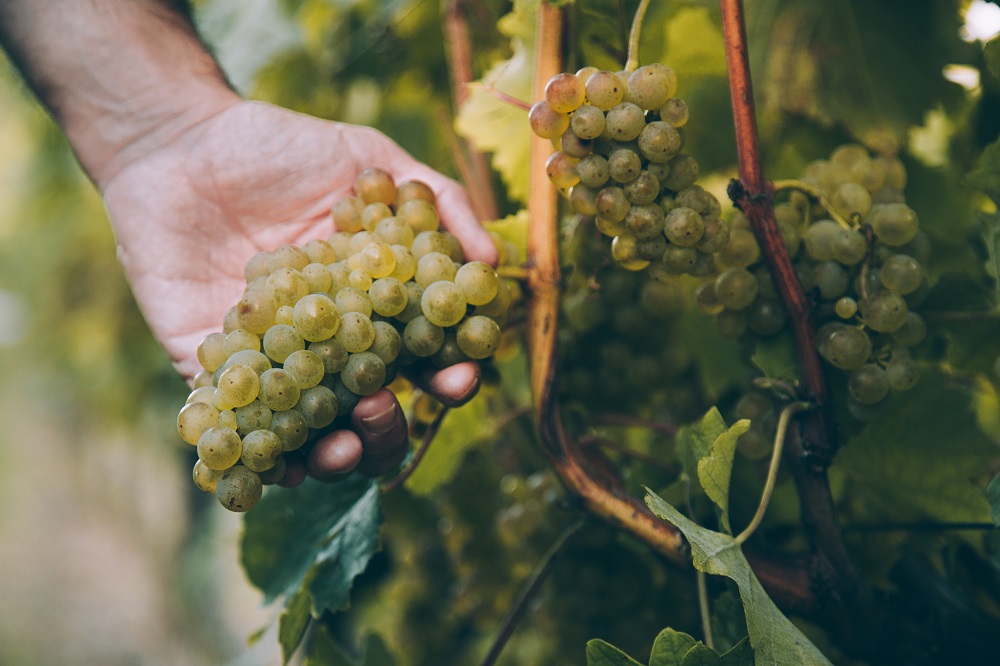 Until relatively recently, Txakoli was solely the preserve of locals and tourists. Its divine purpose is to whet your appetite before the onslaught of delicious pintxos: Basque tapas served on a sliced fresh baguette and impaled with a toothpick. There is literally no finer gastronomic experience in northern Spain. However, a burgeoning interest in Spanish white wines and a desire for new flavors and experiences have encouraged more growers to send their Txakoli abroad, benefiting everybody – not least the sommelier community.
Read more about Spanish White Wine
History and viticulture
If you want to start an argument in a Basque winery, casually bring up the subject of Hondarrabi Zuri's backstory. The mood will instantly become 'testy,' as you're told, in no uncertain terms, that this grape is most definitely indigenous to the Spanish Basque coastline. Many local growers subscribe to this view, arguing that the grape is a long-standing part of their viticultural heritage. They will not be swayed.
However, there is evidence that Hondarrabi Zuri originated across the border in southwestern France. Genetic analysis has proven that the variety is identical to Courbu Blanc, a grape believed to be indigenous to French soil. In addition, several grapes originating in western France, such as Folle Blanche, are cultivated in the Basque region. It seems very plausible that Hondarrabi Zuri – and others – entered Spain via the town of the same name, introduced at some point in the distant past. Its namesake is a border settlement with a long history of bridging the gap between the French and Spanish parts of the Basque Country. It seems likely that the local synonym was taken directly from the town.
Hondarrabi Zuri has been deeply entrenched in local winemaking traditions for several centuries. However, Txakoli has evolved considerably since the 1800s. At the turn of the 19th century, the Basque Country was known for its acidic and often diluted red wines, produced from the Hondarrabi Beltza variety. Although the climate is far more suited to the production of saline whites, local palates and the economy demanded red.
That all changed in the late 1800s. Phylloxera is a name that sends a shiver down the spine of all winegrowers; it is a louse that destroys vines with wild abandon using its poisonous saliva. Phylloxera ripped through the Basque Country during this period, devastating the Txakoli industry. Although a re-grafting program was initiated in northern Spain, the acreage was much reduced by the 20th century.
But fate has a strange way of turning disaster into an opportunity. As the global demand for affordable dry whites rose in the 1980s, the Basque authorities seized their chance. The region switched its focus to making white wines – plantings of Hondarrabi Zuri increased dramatically, as did the output of Txakoli. As of 2022, the vast majority of wines exported from the region are based on this esoteric grape. To taste red and rosé Txakoli, you'll have to visit one of Bilbao's many tapas bars. Or better still, take a vineyard tour with Cellar Tours.
Fortunately, it's only a short drive from the region's dynamic capital to the heartland of Basque wine growing. Hondarrabi Zuri is as ubiquitous in the landscape as the sheep and livestock that graze on the verdant hills of "green Spain." However, that does not mean the grape is a pushover to grow. Hondarrabi Zuri has its fair share of baggage; vines are prone to excessive vigor and produce an inflated canopy, particularly in the inclement climate of Atlantic Spain. To avoid dilution and harsh acidity in the winery, constant pruning is strongly advised, in addition to leaf pulling and green harvesting.
Nevertheless, Hondarrabi Zuri does not tend to deliver large yields – quite the opposite. In a good vintage, vines will ripen a modest crop of small(ish) bunches laden with small berries. If the winegrower has done their job well, the grapes will have achieved good levels of phenolic ripeness (by local standard) with vibrant acidity and moderate potential alcohol. However, it is difficult to ripen Hondarrabi Zuri successfully in very wet vintages, and rot can be a real issue. Moreover, vigilance against fungal diseases and other grapevine maladies is par for the course in a maritime climate like the Basque coast.
Winemaking
Hondarrabi Zuri is the antithesis of Chardonnay; winemakers do not tend to regard this Basque grape as a raw piece of clay, able and willing to be 'sculptured' and manipulated as they see fit. No, the primary goal when producing Txakoli is to protect the grape's primary fruit flavors and wonderful freshness, avoiding skin contact and oxygenation. There are exceptions, of course, to this paradigm: maturation on the fine lees and even in barrique does occur. But the critical mass eschews new wood when making wines from Hondarrabi Zuri.
Yet until the 1980s, Hondarrabi Zuri did not receive all the benefits of protective winemaking, much less modern equipment. Instead, the small volume of white Txakoli was made in farmhouses, using foot-trodden grapes and old vats. It could almost be thought of as a Basque' home brew', consumed by families and friends. But the surge in global demand for Spanish white wines changed everything – investment has transformed a rustic hobby into a lucrative industry, complete with stainless steel, temperature-controlled fermentation, and innovative tech.
After the harvest, the grapes are often dosed with sulfur dioxide to prevent spoilage and oxidation. This may be added in the crusher (if employed), in the press, or as the juice is placed in the tank for settling. Whole bunch pressing is increasingly favored to extract free-run juice, which is free of phenolic compounds. After that, the must is often clarified before fermentation via cold-settling or filtration. Many of the Txakoli regions winemakers use cultured yeasts in the fermentation, as wild strains often do not survive the filtration process.
Today, the vast majority of Hondarrabi Zuri is fermented in stainless steel at low temperatures. This helps to preserve the grape's natural fruitiness – higher temperatures can burn out the fruity esters and flavors of the variety. The tank is normally covered, as this retains a degree of carbon dioxide (a byproduct of fermentation) in the wine. Txakoli winemaking is designed to offer slight effervescence or spritz in the product to make it more fun to drink. However, the CO2 can be added artificially if another open vessel has been used. Some of the more traditional wineries prefer oak vats – if wood is used, it does not generally impart any flavor to the wine. Certain producers employ lees stirring to enhance texture and mouthfeel.
Although Hondarrabi Zuri is predominantly used to make still wines, Rioja houses like Artadi have proven that it also lends itself to sparkling winemaking. A great deal of Txakoli is mono-varietal, albeit the grape will happily blend with a number of different grape varieties. These include Folle Blanche, Chardonnay, Pinot Blanc, Sauvignon Blanc, and Riesling.
Txakoli today
The Basques are an extremely proud people (it is one of Europe's oldest languages), so it is fitting that the region has a viticultural emblem in Txakoli. This piercingly fresh, light, appley white wine is the Basque Country in a microcosm. Its salinity and verve invoke the Atlantic breezes that envelope the Bay of Biscay all year round; aromas of citrus and pear instill memories of too many lost evenings enjoying San Sebastian's intoxicating nightlife and glorious pintxos. Today, you will not find a more authentic or quintessential slice of Basque culture.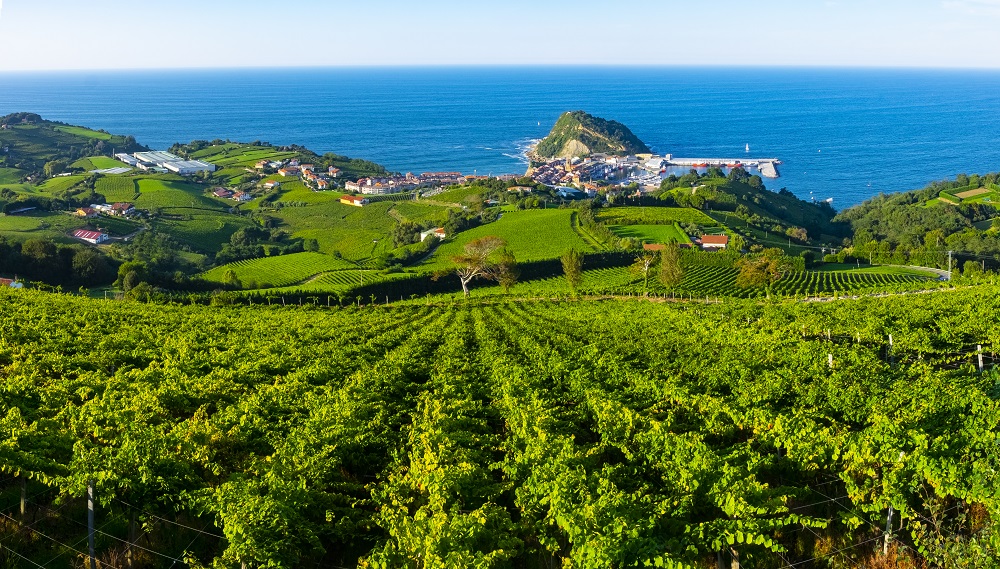 Txakoli vineyards near Getaria
All that said, Txakoli is not a homogenous category. Granted, the grape does have a signature profile of moderate alcohol and fresh acidity; however, variances in terroir and winemaking create a pleasing diversity within the category. As a result, three DO appellations are producing Txakoli today: Arabako Txakolina, Bizkaiko Txakolina, and Getariako Txakolina. Each of them has something unique and special to offer.
Arabako Txakolina is a relatively new face in Basque Country winemaking. The appellation was founded in 2001, at the height of the style's revival. It encompasses vineyards cultivated in the Alava province's northern section, flanking the Vizcaya border. Alava, incidentally, is responsible for producing some of Rioja's finest reds: suave, structured, and beautifully balanced. With some distance from the Atlantic, the climate is a hybrid mix of continental and maritime influences. As a result, summers can be slightly warmer – and drier – than the coastal exterior, while winters can be very cold; frost is a constant concern during the spring. However, some of the best Txakoli whites are currently being made in Alava, boasting ripe acidity and (relatively) more body than their Atlantic counterparts. In addition to Hondarrabi Zuri, growers are also authorized to plant Gros Manseng, Petit Manseng, and Petit Corbu. They all blend very well with Hondarrabi Zuri.
Bizkaiko Txakolina is an altogether different proposition. It was established in 1994 by a small band of producers keen to revitalize their once noble tradition with the help of contemporary winemaking philosophies. Situated entirely in the Vizcaya province, its geographical boundaries spread across the north of the Basque Country and include coastal vineyards near Bilbao. Due to the generally high elevation of the vineyards and damp climate, the local style is very bright and tart, with citrus, cox's apple, and lanolin aromas.
Our trio is completed by Getariako Txakolina, the oldest Txakoli sub-region in the Basque Country. It was created in 1989 to cover a zone of production in the Guipúzcoa province, flanked by the Atlantic and centered around the city of San Sebastian. Growers must be careful not to select climats (vineyard sites) that are too close to the ocean, as omnipresent marine air and chilling mists can make it challenging to reach satisfactory levels of ripeness in weaker vintages. The best sites are sheltered by coastal hills planted on southeast-facing slopes. Expect a mouthful of bracingly acidic white wine, fresh and vibrant as spring dew.
This summation of the local style continues to define Txakoli for tourists and Basque Country residents. But it is not that simple: wines subject to maturation on the fine lees showcase more weight and texture than the 'fresh and saline' cliché. It is one of the reasons why the category has been so successful in export markets – Txakoli delivers affordable summer drinking for those who seek uncomplicated whites. Yet it can offer something more structured and complex if that is desired.
This is also a category due for more international recognition. As the moderation and wellness trend continue to shape consumer choices, wine lovers will find much solace in grapes like Hondarrabi Zuri. Its USP is achieving intense flavor with as little as nine percent alcohol – on occasion, as little as eight percent. Txakoli is a wine custom-built for the modern age. It is an almost guilt-free indulgence that cannot be passed up.
Top producers of Txakoli wines:
Alleme
Camino Roca
Lasalde Elkartea