In Spain's Mediterranean Wine Region of Penedès, the story behind the Jean Leon winery is something out of Hollywood. Born as Ceferino Carrión in Santander, Spain, in 1928, Jean León was always ambitious. At 19, he left Spain to find his luck in Paris, New York, and ultimately Hollywood. He founded the world-famous California restaurant "La Scala" in Beverly Hills. Many people don't know that he started the restaurant in partnership with James Dean. The gourmet establishment became the haunt of many famous actors and performers.
However, despite his huge success in America, Jean Leon still missed his native Spain. So he decided to use his well-known name (respected in gastronomic and enological circles in the US) to return to Spain and create a world-class winery. That was back in 1963. His was one of the first wineries to pioneer the concept of a "single vineyard estate," virtually unheard of during the Franco years and religious cooperatives. This concept is called "Pago" and is still not the norm in Spain. Jean Leon also broke tradition by importing French grape varietals, Chardonnay, Cabernet Sauvignon, Merlot, and Cabernet Franc. He believed that these grapes suited the balmy Mediterranean climate perfectly.
As they say, the proof is in the pudding. Jean Leon's wines today are some of the best in Spain. He has a joint partnership with another visionary wine personality, Miguel Torres. The estate is located in a truly privileged position, nestled at the top of a hill with sweeping views of the valley. The region of Penedès is a true delight for the wine tourist, close to the sea, full of medieval villages, and boasting some of the best cuisine in Spain.
Wines produced
Jean Leon Petit Chardonnay

100% Chardonnay, 2 months in oak barrique, 13% alc.

Jean Leon Vinya Gigi

Cask-Fermented Chardonnay, 100% Chardonnay, 6 months in oak barrique, 14% alc.

Jean Leon Vinya Palau

Merlot Crianza, 100% Merlot, 12 months in French oak, 13,5% alc.

Jean Leon Cabernet Sauvignon Reserva

85% Cabernet Sauvignon, 15% Cabernet Franc, 24 months in French and American oak, 14% alc.

Terrasola Muscat-Garnacha blanca

Blend of Muscat and Garnacha blanca (Grenache blanc), 11% alc.

Terrasola Sauvignon blanc-Garnacha blanca

Blend of Sauvignon Blanc and Garnacha blanca, 12% alc.

Terrasola Chardonnay-Garnacha blanca

Blend of Chardonnay and Garnacha blanca, 13% alc.

Terrasola Tempranillo Young wine

Blend of Tempranillo and Monastrell (Mourvèdre), 13,5% alc.

Terrasola Syrah-Garnacha Young wine

Blend of Syrah and Garnacha (Grenache), 14% alc.
Winery details
Pago Jean Leon, 40
08775 Torrelavit
Barcelona
Tel +34 93 899 50 33
Fax +34 938 99 55 17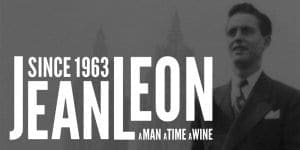 Appellation

Penedes

Founded

1963

Area under vine

Miguel Torres

Age of vines

25 years+, Guyot and Cordon Royat Pruning

Oak barrel origin

French and American
Winemaker

Jaume Rovira

Owner

Miguel Torres Family

Grape varietals

Cabernet Sauvignon, Chardonnay, Merlot, Cabernet Franc and Syrah