Margaux. The very mention of this venerable region conjures up some of the most powerful imagery in Bordeaux – of stately chateaux, captivating perfume, and long-lived wines of incomparable finesse. Driving through the region, you will be suitably impressed by the grandeur of Chateau Palmer, the majesty of Chateau Margaux, and the moated chateau of Issan. Pauillac may be home to more First Growths than any other Medoc region. Still, Margaux can boast about one-third of all the classified growths and a reputation for producing exquisite and highly sought-after wine.
Location
Margaux's region is quite a large area, the first of the prestigious appellations that one encounters in the Medoc – arguably Bordeaux's most famous vineyard. The Medoc is a geographical name of the entire peninsula that stretches northward from Bordeaux to the remote port of Le Verdon. A coastal strip running up the eastern side of the peninsula is where most of the Medoc's vineyards are situated. Margaux's appellation boundaries cover about 5 miles from one end to another, spread across several villages with some 1400 hectares under vine (approximately). The average production is roughly 8 million bottles per year, depending on the vintage in question.
Of course, in a good vintage, there is never any doubt that what's in your glass is quintessential, Margaux. At its best, Margaux is the most seductive and fabulously perfumed of all the Bordeaux wines. The key grape varieties are Cabernet Sauvignon and Merlot, with smaller amounts of Cabernet Franc and Petit Verdot occasionally making it into the red blends. White wines are largely unknown here, although famous property Chateau Margaux makes an excellent, costly white wine called Pavillon Blanc. However, the common perception that Margaux's wines are lighter than those of regions such as Pauillac is misleading. Yes, the wines have finesse, but that does not mean they lack density; they are perhaps less powerful than some Medoc wines, but that does not make them lighter or less long-lived. Tasting superlative vintages of Chateau Palmer and Margaux from the 1950s is a testament.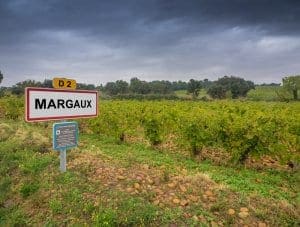 Visiting
Explore the Margaux wine region with Cellar Tours on a Bordeaux Wine Tour. Enjoy exclusive VIP tastings at top first-growth chateaux and dine at the best local restaurants.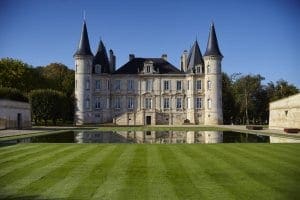 The Terroir
But what exactly then is the secret to Margaux's incomparable finesse and elegance? "The terroir, of course," local winemakers will chorus, and it's certainly true that the soils in Margaux are probably more diverse than in any other sub-region of the Medoc. In fact, Margaux's soil is the thinnest and gravelliest in the Medoc, so that vines may root up to 23ft deep for a steady but meager supply of water. But the gravel itself, the defining soil type of Margaux, is also varied, with quartz pebbles in some spots and infusions of sand in others. Also, there are bands of clay and layers of limestone in some areas. Nevertheless, the significant presence of gravel and stone deposits enables the grapes to ripen between 3 and 5 days earlier than the more northerly Pauillac. Proximity to the Gironde estuary is also a crucial factor in the region's terroir – vineyards closer to the Gironde tend to ripen sooner.
Sub Regions
There are also real variations within the appellation. It is said that the sub-region of Cantenac has the poorest soils of Margaux, which typically produces wines with lovely aromatics. In contrast, Margaux's commune, having somewhat richer soils, delivers more powerful and structured wines. Yet it is equally true that the vast majority of properties, the legendary Chateau Margaux included, have vineyards in various parts of the region, making overt generalizations about communes and their characteristics somewhat difficult. Indeed, it's more important to look at differences in grape varieties, technique, and tradition rather than soil changes to try and explain the differences between the chateaux.
And like all appellations, Margaux boasts prestigious chateau, underwhelming estates, and properties representing real bargains – Chateau Angludet springs to mind. That being said, good Margaux is never cheap, and in poor years the wines can turn out thin. In good and great years, however, all the stories about the virtues of Margaux are justified. There is a haunting delicacy about archetypal Margaux and intoxicating perfume that can make it the most exquisite claret of all.