Profile of Chateau Margaux
It is often said that Chateau Margaux is a "feminine" wine. Yet after tasting a remarkable series of vintages – everything from 1966 to 2016 – one starts to question the wisdom of this increasingly hackneyed epithet and its relevance to the Margaux region. Standing before the grandiose chateau, the words majestic and awe-inspiring more readily spring to mind. In legendary hot weather vintages such as 2009 and 2015, Margaux is anything but "feminine." It is a powerful, singular expression of Margaux's terroir, a wine that effortlessly combines virility with finesse, strength with subtlety. It is famous for its intoxicating perfume, but that is only half the story. This is an estate that seduces with just one glance – the vineyards, wine, history, and stately architecture all add up to an irresistible package.
Like most famous chateaux in the Medoc, Chateau Margaux has witnessed a surfeit of history, covering obscure beginnings, a triumphant rise to glory, a fall from grace, pain, redemption, and the property's spectacular rebirth. The chateau actually dates back to the 19th century, although historians believe that there was once a medieval fortress on the site now occupied by the neo-classical mansion. We know that vineyards have been cultivated on this land for centuries – in the 17th century, the d'Auledes family were Margaux's custodians. They help to establish Margaux's reputation as one of Bordeaux's finest wines; by the middle of the 1700s, Margaux was the most sought-after wine in the Medoc. Thereafter, a succession of owners acted as caretakers of the chateau, including the Fumel family, the Marques de Colonilla, and the Ginestet family. They were the most important shareholders in Margaux by the late 1940s.
However, the property's reputation began to slide in the early 1970s. Unfortunately, the Ginestet dynasty lacked the funds that Margaux so desperately needed – Bordeaux's fortunes were in decline, and the First-Growth was no exception. Faced with financial ruin, they had no choice but to put the chateau up for sale. Yet even an estate as famous as Margaux could not tempt a buyer. That was until 1977 when Greek-born entrepreneur Andre Mentzelopoulous fell in love at first sight. He happily parted with 72 million francs and immediately started the drastic restoration work that Margaux required. Sadly, Andre died in 1980, but his widow Laure and daughter Corinne were ready to step in and continue his good work.
Today, it seems incredible that this majestic property, with its state-of-the-art winery and chai, could ever have been in financial doldrums. Collectors and connoisseurs will pay almost any price to sample Margaux's famous perfume and inimitable structure. And yet, in the 1980s, success was far from assured. Investment in new equipment was one thing, but the vineyards had been sorely neglected and needed an injection of dynamism and talent to rejuvenate the potential of this unique terroir. Fortunately, Corinne saw fit to hire the young and relatively inexperienced – at the time – Paul Pontallier. This was to prove to be an inspired choice. Pontallier had studied viticulture in Montpellier and soon assembled a fantastic team to work with him. Vineyards were replanted, soil health and nutrition were replenished, and yields were drastically lowered. Moreover, the estate has converted to organic viticulture. Corinne and Paul understood that modern technology could not solve Margaux's problems – terroir expression, as ever, was key.
In 2020, any visitor to this landmark of great wine would scarcely know that Margaux has been brought back to life. A gorgeous new visitor center and cellars were unveiled at a special dinner in 2015 – the project was an extension of the original cellar finished in 1815. It included a new research and development center, tasting room, and offices. There is an energy, dynamism, and opulence that drifts through the air at Chateau Margaux – a confidence that is unrivaled in the Medoc. There has also been some sadness, however, as Paul Pontallier died in 2016. His enthusiasm, passion, and talent are still missed, but Corinne's singular vision is continued, her daughter Alexandra and Managing Director Philippe Bascaules.
Working together, they remain responsible for keeping both existing fans of Margaux happy and luring in the new generation of oenophiles – no easy task. But then again, when guests are invited to sample legendary vintages like the 1983, it all becomes clear as to why Margaux boasts such a strong and loyal following. The vintage typifies everything unique and special about the Grand Vin: an exquisite perfume married to a palate of concentration and profundity. Balanced, poised, harmonious, and supremely elegant, the 1983 is evidence enough that no Bordeaux estate can truly hold a candle to Margaux.
Wines produced
Chateau Margaux(Grand Vin)

(Vintage dependant) but typical blend: 90% Cabernet Sauvignon, 5-10% Merlot, 4% Cabernet Franc, 1% Petit Verdot. After destemming and crushing, the wine is fermented in oak and stainless steel vats. The wine is then aged for 18-24 months in new French oak. The prestige, first wine of the property, intended for long ageing.

Pavillon Rouge (Second wine of the property)

(Vintage dependant) but typical blend: 60% Cabernet Sauvignon, 30% Merlot, 7% Cabernet Franc, 3% Petit Verdot. The wine is aged for approximately 16-18 months in 50% new French oak. The second wine of the estate, suitable for earlier drinking.

Pavillon Blanc (White wine of the property)

100% Sauvignon Blanc. The grapes are whole cluster pressed, without skin contact. The must is fermented in stainless steel tanks and aged in one-third new French oak with regular lees-stirring. There is no malolactic fermentation, to preserve acidity in the wine.

Margaux du Chateau Margaux (Third wine of the property)

(Vintage dependant) but typical blend: 50-60% Cabernet Sauvignon, 30-40% Merlot. After destemming and crushing, the wine is fermented in oak and stainless steel vats. The wine is then aged for 13-15 months in French oak. The third wine of Chateau Margaux, only available in restaurants.
Winery details
Chateau Margaux
Margaux, 33460
Bordeaux, France
Tel +33 (0) 5 57 88 83 83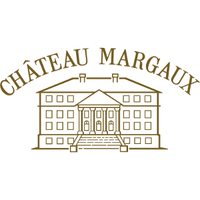 Appellation

AOC Margaux / First Growth

Founded

1811

Area under vine

80 ha vineyards

Oak barrel origin

French
Winemaker

Philippe Bascaules

Owner

Corinne Mentzelopolous

Production

380,000 bottles per annum

Grape varietals

Cabernet Sauvignon, Merlot, Cabernet Franc, Petit Verdot and Sauvignon Blanc