The Alsace region is one of France's great unsung wine heroes. Lost in the excitement over Bordeaux, Burgundy, and Champagne, the Alsace region just quietly gets on with the business of making piercingly aromatic, unique, and simply exquisite wines. It is also one of France's most spectacular places to visit, with the Voges mountains' splendor complemented by the medieval architecture of Alsace's charming towns and villages. Indeed, visiting oenophiles are going to feel thoroughly pampered in Alsace. A signposted Route des Vins takes a leisurely course through the whole length and breadth of the Alsace wine country, taking in some of the prettiest wine villages in the world. Anyone who has sat at a cafe in Riquewihr on a gloriously sunny afternoon, sipping Riesling, can testify to that.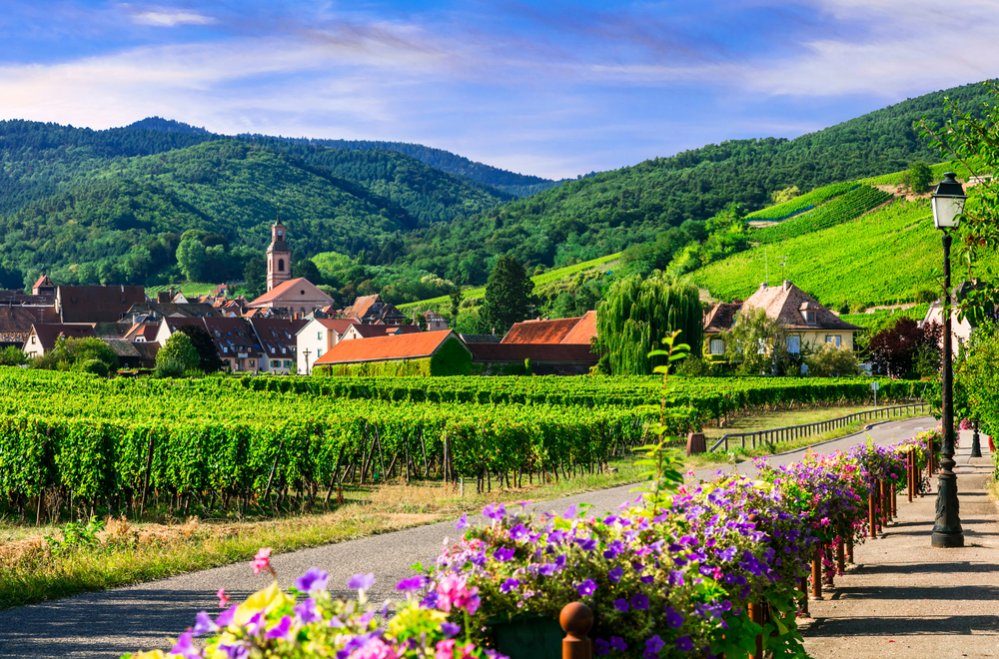 Culturally, Alsace is as much German as it is French; indeed, it has been part of the former twice over the last 130 years or so. Historically, vines have been cultivated in this part of northeastern France for centuries; like most European wine regions, we have the Romans to thanks for their proliferation. Over the past 200 years, wines from Alsace were traded with their counterparts from Germany to great profit, although the outbreak of two Worlds Wars in the 20th century naturally caused much upheaval for the region. Traditionally, Alsace winemakers produced bone dry wines, whereas their German neighbors made lighter wines with decent amounts of residual sugar.
Yet, in other ways, Germany's influence and attitudes to wine production linger on even today in Alsace. Unlike other French wine regions, Alsatian producers display the grape variety on their label, a common practice in German winemaking that has remained part of its culture. And so while Chablis growers wouldn't dream of sullying their wines with the varietal label Chardonnay, an Alsace estate will happily tell you that his wine is made from Riesling, Gewurztraminer, or Pinot Blanc.
Today, approximately 15,400 hectares of vines are planted in Alsace, spread across over 115 wine-making villages, many of which can be visited on an Alsace Wine Tour. The region is a narrow stretch of vineyards that runs north-south, west of Strasbourg, to Mulhouse. Nestled into the Voges mountains' eastern foothills, Alsace enjoys an impressively favorable climate for such a northerly region. Sunshine hours are high during the growing season, and rainfall low. The heart of the region is centered around Colmar's pretty town, and this is where the greatest concentration of top villages and vineyard sites, particularly Grand Crus, is to be found. The Alsace region is traditionally divided into two sub-zones, the Haut-Rhin, which is the southern part of Alsace, and the Bas-Rhin further north.
Haut-Rhin Region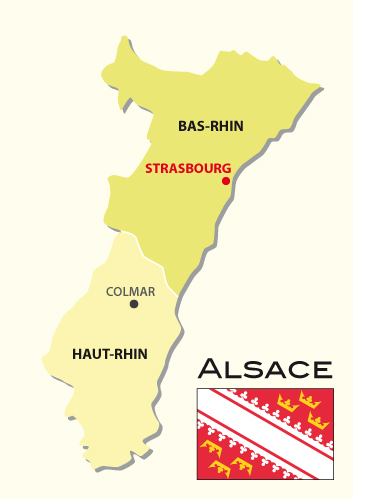 In general terms, the finest wines are found in the Haut-Rhin, although good bottles are produced across the region. If Alsace has a counterpart in France, then it is undoubtedly Burgundy's Cote d'Or; the best sites are on the Voges slopes, with well-drained, meagre soils, an ideal aspect, and the perfect altitude. And like Burgundy, the soils and growing conditions found in Alsace are far from homogeneous; the region boasts a mosaic of soil types, and a savvy grower will know exactly which varieties to plant where. Clay, marl, granite, sandstone, and limestone can all be found, which a marked differentiation in wine style depending on which soil the grape is planted on. However, in general, the Bas-Rhin wines are lighter, as those vineyards benefit less from the sheltering influence of the Voges mountains.
Appellation
Unlike many French regions, the appellation structure of Alsace is relatively straightforward. The vast majority of wines fall under the Alsace AC designation and are labeled according to their grape variety. Also, there are 50 Grand Cru vineyards that were established in 1983. Wines produced from these vineyards are classified as Alsace Grand Cru AC. The majority of these vineyards can be found in the heart of the Haut-Rhin and were created in 1983 to recognize the superior terroir inherent to these sites.
For the past few hundred years, white wines have dominated Alsace's scene, a state of affairs that remains pretty much unchanged today. Indeed, there is just one permitted red grape, Pinot Noir, which can be excellent and a match for the Cote d'Or wines further south. Alsace offers a far wider variety of aromatic white styles, the most famous of all being Riesling. It is considered by many Alsatians to be the finest white variety in the world, and top-class Alsace Riesling is truly in a league of its own. Usually fermented dry, top examples age for decades, developing lovely honeyed aromas of toast, petrol, butter, and dried fruits. It is never blended, unlike say, Semillion, which is often blended with Sauvignon Blanc in Bordeaux.
Gewurztraminer Grape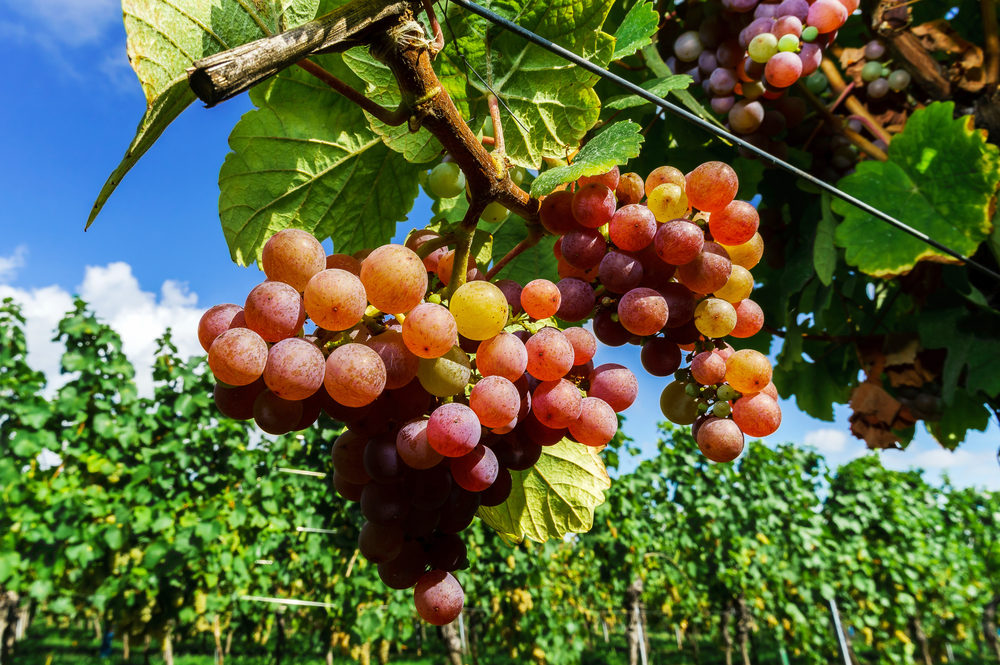 Gewurztraminer – or the nightmare to pronounce grape as we call it – is another charming variety and offers the perfect introduction to the region. It is instantly recognizable to drinkers by its singular scent of rose petal and lychee, making it the ideal accompaniment to spicy or Asian cuisine. The word Wurze means spice in German – a fitting description. Some vineyards are also planted with Alsace Muscat, a blend of Muscat Ottonel and Muscat Blanc, offering pleasantly grapey aromas. However, for quality and complexity, it rarely matches Pinot Blanc. The latter ripen to real smoky complexity and is frequently blended with another common variety, Auxerrois. Pinot Gris is another real winner, making full-bodied wines with typical aromas of pear drop, melon, and mango.
Sylvaner Grape
Sylvaner is also found across Alsace, a usually light wine that is attractively tart, although, like Chasselas and Knipperle, it rarely produces real depth or class wines. But, Alsace does offer a real rarity not seen anywhere else in Europe – Klevener de Heiligenstein. Found around the village of Heiligenstein just north of Barr, it produces a lightly spicy, buttery wine that is low alcohol and very food-friendly.
Of these grapes, only Riesling, Pinot Gris, Gewurztraminer, and Muscat are allowed Alsace Grand Cru status, the authorities believing that other Alsatian variety can not equal the above in prestige and quality. Indeed, Alsace is a region of staunch traditions, and nowhere is this more apparent than in the winemaking; like the Loire, oak is rarely employed in any stage of the process. Exceptions exist, of course, but generally, Alsatian producers like emphasize the pure, unfettered quality of their fruit, above all else.
Sweet Wines
In addition to the dry styles for which Alsace is famed, some of the greatest sweet wines in the world are made in Alsace. Produced from late harvest fruit, they are classified as either Vendange Tardive or Selection de Grains Nobles. The best examples are perfectly balanced, with remarkable depth and length of flavor. Top wines will cellar for decades.
This wonderful diversity of styles lends itself to a wide variety of food matches, as one might imagine. Both Gewurztraminer and Riesling are very adaptable when it comes to food pairing; the latter handles fiery, spicy dishes with ease and is heavenly with roast goose or duck. Riesling comes into its own with pork dishes and freshwater fish, while fuller, weightier Pinot Gris can be a good substitute for white Burgundy on the dinner table.
The Cremant d'Alsace sparkling wines must also not be omitted from this discussion. Produced using the Traditional Method that hails from Champagne, the best examples are excellent and an excellent alternative to Champagne. Offering good depth, structure, and balance, they usually incorporate Pinot Blanc and Riesling, although Pinot Noir, Pinot Gris, and Auxerrois are also permitted in the blends. And there we have it: another great wine style made in a region that, above all else, symbolizes diversity. So for consistency, excitement, and variety, the wines of Alsace are tough to beat.
Related Posts