Wines of the Camino de Santiago- Wine Tasting along the Saint James Pilgrimage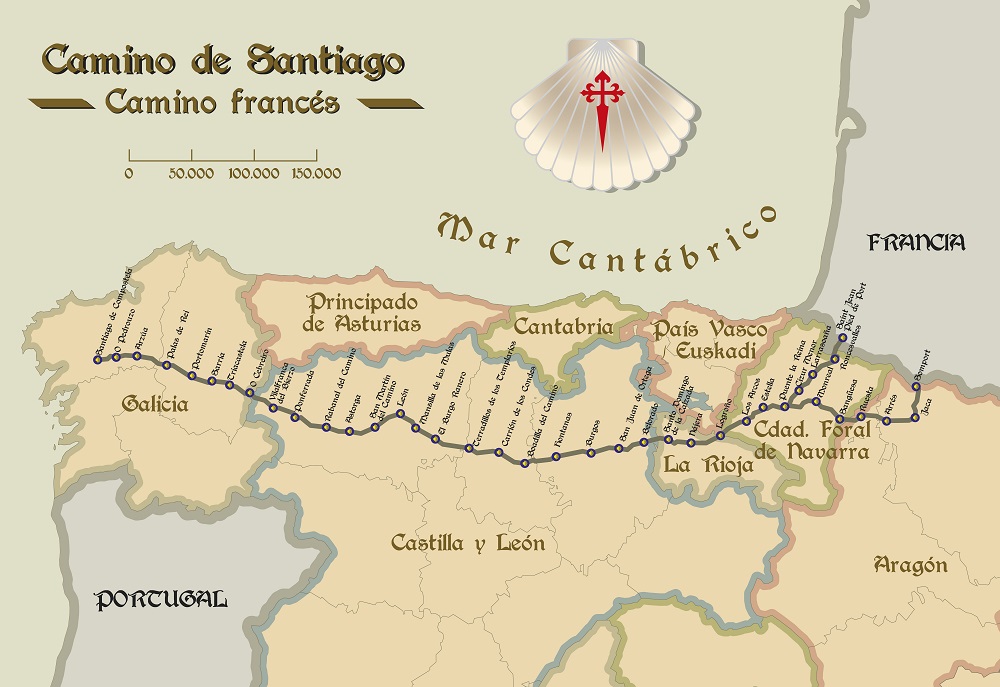 This has been a record year for the number of pilgrims on the "Camino de Santiago" with visitors from all over the world and traveling clear across the North of Spain to Santiago de Compostela on foot, cycling, horseback, and those with less time available, by car.  The experience is amazing and even life-changing for some, and while in centuries and decades past the pilgrimage was purely religious, these days people from all walks of life and religions take part in the Camino for several reasons- spiritual, for their health, as a sabbatical or break between professions, and many, as a unique life-affirming vacation. Some of Spain´s loveliest cathedrals and medieval towns are located along the Camino. And the bonus for wine lovers is that many of Spain´s best wine regions also crisscross the north of the country.
There are  5 main pilgrim routes to Santiago in Spain, and others originating outside Spain in greater Europe. The most popular and traditional of the Caminos is the "Camino Francés," the French Way, which starts in French Basque Country and stretches nearly 800 kilometers to Santiago de Compostela. Here are some notes on wine tasting and traveling along the Camino Francés for food and wine lovers.
1. ST JEAN PIED DE PORT, Irouléguy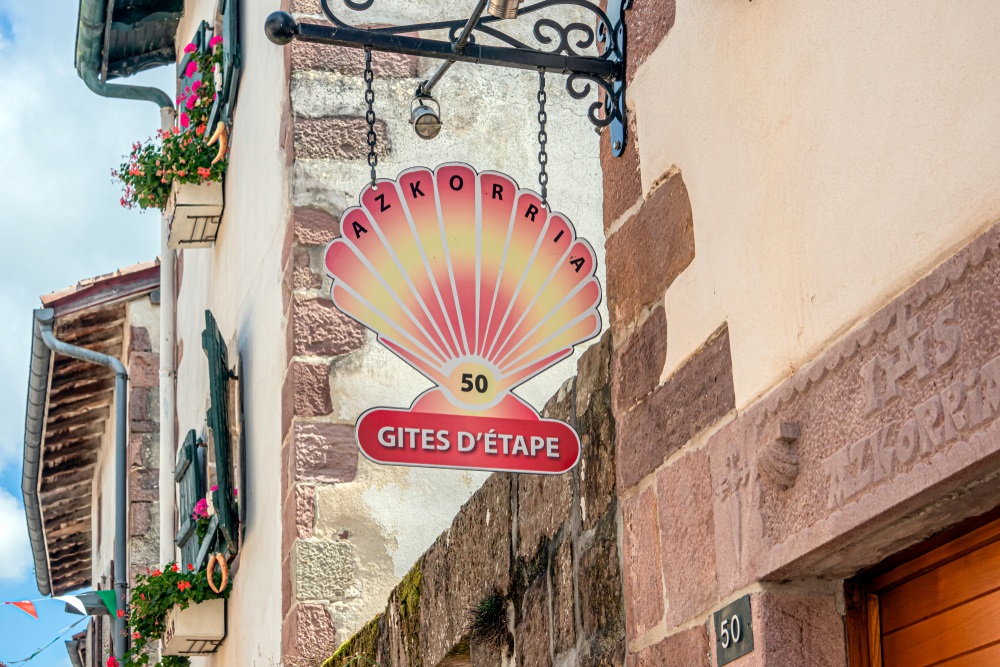 Wine Region:  Irouléguy
Sightseeing: If you have a few days before starting the Camino, explore the French Pays Basques-  Biarritz, the darling fishing village of St Jean de Luz, the picture postcard of Ainhoa, etc.  St-Jean Pied de Port itself is a lovely small town, as is Roncevalles and St Etienne de Baigorry is in the heart of Irouleguy wine country.
What to drink: Domaine Arretxea, Domaine Brana, Domaine Ilarria, Domaine Etxegaraya
Where to stay: Stay in a simple room at the Hotel Pyrenee and dine at their Relais & Chateaux restaurant
---
2. PAMPLONA, Navarra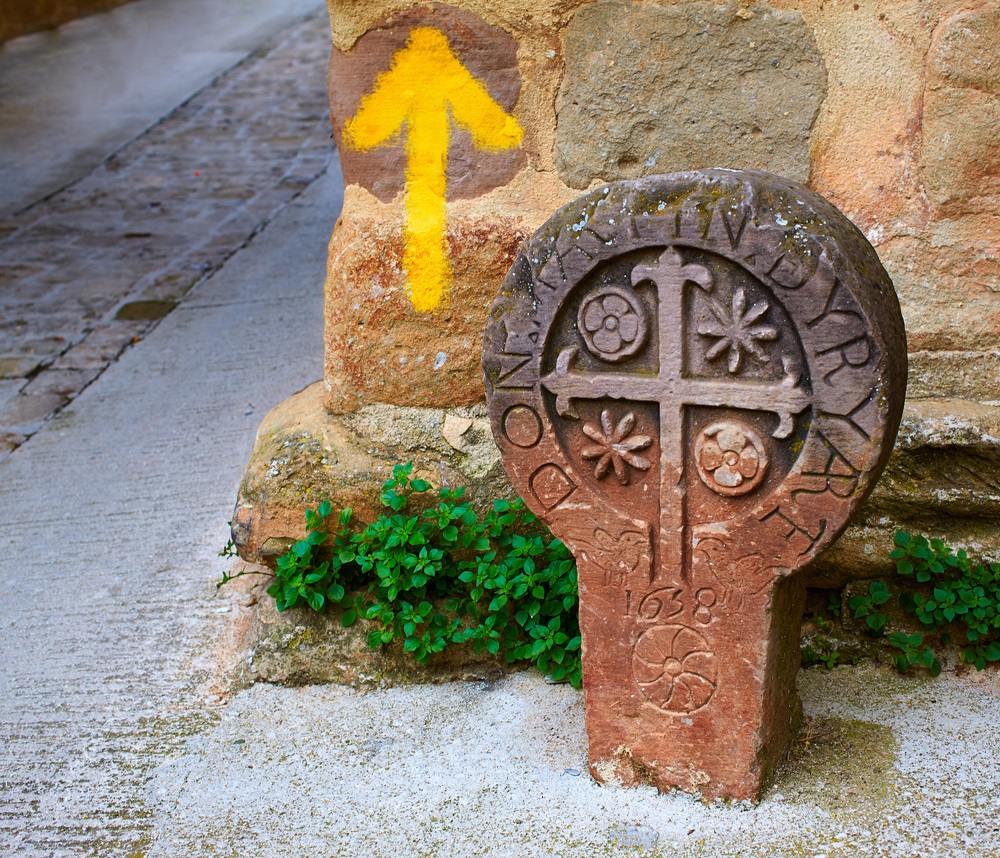 Wine Region: Navarra Wine Region
Sightseeing: Puente la Reina with its medieval bridge, 18th century Santa Eulalia de Merida church in Etxauri (14 km from Pamplona), the Hemingway trail in Pamplona, the Ermita de Santa Maria de Eunate in Muruzabal, the monastery of Irache (also a winery) with its Fuente de vino (a highlight for walkers on the Camino with its free wine), the hamlet of Dicastillo, the magnificent fairy tale castle in Olite, the lovely Iglesia de Santa Maria in Tafalla, Ujue with its fortress and the medieval hamlet of Larraga.
What to drink: El Chaparral de Vega Sindoa (Nekeas), Esencia Monjardin, Alzania Seleccion, Ochoa Vino dulce de Moscatel, Calchatas, Guelbenzo Evo, Coleccion 125 Chardonnay fermentada en barrica (Chivite).
Local dishes to try: Bacalao ajoarriero, Esparragos de Navarra, Cordero al Chilindron
Local festivities: The truffle festival in Oloríz in December, The medieval festival of Olite in August, and the international folkloric dance festival in Lodosa in July.
Visit wineries (always by appointment): Castillo de Monjardin, Palacio de Muruzabal, Principe de Viana.
Where to stay: La Perla in Pamplona, the beautiful Parador in Olite, and the Relais & Chateaux El Peregrino in Puente la Reina
---
3. LAGUARDIA, La Rioja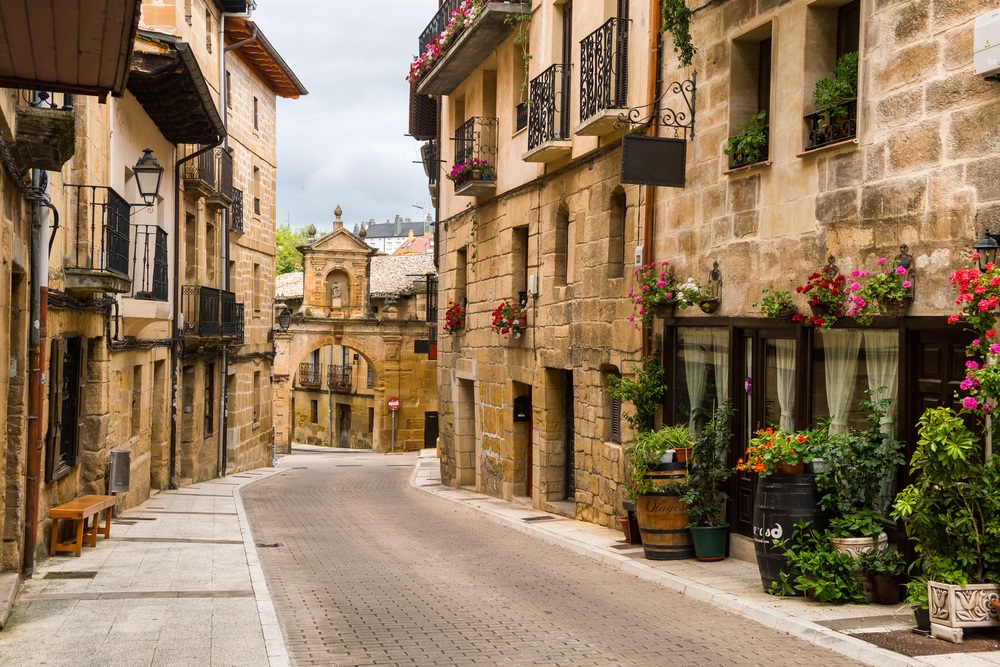 Wine Region: La Rioja Wine Regions
Sightseeing: Medieval villages like Laguardia, Briones, and Ábalos; Tapas (Calle Laurel) and some fine churches in Logroño; the hamlet of Navarrete; beautiful Torremontalbo; Nájera; the significant monasteries of San Millán de la Cogolla (birthplace of the Spanish language; and the  Santo Domingo la Calzada is a major stop on the Camino de Santiago.
What to drink:  Tempranillo is king here and Rioja has some amazing producers making both traditional and modern style wines. We love Benjamín Romeo's Contador, Sierra Cantabria, Remirez de Ganuza, Roda, Hermanos Peciña, Muga, Artadi, Finca Valpiedra and Señorio de San Vicente.
Local dishes to try: menestra de verduras (fresh sauteed local veggies, Rioja is a big vegetable producing part of Spain), alcachofas frescas salteadas con jamón ibérico (sauteed artichokes with cured ham, Bacalao a la Riojana (cod, Rioja style), Chuletillas al sarmiento (baby lamb chops grilled over grape vines).
Where to stay: The Marqués de Riscal wine resort in El Ciego is the most luxurious property (with wine spa and Frank Gehry design), and the Villa de Laguardia is a solid four-star outside medieval Laguardia, with a spa offering wine and olive oil treatments. Also recently opened in Laguardia´s main plaza is the Hospederia Los Parajes Inn.
Visit wineries (always by appointment): Darien, Baigorri, Muga, Lopez de Heredia, Juan Alcorta (Campo Viejo).
Local festivities: the "wine battle" of Haro in June, the medieval festival of Briones also in June, another lesser-known wine "battle" in San Asensio, and an array of harvest festivals
---
4. BURGOS- Ribera Del Duero
Wine Region: Ribera Del Duero
Sightseeing: The magnificent cathedral of Burgos, the pretty historic center of Lerma, Peñafiel with its castle housing a wine museum, the pharmacy of Peñaranda (dating to 1635!), and the medieval village of Covarrubias.
What to drink: Tinto del Pais, otherwise known as Tempranillo is the main grape in this red wine producing region. Top wines include Dominio de Pingus, Vega Sicilia, Pesquera, Mauro, Dominio de Atauta,  Alion, Emilio Moro, Arzuaga, Viña Mayor, Abadia Retuerta, Viña Pedrosa, Pago de los Capellanes and Pago de Carrovejas.
Local dishes to try Lechazo asado!! This is the definitive local dish; baby lamb roasted in ancient clay or brick ovens. Also, Asparagus from Tudela, Cochinillo (suckling pig), Morcilla de Burgos (black pudding spiced with paprika), and Salchicha de Zaratán are local specialties.
Where to stay: Palacio de la Merced in Burgos, Convento las Claras hotel and spa in Peñafiel, and the gorgeous Parador in Lerma, a 17th century ducal palace.
Visit wineries (always by appointment): Legaris, Matarromera, Prado Rey, Protos, Abadia Retuerta (gastronomic restaurant onsite).
---
5. LEON, Bierzo Wine Region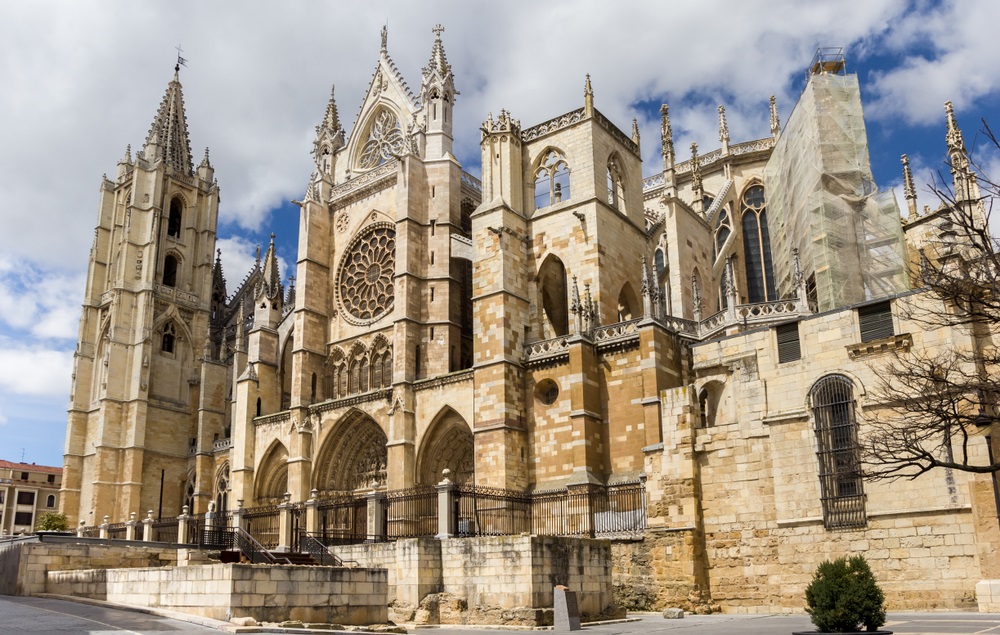 Wine Region: Bierzo
Sightseeing: Leon's outstanding cathedral, Astorga, Ponferrada with its fairy tale castle (featured in our most beautiful castles in Spain post), unique landscapes in Las Médulas, the abandoned castle of Corullón, the Cistercian monastery of Carracedo.
What to drink:  The land of Mencia! Amazing value red wines here and top bets include Dominio de Tares Cepas Viejas, Paixar, Pétalos del Bierzo
Local dishes to try: "El Botillo" (dating to medieval times), Cecina (cured beef), Cordero asado (roast lamb), Empanada de "batallón"
Where to stay: The Prada a Tope wine estate in Canedo.
---
6. GALICIA – Valdeorras Wine Region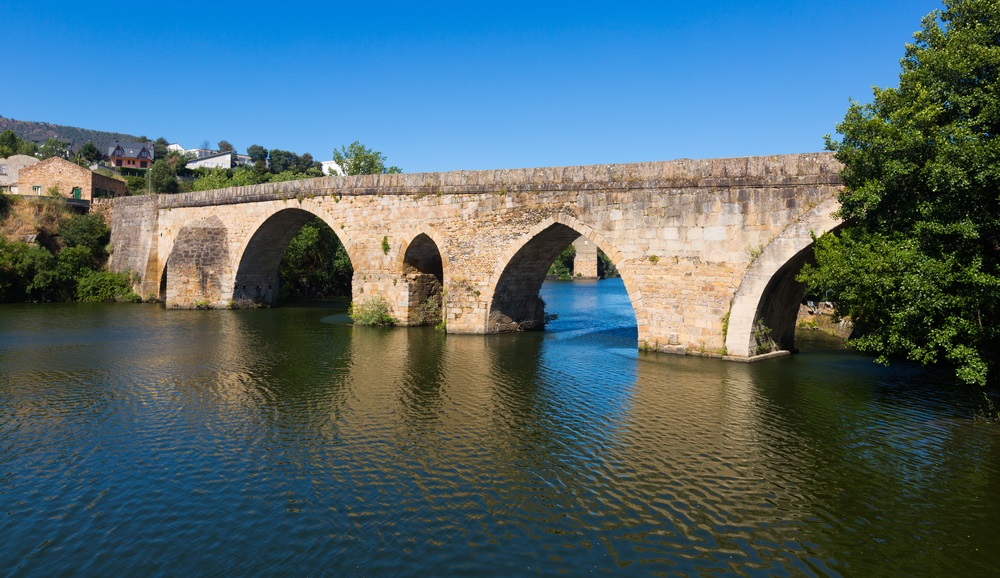 Wine Region: Valdeorras
What to see/do: Dine and spa at Spa Pazo do Castro, visit the outrageously baroque retablo in the tiny church of Rubia, the Monastery of Xagoaza (headquarters to the Godeval winery), and check out the Ancient Roman Cigarrosa bridge near the wine-producing village of Petín.
What to drink: Godello is the main grape here and our faves are  Valdesil and As Sortes. Other good ones include Joaquin Rebolledo, Godeval and Guitian Fermentado en barrica (Bodegas la Tapada).
---
7.  GALICIA – Ribeira Sacra Wine Region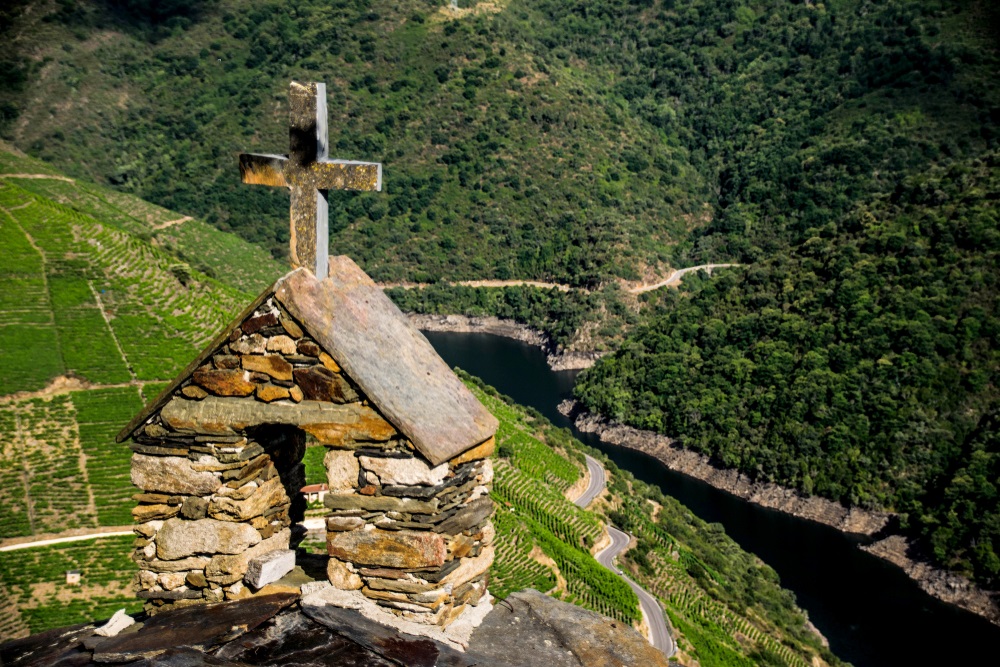 Wine Region: Ribeira Sacra
What to see/do: This is the prettiest of all Galician wine appellations, and the riverside scenery is sublime (the Miño and Sil rivers converge here).  Here is a great website in English with a full list of sightseeing options.  Wonderful area.
What to drink: a host of white and red varietals are grown here, including Albariño, Treixadura, Loureiro, Torrontés, etc. Uniquely a region known for reds and whites. We love love love Adega Alguiera and Dominio do Bibei.
Local Festivities: There are many wine festivals in the region, including the charmingly named wine-producing area of Sober.
Where to stay: Located in pristine forest and countryside in this beautiful wine region is the delicious Parador of San Estevo, featured in our post on the best wine hotels in Spain.
---
8.GALICIA- Ribeiro Wine Region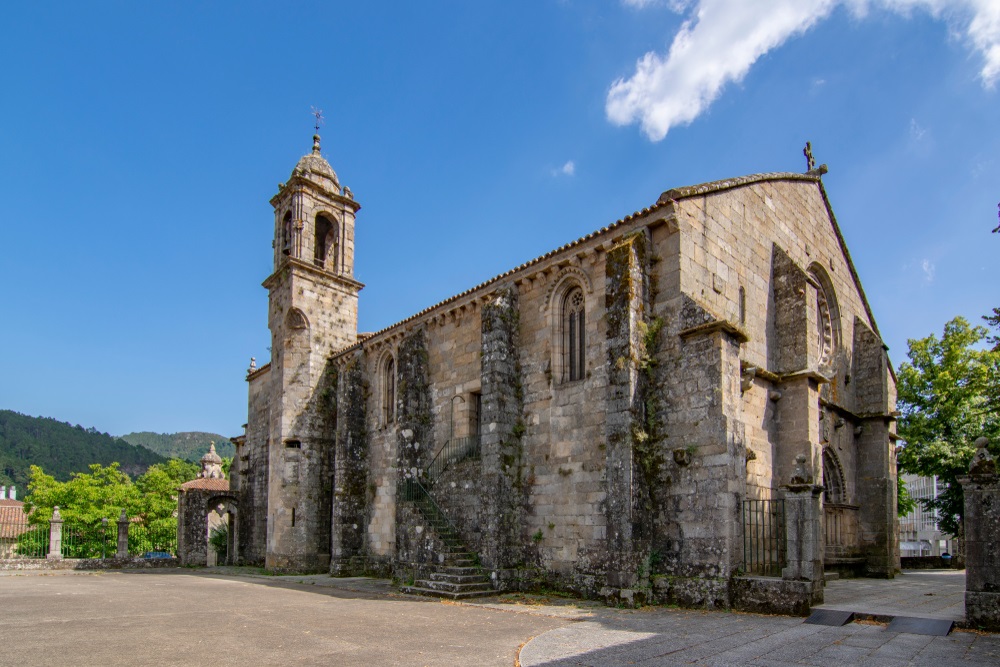 Wine Region: Ribeiro
What to see/do: The Monastery of San Salvador in Celanova (founded in 936, although much of what you see now is 16th and 18th-century add-ons), the curious spas in Cortegada (in a modernista palace), and the tiny but interesting Jewish quarter in the small medieval town of Ribadavia.
What to drink:  Ribeiro is known for its fresh whites, and we quite enjoy Viña Mein, not to mention the fab estate of Pazo Casanova.
---
9.GALICIA- Rias Baixas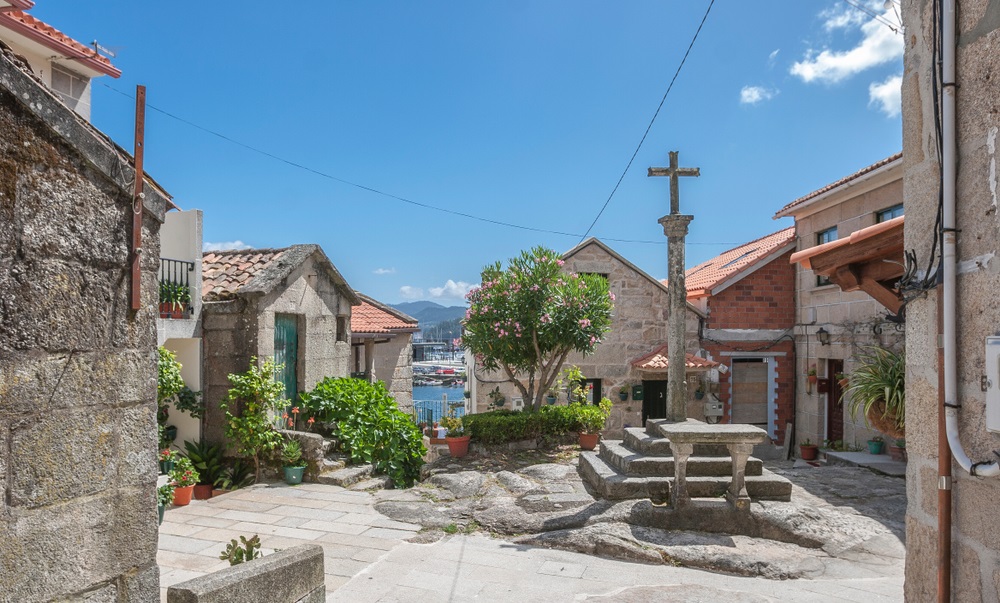 Wine Region: Rias Baixas
What to see/do:  Stay at the Parador of Baiona, one of the most scenically perched Parador hotels in Spain. Cambados is a quaint fishing village.  And the Cies islands are to die for, rent a private boat to explore.
What to drink: Albariño, but of course! Considered the most elegant white wine in Spain, the Albariño grape flourishes in this area's vineyards (Rias Baixas translates as "low rivers," referring to the estuaries in southern Galicia). Top producers include Fefiñanes,  Pazo de Barrantes (owned by Rioja's Marques de Murrieta), Pazo de Señoráns, Terras Gaudas, and Lagar de Fornelos. The Martin Codax brand is probably the most popular Albariño abroad and one you are likely to find back home.
---
10. SANTIAGO DE COMPOSTELA!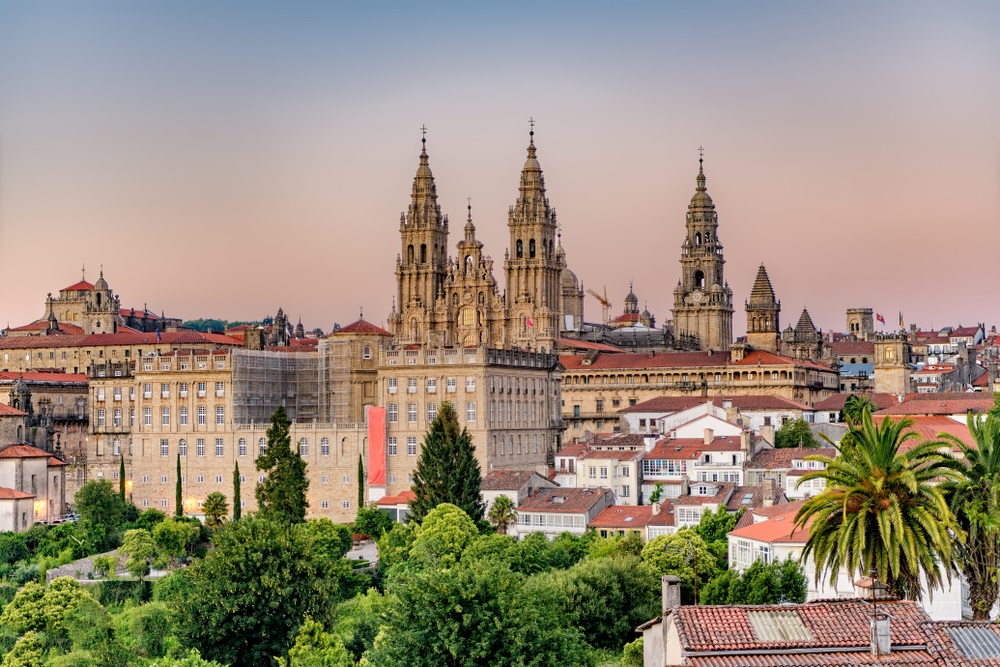 Sightseeing: Santiago de Compostela Cathedral is, of course, the first stop for pilgrims, and the energy here at the end of the Camino is amazing, with people from all over the world descending on the cathedral and then the bars and restaurants of the old town. The fun thing to do here is just get lost in the old town and taste food and wine along the way.
What to drink: The tapas bars in Santiago serve Albariño in pretty ceramic cups, and it is hard to find a bad house, Albarino! The zippy white wine pairs perfectly with specialties like Pulpo a la Gallega (octopus drizzled in olive oil and smoked Spanish paprika).
Where to stay: For us, there is only one place to stay in Santiago itself, and that is at the beautiful Parador, which breathes history and romance.
POST CAMINO WINE EXPLORING:
The Douro Valley is only a few hours south, and Northern Portugal is a treat for those looking for fabulous food and wine and unspoiled wine country.
Related Blog Posts: