Sassicaia, Ornellaia – these mythical wines are known as "Super Tuscans," and they come from the beautiful coastal Maremma Wine Region, located in Southern Tuscany. "Super Tuscan" is a term that was coined to refer to these great wines, which for years bore the term "Vino da Tavola," table wine (despite also wearing 200 dollars per bottle price tags). The reason behind this anomaly was that the wine regulatory councils in Tuscany did not allow the use of "foreign" varietals, such as Merlot and Cabernet Sauvignon, in wines that they granted the DOC and DOCG quality seals. This was controversial, as some wineries had been growing these "foreign" grapes for years. Certain winemakers, confident enough in their winemaking, decided to forfeit the quality seal (DOC/ DOCG) and make the wines they believed in, hoping that customers would judge their wines on the actual merit and not its seal. In fairly little time, wines like Sassicaia became cult wines, adored by wine journalists and anoraks alike. The rest is history.
The Maremma is extremely different than Northern Tuscany. While the north boasts such spectacular cities as Florence, Siena, and Lucca, the region also received hoards of tourists. It can be uncomfortably crowded in high season, indeed even in low season. Wine regions in Northern Tuscany, such as Chianti Classico, have extremely well-developed wine tourism, and most cellars open to the general public. The Maremma, on the other hand, is far more exclusive. Few cellars open to the "general public," and the region is noticeably less touristy. This is why the Maremma, for serious wine lovers, is such an attractive region to visit. Towns like Castiglione Della Pescaia (with its charming fishing port and castle), Pitigliano (an amazing village completely carved out of the rocky outcrop below, an ancient Jewish village), and Massa Maritima (with its quaint cobblestoned, Medieval streets) are all fabulous little gems- they are virtually free of the crowds.
Visiting
Cellar Tours organizes exclusive luxury Maremma Wine Tours, featuring top producers, privately chauffeured, dining in the best local restaurants, and staying in charming countryside hotels.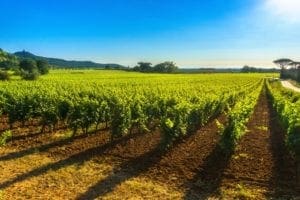 The Wild West
The Maremma is often referred to as the "Wild West," both in terms of its landscapes and winemaking. While in Northern Tuscany, the Etruscans were making wine thousands of years before, the Maremma used to be a wild, swampy backwater, and viticulture was only introduced to the region in the 19th century. It wasn't until about the 1980s that foreigners had even heard of Maremma wines. The man often credited with discovering the region's potential is Marchese (Marquis) Mario Incisa della Rocchetta, the Sassicaia founder. His vision was Bordeaux style wines, blended with Tuscany's noble Sangiovese grape.
The principal wine villages in the Maremma are Bolgheri, Castagneto Carducci, and Suvereto. Grapes used in Maremma wines include Sangiovese (of course), Cabernet Sauvignon, Merlot, Chardonnay, Vermentino, Cabernet Franc, Alicante Bouschet, and Aleatico. Wine Tours specialists like ourselves can organize VIP winery visits to the best cellars in the Maremma, combined with olive oil tasting, fine dining, and gorgeous accommodation. Contact us for more information.
Technical Information
Climate: Mediterranean climate with hot summers (moderated by nightly sea breezes) long autumns, mild humid winters, and rainy springs.
Soil Types: Loam and clay in some areas; clay and sand (with plenty of limestones, and multi-sized pebbles).