Barbaresco's winemaking community owes much to one family – the Gajas. After the region – situated in the Piedmont region in northwest Italy – was awarded DOGC status in 1980, the Barbaresco wine region suffered from unfavorable comparisons with its more famous sibling Barolo. The wines made across the zone were often excellent, yet both critics and buyers were reluctant to view the neighboring appellations as equals. This bias continues to linger, guiding people's buying-decisions even today. This is even though the grape variety is identical – Barolo and Barbaresco must be 100% Nebbiolo.
Visiting
Cellar Tours organizes exclusive luxury Piedmont Wine Tours, featuring top producers, privately chauffeured, dining in the best local restaurants, and staying in charming countryside hotels.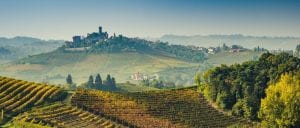 Angelo Gaja
However, Angelo Gaja has done much to change attitudes and erode prejudices. His family firm was created in 1859 – Gaja joined the company in the 1960s and quickly revolutionized winemaking in Barbaresco. Planting international grape varieties and embracing viticultural techniques imported from France, Gaja was eager to show the world that Barbaresco could make wines as profound as Burgundy. The winemaking was adapted to embrace hitherto 'sacrilegious' ideas, and the quantities produced were drastically lowered – including selling off an entire vintage in bulk after the disastrous 1984 growing season. Suddenly, critics were proclaiming the wines of Barbaresco as "magnificent" and "among the best in Italy." Today, the firm is guided by Angelo's daughters Gaia and Rossana. They are among the most respected and dynamic winemakers in Piedmont.
But in some ways, Gaja's daughters are fortunate; the milestone work has already been done for them. Barbaresco still suffers from the inevitable comparisons with Barolo; however, there is a strong demand for these ethereal wines and a widespread acknowledgment from critics that Barbaresco is no poor relation. Indeed, Gaja and Bruno Giacosa's best wines routinely fetch eye-watering prices and sell out quickly after release. Their top cuvees are based on the most hallowed sites in the Langhe hills, situated on the right bank of the River Tanaro. The vineyards are found to the northeast of Alba, surrounding the villages of Barbaresco, Neive, and Treiso. Planted on calcareous clay soils, the best sites enjoy a south-facing aspect with moderate altitude; the Nebbiolo grape is a particularly late ripener, so the finest wines tend to come from vineyards not higher than 300 meters.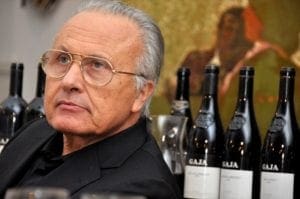 Slightly lower and warmer
Also, the vineyards of Barbaresco are generally slightly lower and warmer than those of Barolo, partly due to the slightly maritime climate and hotter summer temperatures. As a result, the harvest in Barbaresco will often start two or three weeks earlier than in neighboring Barolo, where growers are still tending to their vines. Barbaresco is also typically released after two rather than Barolo's three years of aging – the wines are undoubtedly more approachable and less tannic than top Barolos. Yet this is only to their advantage – it would be disingenuous to claim that Barbaresco is less fine. With a few years of bottle age, the same intoxicating aroma fills the glass: tar, violets, forest floor, wild mushrooms, raspberry, and leather—pure bottled magic.
How different, then, to the wines made in the 19th century. Up to the 1850s, Barbaresco was known for its sweet wines, vinifying Nebbiolo without concluding the fermentation and bottling with a high degree of residual sugar. However, a French winemaker called Louis Oudart was recruited by a landowner in Barolo. He demonstrated how to make dry styles – his ideas spread like wildfire. Soon, the Oudart paradigm became firmly entrenched in the mindsets of Barbaresco's producers; he practiced late picking, lengthy fermentation, and long extractions, finishing with aging in oak casks, sometimes for as long as a decade. These 'rules' remained unchallenged until Angelo Gaja started embracing shorter maceration times, gentler extractions, and aging in New French oak – the latter really horrified the traditionalists.
Today, modern vinification approaches tend to rule in Barbaresco, although Bruno Giacosa has been a staunch critic of aging in new barrique. Most growers chase phenolic ripeness, fermentation in stainless steel, shorter macerations, and aging in either new or older French oak. The results are still tannic wines that benefit from bottle age, but today the tannins do not overwhelm the hauntingly ethereal aromas and flavors. Protecting the fruit expression is now key in Piedmont.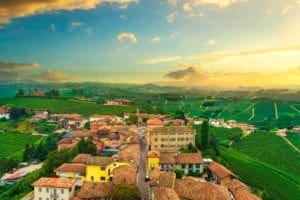 Terroir
Nevertheless, the terroir has remained unchanged over the centuries, although global warming is an on-going concern. Barbaresco has less than half as much vineyard as Barolo and obviously produces less wine. The village itself is very pretty: located on a ridge that faces west towards Alba, Barbaresco is flanked by a series of remarkable terroirs which fetch the highest prices. Collectors swoon over Asili, Martinenga, and Sori Tildin – they benefit from perfect drainage, slope, and aspect, with old vines producing wines of remarkable concentration and purity. Moving lower and to the east, the vineyards surrounding Neive are slightly less fine, if still in the top ranks of Barbaresco. The finest terroirs in Neive include Bricco di Neive and Santo Stefano, again benefiting from ideal sun-exposure and perfect drainage. The best wines from these sites are exceptional: concentrated and powerful, with enough stuffing and tannic structure to last nearly as long as the best Barolos.
Moving southwest, we find the commune of Treiso, whose Nebbiolo tends to be lighter in structure and very aromatically expressive. Pajore and Roncagliette are among the best climats. Like Barolo, Barbaresco is split into sub-zones, although everyone is hesitant about committing to a hierarchal terroir classification in the Burgundy mold. The debates continue to rage – this topic will run and run.
Nebbiolo remains the signature grape of both regions; however, it doesn't have a monopoly on viticulture in Barbaresco. Growers realized long ago that the highest slopes would not ripen Nebbiolo, instead planting Dolcetto, which ripens into a gloriously soft and approachable wine in the best years. There are also smatterings of Moscato and Barbera, both of which make excellent wines. Angelo Gaja even planted Cabernet Sauvignon in Barbaresco, convinced that the terroir could do the grape justice. He has been vindicated – Darmagi (a Bordeaux blend) is arguably the finest wine in Barbaresco.
Of course, many traditionalists would disagree wholeheartedly. Bruno Giacosa has proven that 100% Nebbiolo wines, made in a classical manner, can boast the sheer weight and intensity of Barolo. Moreover, with a few notable exceptions, overall winemaking standards in Barbaresco have risen dramatically, with far fewer grapes sold to co-operatives and the local merchants for anonymous blending. The costly single-vineyard wines of Gaja – such as Costa Rossi – often outperform their counterparts from Barolo in the auction circuit. These two great winemakers may disagree about many things, but their combined brilliance has elevated Barbaresco to the ranks of 'Grand Cru.' No longer an understudy, Barbaresco now elicits excitement rather than apathy.