Gigondas is little more than a sparsely populated hamlet, and yet it commands great affection from both locals and visiting oenophiles, as one of the southern Rhone's most important wine-producing villages. Spectacularly located against the cliffs, Gigondas has played a vital role in the region's viticultural history for decades and is today a quintessential Provencal wine village, complete with a healthy amount of ancient ruins and reminders of the area's Gallo-Roman history.
History
Like the majority of the towns and villages in the southern Rhone Valley, Gigondas' history is closely linked to that of the Romans, who invaded Gaul (France) at the behest of Julius Caesar in 58 BC. The first mention of Gigondas is as a Roman settlement called Jocunditas, which means great pleasure or enjoyment in Latin. Once inhabited by nomadic Celtic tribes, the Romans quickly established a foothold in Provence and planted the region's first vines, primarily to serve the needs of their vast armies.
After the fall of the Western Roman Empire, Gigondas eventually came under the control of the Catholic Church, who established a significant presence in France – In 1309, Pope Clement V moved to Avignon and established a Holy See in Provence. Like neighboring Chateauneuf du Pape, Gigondas benefited from the Church's strong interest in vine cultivation and by the 14th century, great amounts of land in this part of the Rhone was given over to vines. For this, history should thank Pope John XXII, who showed an active interest in promoting the region and did much to improve viticultural practices, as well as increase the number of vines planted in Chateauneuf du Pape and the surrounding environs.
Subsequently, Gigondas was ruled as part of the Principality of Orange, a feudal state in Provence that was established by the Holy Roman Emperor Frederick I. In the 16th century, the Principality of Orange came under the control of the Dutch King William I, who inherited the title of Prince of Orange from his cousin in 1544. The Dutch Royal Family enjoyed sovereignty over the territories of Orange for several centuries, finally ceding control to the French King Louis XIV in 1682.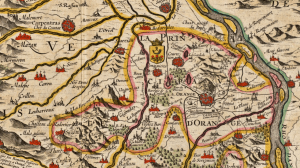 Modern Times
By the 19th century, the wines of Gigondas were establishing a formidable reputation for their quality, both in France and abroad. In 1894, top wines were winning gold medals at agricultural fairs in Paris, cementing Gigondas' position as one of the Rhone's top winemaking villages. However, it is also during this period that the Phylloxera epidemic struck the southern Rhone's vineyards and destroyed many grower's livelihoods. Only after the First World War, did the area's fortunes rebound somewhat.
The 20th century witnessed many key events for Gigondas, in particular, the evolution towards being a village solely dedicated to wine growing. This was largely due to the devastating frosts of 1929 and 56, which destroyed most of the area's ancient olive trees and along with it the farmer's key source of income. Thereafter, the number of vines planted increased and growers turned to viticulture as a more reliable means of earning a living. In recognition of the growing quality of the region's wines, local producers requested appellation status as early as 1924, however, Gigondas was not formally recognized as a distinct sub-region within the Cotes de Rhone until 1971.
And so for oenophiles, nature lovers and those who simply appreciate a good view, Gigondas is today one of Provence's most captivating and attractive wine villages. Its charm lies in its essentially sedate nature – unlike other more famous destinations, Gigondas has simply remained an unspoiled and authentic "working" village. Or in other words, an essential stop on your trip through the beguiling scenery of Provence!
Gastronomy & Wine
Provencal cuisine remains firmly rooted in the dual considerations of seasonality and provenance, ensuring that whatever you order will be fresh, local and usually of excellent quality. And no dish is more evocative of Provence than bouillabaisse, a chowder made with at least three kinds of fresh saltwater fish, cooked in a broth containing onions, tomatoes, saffron, and various herbs. But, this is just the tip of the iceberg – among the essential ingredients of Provencal cooking are eggplants, courgettes, garlic, asparagus, Carmargue lamb and other gastronomic delicacies.
Despite its small size, Gigondas boasts a surprising number of good restaurants, to suit all occasions and budgets. Top of our list is L'Oustalet, on Place Gabrielle Andeol. Gastronomic with a capital G, this restaurant is one of the best addresses in Gigondas, it serves mouthwatering local dishes in a relaxed, friendly setting. Carre Gourmand on Rue du Corps de Garde is another great choice, not least because of its gorgeous alfresco terrace and keenly priced set lunch menu. In addition, there are several wine shops dotted around Gigondas, some of which also serve nibbles such as bread, cheeses, and charcuterie, with a glass of something local, of course.
Speaking of wine, you're in luck as Gigondas is some of the best red produced in the southern Rhone Valley. Grenache is the backbone of the region, although Syrah and Mourvedre also play an important role in adding structure, freshness, and vigor to the blend. Gigondas reds (there is no white) are typically robust, concentrated wines that need five or six years' aging to show their hand. Situated beneath the Dentelles de Montmirail, Gigondas' top vineyards produce wines to rival the best of Chateauneuf du Pape, however, prices are generally very reasonable considering the quality on offer.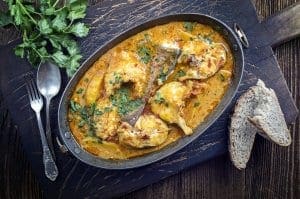 Highlights
Winery visits

Gigondas' few residents all share one passion and indeed vocation: the production of superb red wine from these superior vineyards in the southern Rhone Valley. A top choice for a winery visit would be the Caveau de Gigondas, a cooperative of smaller producers that offers free tastings. Other notable properties include Domaine Santa Duc, Chateau St-Cosme and Domaine de Cayron. All welcome visitors.