Profile of Château de Vinzelles
Château de Vinzelles is one of the Maconnais' most exciting producers; winemaker and owner Francoise de Lostende has given the region a massive image boost with her superb Chardonnay, definitive proof that the Côte-d'Or does not have the monopoly on exciting white Burgundy! For it should be emphasized that the Maconnais is Burgundy's frontier region, where the full potential of the Chardonnay grape has only been fully realized in the last 15 years. It is largely thanks to properties like Château de Vinzelles that wines from the 3 different sub-regions are at an unprecedented level of quality, now expressed in individual climats (terroirs) that make this region so complex and exciting.
The Château de Vinzelles property has a long and distinguished history as a family domaine, with buildings on the current site from as far back as the 11th century. The Vinzelles family originally owned the estate; it then passed through marriage and inheritance to the lordly Saint-Amour family. As is often the case in France, the estate then changed ownership several times through the centuries. Finally, the current owners, the Lostende family, took control in the last century. However, the wine had been made on this site for centuries, and the current Château boasts an ancient wine press that dates back to the 17th century. Visitors to the Château can still marvel at this winemaking historical gem today.
In the past 10 years, the wines of Château de Vinzelles have emerged as a serious contender to rival even the most elegant and refined Premier Cru Cote de Beaune wines. There are no Premier Cru vineyards in the Pouilly de Vinzelles appellation, but standards remain impeccably high, with an insistence on manual harvesting, rigorous selection, and aging. However, a wine lover must not come looking to the region for various wines or styles; Françoise makes no more than one individual cuvee, from choice vineyards on limestone-clay soils, the ideal terroir for nurturing Chardonnay to perfect ripeness. From the outset, de Lostende sought minerality and precision from her wines and achieved it with some of the most aromatic, concentrated, and terroir-driven wines of the region, which excel even in challenging vintages. Moreover, there is never any rush to enjoy these wines, as most vintages will be better in 3-5 years – a stunning introduction to the exciting and frontier wines of the Maconnais!
Wines produced
Château de Vinzelles Pouilly Vinzelles

100% Chardonnay. Fermentation takes places in vats, followed by a malolatic fermentation in French barriques. The wine is then aged for a period of 12-14 months in French oak. Approachable on release, this wine will benefit from additional cellaring.
Winery details
Burgundy,71680
France
Tel +33 06 07 11 43 88
Fax +33 03 85 35 60 97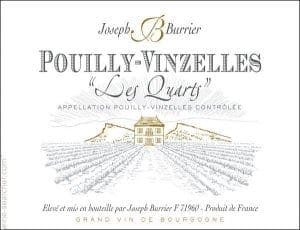 Appellation

AOC Pouilly Vinzelles

Founded

17th Century

Area under vine

15.5 hectares

Age of vines

25 years+

Oak barrel origin

French
Winemaker

Francoise de Lostend

Owner

Francoise de Lostende

Grape varietals

Chardonnay