Profile of Tenuta Valdipiatta
Just outside the beautiful hilltop Tuscan town of Montepulciano, whose ancient defense walls and majestic palaces overlook the Orcia and Chiana river valleys, spreads the 75 hectares of the lovely Tenuta Valdipiatta winery. A stellar Montepulciano winery is an intimate estate boasting only 30 hectares of vines. It is one of the most prestigious in Tuscany, renowned for wines like the mighty Vino Nobile di Montepulciano "Vigna d'Alfiero," one of the region's most popular wines.
When Giulio Caporali bought this small farm in the 1970s, it was known merely for its picturesque location among the hills of Montepulciano. Yet, with time, patience, and much hard work, Caporali coaxed expressive, elegant wines out of the loose sandy clay soil of Valdipiatta. Caporali made a name for Valdipiatta as one of the region's preeminent wineries using both old vines he recovered from the estate and newly planted vines.
Tenuta Valdipiatta cultivates the classic Vino Nobile di Montepulciano varietal of Prugnolo Gentile (a clone of Sangiovese), along with Mammolo, Canaiolo Rosso, and Cabernet Sauvignon for the reds. White varietals used include Grechetto, Trebbiano Toscano, and Malvasia Toscana. Experience these delicious wines on a VIP private Tuscany Wine Tour organized by Cellar Tours
Wines produced
Rosso di Montepulciano

80% Sangiovese, 15% Canaiolo Nero, 5% Mammolo

Vino Nobile di Montepulciano

85% Sangiovese, 15% Canaiolo Nero

Vino Nobile di Montepulciano "Riserva"

100% Sangiovese

Chianti Colli Senesi "Tosca"

90% Sangiovese, 10% Canaiolo Nero

Vin Santo di Montepulciano

Trebbiano, Grechetto, Malvasia in equal parts
Winery details
Via della Ciarliana
25/A 53040, Montepulciano (Siena)
Italy
Tel +39 0578 757930
Fax +39 0578 717037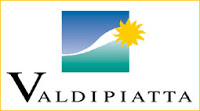 Appellation

(DOCG) Vino Nobile di Montepulciano

Founded

1973

Area under vine

30 hectares

Age of vines

1973

Oak barrel origin

The winery uses both big casks of Slovenian oak and barrique and tonneaux from a good range of French Tonnelleries, with different oak: Russian oak, American oak, and French oak.
Winemaker

Mauro Monicchi

Owner

Caporali Family

Production

For pre-2001 vintages, production is 75-80,000 bottles (about 6,500 cases) annually. For the 2001 and later vintages, total production is 90-95,000 bottles (about 7,700 cases).

Grape varietals

80% of the vineyards are planted with Sangiovese, which in Montepulciano takes the local name of "Prugnolo Gentile". Other varieties include Canaiolo Nero, Mammolo, Merlot, Cabernet Sauvignon and Pinot Nero