Castilla y León is one of Spain's most diverse destinations. The Cantabrian Mountains border the landlocked region to the north and Portugal to the west. Galicia, Rioja, and other Spanish regions surround Castilla y León, too. Geographically, the region is prime real estate for agriculture, as it's mostly an undulating plateau with fertile soils. Yet Castilla y León has more to offer travelers than solely vast landscapes. The famous Camino de Santiago runs through the northern plains of Castilla y León. This stretch of the Camino from Burgos to León is revered as the most rewarding. The region is also home to many worth visiting sites, including three UNESCO world heritage towns of Ávila, Salamanca, Segovia, the incredible gothic Burgos Cathedral, and the archaeological site Atapuerca. Beyond sightseeing, the cuisine of Castilla y León is enough to beckon travelers to visit.
Read more about Spanish Cuisine
You can explore this region of Spain with Cellar Tours on a private Luxury Food and Wine Vacation, dine in the best local restaurants, and enjoy VIP tastings in the top bodegas.
Cuisine of Castilla y León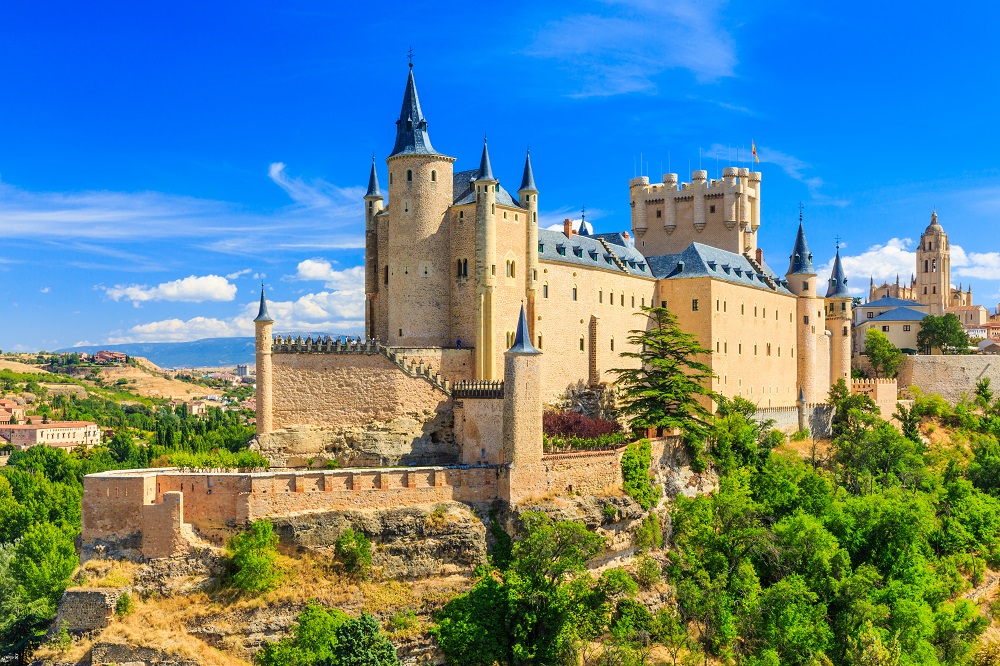 Castilla y León encompasses nine regions including Ávila, Salamanca, León, Segovia, Soria, Palencia, Burgos, Valladolid, and Zamora. Although each region has its signature dishes, the cuisine of Castilla y León is generally hot and filling to balance the prevailing cool climate. The region is known as El asado en España, or Spain of the Roast, because of the region's roast suckling pig and lamb dishes. In addition, game meats like hare, rabbit, pigeon, and partridge are widely enjoyed. Even trout is a specialty in Zamora and León. The cold and choppy waters the fish live in keep them small and give them an excellent taste. Crayfish and crab are also popular.
In addition to roasted meats, Castilla y León cuisine boasts hearty stews, savory wild mushrooms, and a variety of legumes. More specifically, pulses like Castilian chickpeas, lentils from Armuña, and red, black, and white beans are used in many recipes. They're the typical accompaniment to the region's celebrated roasted meats. These beans are so integral to the cuisine that several have garnered their denominations of origin, signifying their quality. For example, kidney beans from Bañeza-León, chickpeas from Fuentesaúco, and lentils from La Armuña and Tierra de Campos are all certified for their quality.
The province of Soria is renowned for its abundance of savory mushrooms and decadent black truffles. The quantity and significance of mushrooms are so profound that over 350 mushroom-related events are hosted in Castilla y León every year. In addition, there are also several conferences centered around lamb, pork, and wild game.
Breadmaking in Castilla y León
A very early version of bread was first introduced to Spain thousands of years ago by the Celtics, who inhabited the land before it became Spain. Eventually, the Iberian people put their twist on breadmaking by using beer to leaven the dough. Finally, bread became so engrained in the Castilian culture that citizens would gather at communal ovens to bake their bread. These ovens were utilized well into the 20th century. Today, pan de Valladolid and hogaza de Zamora are two of the most popular types of bread.
Wines in Castilla y León
Before diving further into the cuisine of Castilla y León, let's explore the wines of the region and what wine to pair with each Castilian-Leonese dish you order while there.
Castilla y León is home to well-known wine regions like Ribera del Duero and Rueda. Lesser-known denominations also produce exceptional wines, including Bierzo, Cigales, Toro, Arlanza, Arribes, Cebreros, and Sierra de Salamanca. Therefore, Castilla y León delivers a wine for every palate with a wide variety of red, white, and rosé styles.
Ribera del Duero D.O.
Ribera del Duero D.O. lies in the Duero Valley along with Toro D.O. and Rueda D.O. Situated in the highest part of the Meseta Central plateau, a ring of mountains encircles Ribera del Duero. As a result of the geography, the region's vineyards are cut off from maritime influence. Consequently, summers are hot and dry, while winters are very cold. Yet thanks to the altitude, hot summer temperatures drop overnight. This diurnal temperature shift gives the vines a rest while preserving fresh fruit flavors and acidity.
Ribera del Duero D.O. only covers red and rosé wines. Tempranillo is the star grape of the region. Therefore, wines must contain at least 75% Tempranillo to be recognized under the denomination. Cabernet Sauvignon, Merlot, and Malbec are also permitted but not frequently used. Lovers of big, bold reds can look to Ribera del Duero for concentrated red and black fruit flavors and powerful tannins and structure. The legendary Vega Sicilia winery calls Ribera del Duero home and helped establish the wine region as one of the best in the world. read more
Toro D.O.
Toro D.O. experiences a similar climate to Ribera del Duero. Vines here are mainly head-trained as bush vines to give the grapes some reprieve from the hot, sunny conditions. Toro red wines are also primarily made from Tempranillo. They're generally full-bodied with intense red fruit flavors and high alcohol. Joven designated wines typically have a proportion of Garnacha blended with Tempranillo for a more fruit-forward style. Whereas Reserva and Gran Reserva styles are deeply colored and tannic, making them ideal for aging. read more
Limited quantities of rosé and white wine are also produced under the Toro D.O. White wines are made from Verdejo or Malvasia, both brought to the region long ago by nomadic Arabs. Single varietal Verdejo and a blend of the two varieties of at least 85% Malvasia can be labeled under the Toro D.O. The region's white wines are delicate on the palate exuding aromas and flavors of apple, pineapple, honey, and florals.
Rueda D.O.
Rueda D.O. lies between the Ribera del Duero and Toro. However, unlike neighboring regions, Rueda focuses on white wine production. The continental climate and cool summer nights are ideal for cultivating Verdejo. Sauvignon Blanc is the other main white grape variety grown in Rueda. Both single varietal wines from either variety are produced here. Blends must be made from a minimum of 50% Verdejo. Rueda's other varieties include Viura, Palomino Fino, Chardonnay, and Viognier.
Additionally, the region produces sparkling white wines made from a minimum of 75% Verdejo or Sauvignon Blanc. Red wines, rosé, and sparkling rosé are also made in Rueda. Tempranillo is the main red grape of Rueda, supported by Garnacha, Cabernet Sauvignon, Merlot, and Syrah. read more
Bierzo D.O.
Bierzo D.O. is situated in the mountainous zone on the boundary of Meseta Central and Galicia. Here the climate is more moderate, and vines benefit from the cooling maritime influences of the Atlantic Ocean. Bierzo is unique from other wine denominations in Castilla y León in that the key grape of the D.O. is Mencía. Red wines made from this Spanish grape abound in fresh fruit flavors, juicy acidity, and occasionally a hint of herbaceousness. The best Bierzo wines come from old vines grown on steep stony slopes. read more
Cigales D.O.
Cigales D.O. is a small wine region in the center of Castilla y León. The region is synonymous with rosé, though white and red wines are made here, too. Albillo, Verdejo, and Sauvignon Blanc are the main white grapes grown in Cigales, and Tempranillo, Garnacha, Merlot, and Syrah are the main red varieties. Traditionally, Cigales rosé is vinified as white wine but uses a blend of red and white grapes to get its signature pink color. They're well-structured rosés with ripe fruit flavors, floral aromas, and rounded texture.
Castilian-Leonese Soups & Stews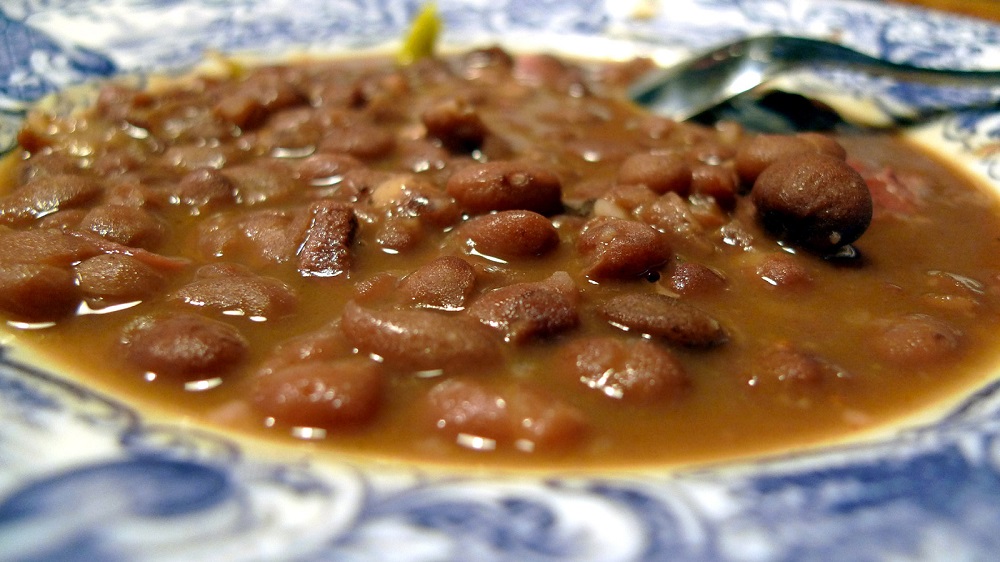 Olla podrida is a heavy stew that is traditionally prepared in a clay pot, in low heat for many hours
The cool continental climate of Castilla y León calls for heartwarming soups, and the regional cuisine delivers.
Sopa de Ajo
Sopa de ajo, also known as Castellana or garlic soup, is a classic Castilian-Leonese recipe in which pungent garlic is the star of the show. The medicinal properties of garlic make this an exceptional soup to cure a common cold that's more prevalent in the winter months. Beyond garlic, the soup is made with olive oil, Spanish ham, a few slices of day-old bread, paprika, and salt. Sopa de ajo can also be enriched with a poached egg cooked in the soup.
Zamora soup
Zamora soup is a different spin on garlic soup with the addition of ripe tomatoes and chili peppers. The latter help keeps away the cold with their warming spiciness. Enjoy a glass of Verdejo from Rueda D.O. with either soup. The white wine's fruity aromatics with hints of aniseed and fennel will beautifully balance the potent garlic flavors.
Obrigo Trout Soup
In Obrigo de León, trout is an especially prized ingredient and makes its way into the Obrigo trout soup:
It's prepared by boiling water, onions, and trout cut into two to three pieces. Garlic, salt, paprika, and a drizzle of olive oil are ground together using a mortar and pestle. The mixture is added to the broth and allowed to simmer. When serving, the fish pieces are removed from the broth and placed over slices of day-old bread in a clay pot.
The soup is spooned over the fish and bread. A sauce of oil, vinegar, and paprika is mixed in a mortar, then poured over the soup for additional flavor. Chardonnay or Viognier from Rueda would make an exceptional match for Obrigo trout soup, as these wines offer fresh fruit flavors and rich, round textures to complement the trout.
Olla Podrida
Olla podrida is a hearty and nutritious stew that has become a staple in kitchens of Castilla-León, especially in the winter months. The stew consists of bacon, lamb, duck, and morcilla blood sausage; beans, chickpeas, onions, leeks, carrots, and celery are added for additional flavor. Traditionally, olla podrida is cooked in a large clay pot over low temperatures for an extended period. This cooking method adds a tremendous depth of flavors to develop and all the ingredients to become sublimely tender. A meaty stew-like olla podrida calls for a Tempranillo red wine from Toro D.O., whose full-body, integrated tannins and concentrated flavors can stand up to the richness of this dish.
Morañego Stew
Morañego stew is a multi-part dish made in the province of Ávila that's served sequentially. The first part of morañego stew is made by soaking chickpeas overnight. The next day, the chickpeas are drained and cooked in boiling water along with bacon, lamb, chorizo, and salt. Next, a stuffing is made from eggs, crumbled old bread, chopped parsley, minced garlic, white wine, and olive oil. The stuffing is first fried and then added to the chickpea stew. Next, to make the second part of the dish, the liquid is drained off the chickpeas. Finally, a soup is made using that liquid, noodles, and stale bread. The chickpeas, meat, and stuffing are served separately from the soup; rosé from Cigales D.O., which provides enough structure to match the meats and freshness to balance out the heaviness of the dish.
Hams & Sausages

Morcilla de Burgos, blood sausage
Botillo del Bierzo
If there is one sausage most emblematic of Castilla y León cuisine, that sausage is Botillo del Bierzo IGP. This unique and large sausage is made with different pork meat cuts, mainly from the ribs and other cuts from the tail and cheek. The pork meat is marinated with salt, paprika, garlic, and other spices. Then, the meat is stuffed into a natural casing. Botillo del Bierzo is smoked for at least one day over a traditional wooden pyre using oak. The result is a moist sausage with a non-uniform shape and consistency. When enjoyed fresh, Botillo del Bierzo has intense flavors of garlic, paprika, and smoke. Locals typically enjoy this sausage boiled with potatoes and cabbage, which brings forth the natural flavors of the pork and seasonings.
Morcilla de Burgos IGP
Morcilla de Burgos IGP  is a type of blood sausage made in the province of Burgos. This sausage represents the rural culture of Castilla y León in that no part of the animal goes to waste. It's a tradition that accompanies la matanza, or the slaughter when families gather to make a variety of sausages from their fattened hogs. Morcilla is made from horcal onion, rice, lard or tallow, seasonings, and pork blood stuffed into a natural casing. The sausage can be cooked in several ways but is most often cut into thick slices, fried in olive oil, and eaten with bread or served as tapas.
Guijuelo PDO
Jamón lovers headed to Castilla y León must visit Salamanca because the city is well-known for Ibérico cured meats. Guijuelo PDO hams are found in just about any delicatessen and restaurant in Salamanca. These cured hams are made from the hindquarters and shoulders of pure-bred Ibérico pigs. The production process lasts 24 months for hams and 12 months for the shoulders. Red and black label Guijuelo cured meats are made from Ibérico pigs fed acorns. In comparison, green label products are raised on natural feed. As a result, Guijuelo jamón has delicate and subtly sweet flavors with unctuous fat that gives a melt-in-your-mouth texture. Read more about the production process and classifications of the Guijeulo PDO here.
Other Sausages & Cured Meats to Try in Castilla y León
The chorizo of Castilla y León is another essential sausage of the regional cuisine. Chorizo from León, Villa Cayos in Burgos, and Cantimpalos in Segovia are exceptionally tasty. This sausage is generally made from ham, shoulder, and jowl meat from white breeds of pigs that's seasoned with quality paprika and other spices. Finally, the farinato sausage from Ciudad Rodrigo is made with white pork meat, seasonings, breadcrumbs, and lard. Farinato sausage is frequently served alongside a fried egg.
Castilian-Leonese Meat Specialties

Lechazo, lamb slow-roasted in a wood oven
Cochinillo
Cochinillo is a regional specialty of Castilla y León and one of the reasons why the area is known as España del Asado. This exemplary dish features a roasted suckling pig, which must be less than three weeks old and weigh less than five kilograms. Traditionally, the suckling pigs are roasted in large, open-faced timber-fired brick ovens. They're seasoned with sprigs of laurel, salt, and a touch of water to help crisp the skin. As a result, the cochinillo meat is succulent and irresistibly tender. Enjoy this delicious dish with a Mencía from Bierzo D.O. with Cochinillo, as the wine's red fruit flavors and herbaceousness will complement the luscious meat of the suckling pig. Plus, the medium-to-high acidity of Mencía is ideal for refreshing the palate while savoring the tender cochinillo.
Lechazo
On the other hand, lechazo is a roasted suckling lamb, which must weigh between five and seven kilograms and be twenty to thirty days old. The lamb is fed solely on its mother's milk. Hence, the name lechazo comes from Leche, the Spanish word for milk. The lechazo is typically roasted in a wood-burning oven. The traditional dish is prevalent in Segovia, where there is a pastoral culture and sheep have long meadows to graze in, imparting terroir-driven flavors into the meat of the lechazo. Reach for a Tempranillo from Ribera del Duero D.O., whose dark fruit flavors and bold structure are an excellent match for lamb dishes.
Cocido Maragato
Cocido Maragato is a complex, filling stew from the Maragatería region in Castilla y León. The stew is made from a plethora of ingredients. Chickpeas are the star ingredient along with several types of meat, including beef shin, ham hock, bacon, pancetta, pork ribs, trotters, ears, and snout. The cocido involves cooking these meats with chickpeas, water, and salt. Next, cabbage and chorizo are placed in a big pot, covered in water, then boiled to cook. Next, the chorizo and cabbage are removed from the water; then, the cabbage is seasoned with sautéed garlic, parsley, and sweet paprika. Next, a soup is made using the reserved liquid from the cocido and noodles known as fideos. Finally, fried dumplings are prepared with cooked beef shin, chorizo, parsley, garlic, breadcrumbs, and eggs.
When serving the cocido maragato, the meats are plated and served first with fried dumplings. Then, the chickpeas with cabbage are eaten, followed by the soup. This hearty dish pairs beautifully with Tempranillo or a bold red blend from any of the wine regions in Castilla y León. These wines have enough structure, flavor concentration, and acidity to not be overpowered by the intensity of the cocido.
Pichones Estofados
One of the game bird specialties of Castilla y León cuisine, pichones estofados are stewed pigeons. Originating in Valladolid Province, the dish is prepared by cleaning and browning the pigeon in olive oil. Next, onions, garlic, bay leaves, thyme, and pepper are sautéd and added to the browned pigeons. Tomatoes and white wine are added next. The alcohol in the wine is allowed to cook down before the mixture is covered in stock. Then, everything slowly simmers together until the pigeons are fall-off-the-bone tender. A Mencía from Bierzo D.O. or a Cigales D.O. rosé both deliver fruity red flavors and herbal or floral aromatics to complement the flavors of this game bird.
Other Meat Dishes to Try in Castilla y León
Fish Dishes To Explore

Bacalao al Ajoarriero, Pan fried Cod
Bacalao al Ajoarriero
Bacalao al ajoarriero was once a staple meal for the Leonese muleteers, the mule drivers, and traditional transporters of the Iberian Peninsula. The recipe can be prepared with fresh or salted cod. The cod needs to be soaked and rinsed multiple times overnight to desalt it if using the latter. The cod loins are fried in olive oil, then removed from the pan. Then, sliced garlic is fried in the same oil used to cook the fish, which retains the delicious cod flavor. Once the garlic begins to brown, sweet or spicy paprika is added. Finally, the oil, garlic, and paprika are poured over the cod to serve.
In Burgos, cod is prepared similarly, though topped with sautéed onions and red bell peppers instead of garlic and paprika. Try a juicy, aromatic Sauvignon Blanc from Rueda D.O. with these cod dishes. The wine's vibrant acidity and flavors will make the aromatics of the dish pop and complement the cod nicely.
Fried Trout
In the province of Ávila, don't miss the fried trout. The fish is cleaned, lightly coated in flour, and fried in hot olive oil for two to three minutes. Fried trout is served salted with fresh lemon to highlight the delectable flavors of the fish. Try pairing a Verdejo or Malvasia from Toro D.O. with fried trout. The wine's fresh flavors and honeyed character will be a delightful contrast to the fried fish.
Other Must-Try Castilian-Leonese Foods
In Bierzo, you'll find empanadas made similar to those in neighboring Galician cuisine. These empanadas are savory pastries filled with either meat or fish. In addition, the provinces of Ávila, Segovia, and Salamanca all make large, bread-like pastries known as hornazos. A simple dough made with flour and yeast forms the outer layer of hornazos, filled with boiled eggs and chorizo. This specialty is traditionally prepared for the Lunes de Aguas festival on Easter Monday.
Next, patatas a la importancia is a mouthwatering appetizer consisting of potato slices battered in flour and eggs, then fried. Finally, the potatoes are topped with a sauce made from onions, carrots, olive oil, salt, flour, and white wine or sherry.
Lastly, if you find yourself in Salamanca, try chanfaina. Usually served as a tapa on Sundays, chanfaina is a rice dish with many ingredients, such as lamb tripe, lamb or pork blood, trotters, liver, and spices and stock.
Castilian-Leonese Desserts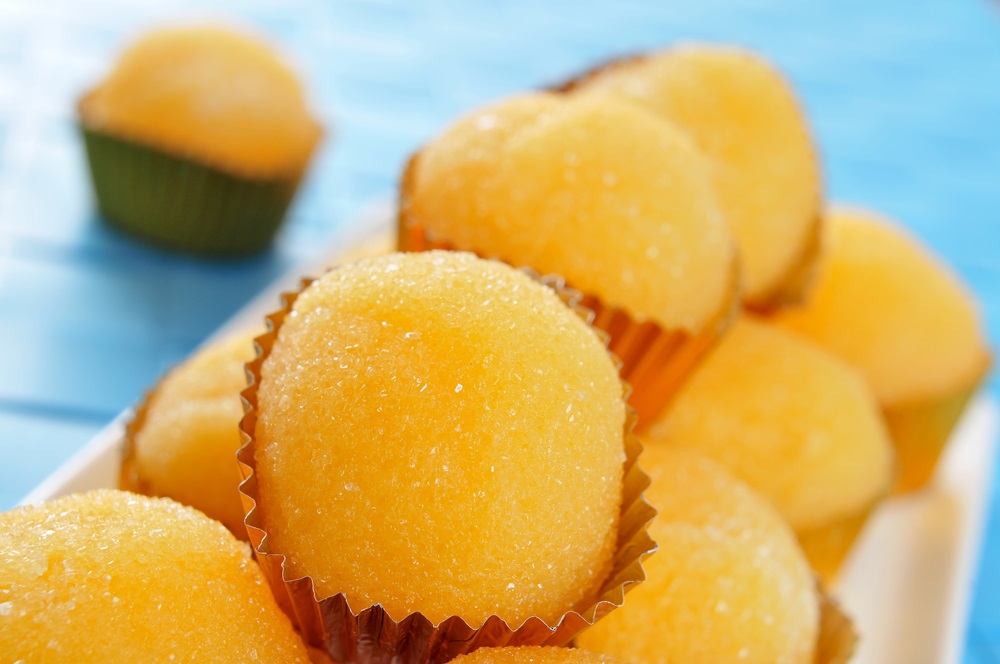 Yemas de Santa Teresa, a delicious dessert flavored with lemon peel
There are a ton of sweet treats to discover throughout the cuisine of Castilla y León. Here are a few that are not to be missed.
Yemas de Santa Teresa
Yemas means egg yolks in Spanish and are the key ingredient of this popular dessert. To prepare yemas de Santa Teresa, a thick syrup is made with sugar, water, and lemon peel. Next, the egg yolks are then lightly whisked and slowly stirred into the syrup over low heat until the yolks begin to solidify. The mixture is then poured onto a plate to cool and shaped into small balls once thoroughly cooled. To finish, yemas de Santa Teresa is dusted in confectioner's sugar. This dessert has become popular throughout Spain and is easily found in pastry shops in Castilla y León, especially in the province of Ávila. Spaniards particularly enjoy this treat for the Feast of St. Theresa on October 15th.
Leche Fritta
Leche fritta is essentially fried milk, hence the name. A sweet, firm milk pudding is prepared with milk, cornstarch, and sugar. It's coated in flour and egg batter, then fried. Nuns used to sell leche fritta from their convents. Today, it's more common to buy this dessert from street vendors in Castilla y León.
Ponche Segoviano
Ponche Segoviano is a traditional layer cake from the province of Segovia. The cake was first created in 1926 by baker Frutos García Martín at the El Alcázar café. The exact recipe for ponche Segoviano has remained a well-guarded secret since the cake won a gold medal at the 1929 Universal Exhibition in Barcelona. However, the cake is likely made with flour, eggs, sugar, milk, cinnamon, and almonds. Custard is sandwiched between two layers of cake, and the ponche Segoviano is topped with marzipan and caramelized sugar.
---
About Nicole Dickerson
WSET certified international wine writer with a passion for rare varieties and cellar hand experience in both hemispheres. Join me in the vineyards and cellars of the wine world at palmandvine.com.