Profile of Castillo Cuzcurrita
The remarkable Rioja wine estate Bodegas Castillo de Cuzcurrita in the small Riojan pueblo of Cuzcurrita has emerged as one of the new-wave benchmarks of the region, a historic property that eschews local traditions in favor of a thoroughly modern and yet respectful approach to winemaking. Legendary oenologist Ana Martin Onzain, aided by the estate's manager Juan Diez del Corral Ugarte, has shown the tremendous character and individualism that can be wrought from 100% Tempranillo-based wines. Unlike most of her neighbors, Ana Martin does not blend in other grape varieties into her wines, instead preferring to bring Tempranillo to its fullest and finest expression.
Castillo de Cuzcurrita is a contradiction in the region, a relatively new name in modern Rioja production that conversely boasts a history dating back to the 14th century. The medieval, fairy-tale castle that stands proudly today adjacent to the winery rose garden and vineyards was built by the Suarez-Figeroa family between the 14th and 15th centuries. It then passed to the Velasco-Rojas family through marriage; subsequent generations kept control of the castle and its beautiful surroundings until the last century, where it changed hands several times. However, in 1945 Castillo de Cuzcurrita caught the eye of the wealthy Sáinz de Incháustegui family, who quickly restored the then dilapidated buildings and made the castle their stately home.
Today, Castillo de Cuzcurrita offers just two splendid wines, preferring not to rely on the traditional Crianza, Reserva, and Gran Reserva classification system. The regular bottling Senorio de Cuzcurrita is always superb, but aficionados know that the real excitement is found in the rarer Cerrado de Castillo. Produced from old bush vines located inside the castle walls, it is as much a monument to the potential of old vine Tempranillo as it is to Rioja. The 2008 vintage is a case in point: remarkably profound and complex, a wine that seduces with its potent aromatics and concentrated intense palate. A truly exceptional example of modern-day Rioja. Visit this fine cellar on a private, luxury wine tour of La Rioja with us.
Wines produced
2008 Castillo de Cuzcurrita Senorio de Cuzcurrita

100% Tempranillo. Fermented in stainless steel tanks, before being transferred to French oak for malolactic fermentation. The wine is then aged on its lees in French oak for 12 months, before being transferred to bottle and aged for a further 24 months. Approachable on release, this wine will benefit from cellaring.

2008 Castillo de Cuzcurrita Cerrado del Castillo

100% Tempranillo. Only produced in exceptional vintages, from old estate vineyards. The wine is fermented in stainless steel tanks, before being transferred to French oak casks for malolactic fermentation. The wine is then aged on its lees in French oak for 18 months before bottling. The prestige wine of the property, suitable for extended cellaring.
Winery details
C/ San Sebastian 1
26214 Cuzcurrita de Rio Tiron
La Rioja, Spain
Tel +34 941 328 022
Fax +34 941 301 620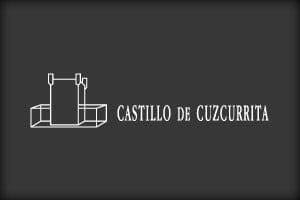 Appellation

La Rioja

Founded

1999

Area under vine

25 hectares

Oak barrel origin

French barriques
Winemaker

Ana Martin Onzain

Owner

Bergé y Cía family

Production

72,000 bottles per year

Grape varietals

Tempranillo