Martúe is one of the most exciting wines to have emerged from the very up-and-coming wine region of La Mancha. La Mancha's region has traditionally been known as a region producing vast quantities of dire wine, quantity rather than quality. However, this has changed in recent years, with Alejandro Fernandez (of La Pesquera) launching the new winery of El Vinculo, Martinez Bujanda (of Rioja fame) launching Finca Antigua, and many newcomers, flushed with new confidence, investment, and above all, huge ambition. Martúe is one of these "newcomers." Fausto Gonzalez planted vines in 1990 as he realized the untouched potential in the area. He dug up the lackluster "Airen" grapes (responsible for somewhat drab, bulk wine) and planted Syrah, Cabernet Sauvignon, Merlot, Chardonnay, and of course, Tempranillo, Spain's noble grape.
Martúe decided to produce quality wine at accessible prices for everyday drinking. Spain is awash with "Vinos de Autor," a term suggesting wines that are works of art. Unfortunately, huge prices are usually what these wines also mean, and Martúe realized there was a huge hole in the market for good value top, quality wines. Well, they have succeeded. On a recent visit to this lovely estate, we were extremely impressed with this Castilian team's ambition, talent, and excellent wines. The concept of "single vineyards" in La Mancha is very new, and Fausto has had to fight to earn respect for his wines, associated with the appellation's reputation. The winery is designed "hacienda" style, like an old Colonial mansion, although it is quite new. The vineyards surround the estate, Chateaux-style. There is a beautiful tasting room, very homey. We tasted all of the wines and can only report good things. The winery is still finding its way in the market and its own shoes, and we are hugely optimistic that Martúe will become very well-known abroad.
Wines produced
Martúe

Rich red wine made with 35% Merlot, 25% Tempranillo, 25% Cabernet Sauvignon and 15% Syrah. Aged in new French and American oak for 7 months.

Cuvée El Campanario

100% Tempranillo, 18 months in oak.

Cuvée El Palomar

50% Tempranillo and 50% Cabernet Sauvignon, 18 months in oak.

Martúe Chardonnay

Single vineyard (El Casar de la Guardia), oak fermented (new French oak), filtered slightly. Full bodied and aromatic.
Winery details
Campo de La guardia s/n
45760 La Guardia
Toledo
Tel +34 925 12 33 33
Fax +34 925 12 33 32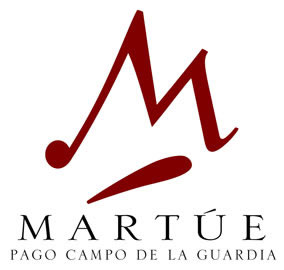 Appellation

La Mancha

Founded

2002

Area under vine

85 ha

Oak barrel origin

French and American
Winemaker

Ignacio de Miguel

Owner

Fausto Gonzalez and Julian Rodriguez

Grape varietals

Tempranillo, Cabernet Sauvignon, Merlot, Syrah, and Chardonnay