Profile of Txomin Etxaniz
Spain's majestic Basque Country is well known for its stunning scenery and world-renowned gastronomy, but until recently, the region was not well known abroad for its wines. Recently though, this beautiful area has been getting international press and kudos. Located North West of the Rioja appellation, the region boasts two small white wine appellations – Bizkaiko Txakolina and Getariako Txakolina.
In the latter, we find Txomin Etxaniz, a small and impressive producer of Txakoli wines. Txomin Etxaniz is one of the region's most historic winemakers, with a pedigree that stretches back to the 17th century. Indeed, ancient documents indicate that Domingo de Etxaniz's ancestor was linked to growing vines in Getaria as far back as 1649. Since that date, successive generations of the Txueka Etxaniz family have run this beautiful property, tending to 35 hectares of naturally cultivated vineyards carved into steep terraced slopes overlooking the Bay of Biscay, where apple and pear trees are as much a feature of the landscape as vines. Their mission is simple – to make the finest Txakoli, a wine style largely unknown outside of Spain.
Hard to pronounce and even harder to discover, Txakoli is one of the wine world's best-kept secrets. At its best, this refreshing white wine – made from only the indigenous Hondarrabi Zuri and Hondarrabi Beltza – is delicious, offering a zesty fruit intensity bursting with green, stony mineral characters. It deserves pairing with only the finest, freshest seafood, happily found in abundance in the Basque Country.
Today, Txomin Etxaniz remains one of the finest producers of Txakoli in Spain, making a vibrant sparkling style and a moreish late-harvest wine perfect with foie gras. What sets them apart is the depth, style, and intensity, a quality rarely found in light whites, even the splendid wines of Txakoli.
Wines produced
Txomin Etxaniz (Txakoli)

Hondarrabi Zuri (90%) and Hondarrabi Beltza (10%). The wine is fermented in stainless steel tanks and held over its sediment before bottling. A fresh, fruity white that is ideal with seafood.

Eugenia (sparkling)

Hondarrabi Zuri (90%) and Hondarrabi Beltza (10%). The wine is fermented in stainless steel tanks and aged in barrel for 15 months, before being subject to a secondary fermentation to produce sparkling wine. The perfect aperitif!

Uydi (late harvest)

Hondarrabi Zuri (90%) and Hondarrabi Beltza (10%) Late harvested grapes are fermented in stainless steel tanks, with the fermentation stopping before all the sugar is converted to alcohol. A delicious dessert wine.
Winery details
Eitzaga Auzoa, 13
20808 Getaria
Gipuzkoa, Spain
Tel +34 943 14 07 02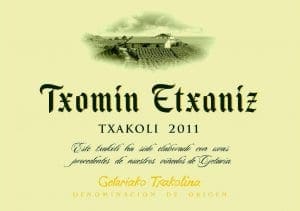 Appellation

DO Getariako Txakolina

Founded

1649

Area under vine

35 hectares

Age of vines

30 years+ Low yields

Oak barrel origin

Oak foudres (vats)
Winemaker

Andres Txueka

Owner

Txueka family

Production

650,000 bottles per annum, depending on the vintage

Grape varietals

Hondarrabi Zuri (90%) and Hondarrabi Beltza (10%)