Paris is one of the world's most enchanting cities. Brimming with history and culture, the city of lights has long been a haven for fine artists, fashion designers, literary geniuses, and best-in-class chefs. Acclaimed sites like the Eiffel Tower, the Cathédrale Notre- Dame, and the Louvre, home to several of humanity's greatest masterpieces, attract over 30 million tourists to Paris annually. Thankfully, for visitors and locals alike, the city's remarkable savoir-faire extends into Parisian cuisine, too.
Read more in our Guide to French Cuisine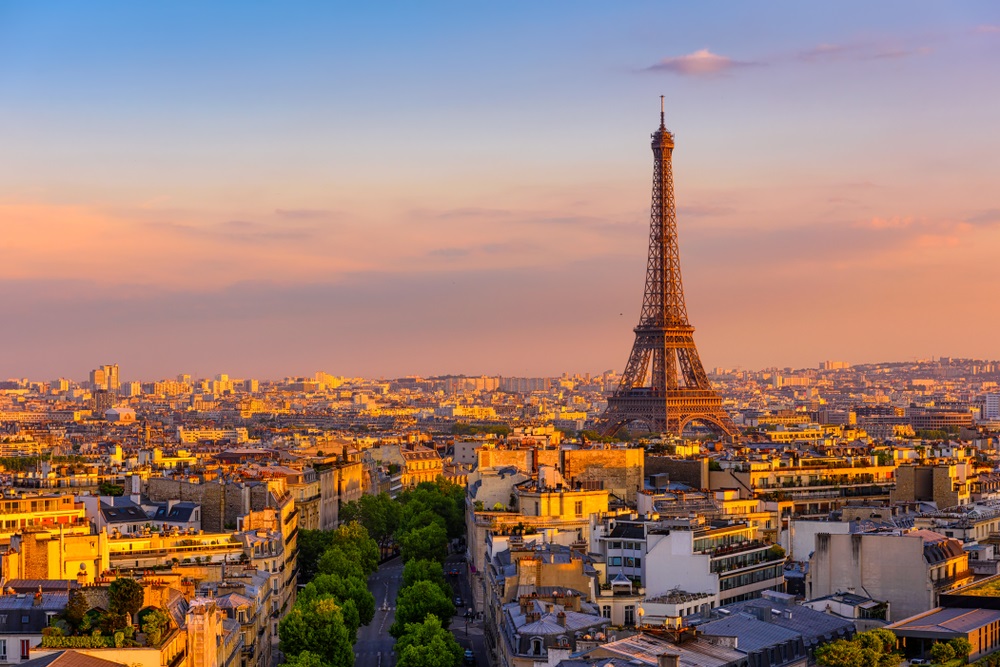 As the capital of France, culinary specialties and cheeses from other regions throughout the country are found in Paris. However, there are certain traditions and French dishes which are quintessentially Parisian.
The French Baguette
The baguette is a staple in French cuisine regardless of region, but it's thought to have originated in Paris. However, the verdict is still out amongst historians. Some say this essential bread arrived in France by way of Vienna. An Austrian named August Zang is credited with bringing the first steam ovens to Paris, used to make baguettes. Others hypothesize Napoleon's bakers first developed the baguette. Yet most agree the French baguette became widely popular due to its initial rapid spread throughout Paris in the 1920s.
In 1919, a law forbade French bakers from operating at night. Consequently, they could not start developing their bread dough before 4 am. However, the elongated shape of the baguette allowed enough time for the bread to rise before baking. Thus, enabling them to have something delicious to serve their customers for breakfast. Baguettes quickly caught on and ingrained themselves within French culture and Parisian cuisine.
While exploring the city, find the nearest boulangerie by tracking Parisians on the go with warm baguettes tucked under their arms. Then, for a quick meal as you traverse the city's bustling streets, grab a jambon-beurre baguette. Rich butter is slathered onto the freshly baked bread with slices of high-quality ham nestled inside. Jambon-beurre is an essential street food of Parisian cuisine.
Croissants & Pan Au Chocolat
Although croissants and 'pan au chocolat' weren't created in Paris, they are fundamental to an authentic culinary experience in the city. These pastries made with excessive layers of dough, butter, and chocolate (in the case of pan au chocolat) are indeed loaded with calories. But they are worth it and a great way to fuel up for a full day of exploring the city. Whether enjoyed with coffee for breakfast or savored as a mid-morning snack, the best croissants and pan au chocolat are flaky pastries with a melt-in-your-mouth texture.
Crêpes in Paris
Beyond baguettes and pastries from the nearest boulangerie, crêpes are the ultimate street food in Parisian cuisine. Crêpe stands dot street corners throughout the city. Most offer numerous sweet and savory options. The most classic selections are Nutella and bananas to satisfy the sweet tooth or ham and cheese for a delicious alternative. Plus, crêpes are easy to eat on the go and ideally enjoyed in any of the city's stunning parks, such as the 25-hectare Jardin du Luxembourg. Be sure to look for a stand-making crêpes fresh to order.
Parisian Brasseries
Savoring a glass of wine and a delicious meal while catching up with friends, people watching, or enjoying a novel, ranks high amongst the most popular Parisian pastimes. Brasseries are classic Parisian restaurants. They're also known as bouillons, named after the bouillon broth created by butcher Pierre-Louis Duval in 1860. Brasseries are known for their affordable but high-quality meals and convivial atmosphere. Before World War II, they were hugely popular but fell out of favor as fine dining, and nouveau cuisine took over Paris post-war. Today, restauranteurs are reviving old brasseries, and several new ones are popping up throughout the city. Classic dishes like steak frites, croque monsieur, os a moelle (bone marrow), and poireaux vinaigrette (leeks in vinaigrette) are a few examples of traditional brasserie fare.
Aperitif in Paris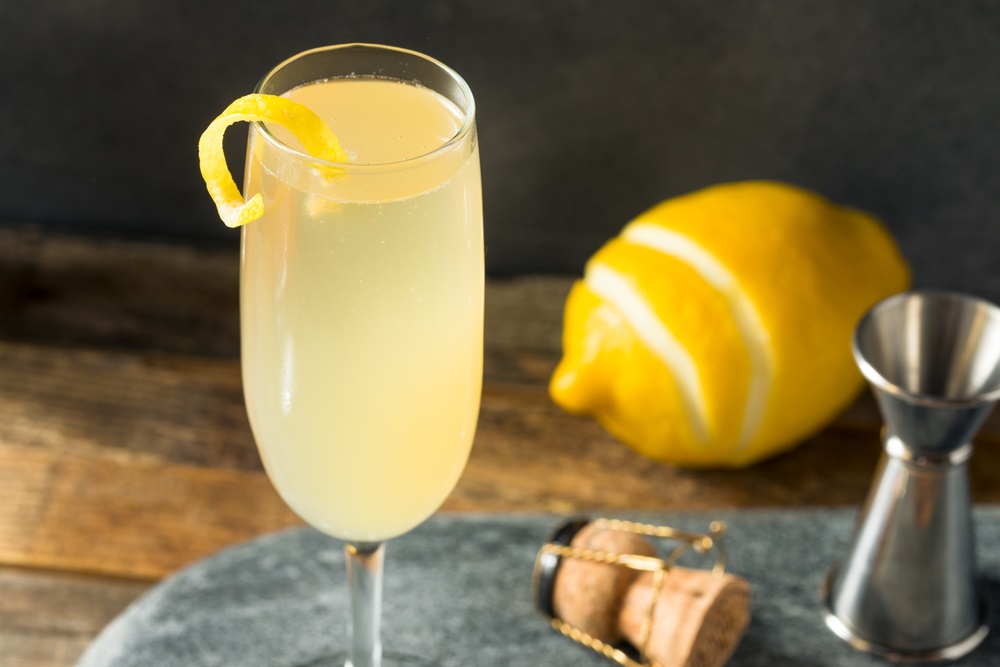 French 75 cocktails
With bars and brasseries throughout the city, there are endless local haunts to pop into for apéro. Of course, considering Reims is only around 150km away, a glass of crisp Champagne is a great choice. But, of course, there's bound to be a diverse selection of French wines from throughout the country, too. Or opt for a cocktail.
In 1926, Harry's American Bar created the French 75 in Paris. Made of Champagne, gin, lemon juice, and simple syrup, the French 75 was an immediate hit and quickly spread to other metropolitan cities like New York.
Alternatively, try a Death in the Afternoon created by famed literary talent Ernest Hemingway. A Parisian at heart, Hemingway lived in the city while writing and frequented bars, brasseries, and cafés for inspiration. This cocktail features his beverage of choice, Absinthe, mixed with Champagne.
Entrées in Parisian Cuisine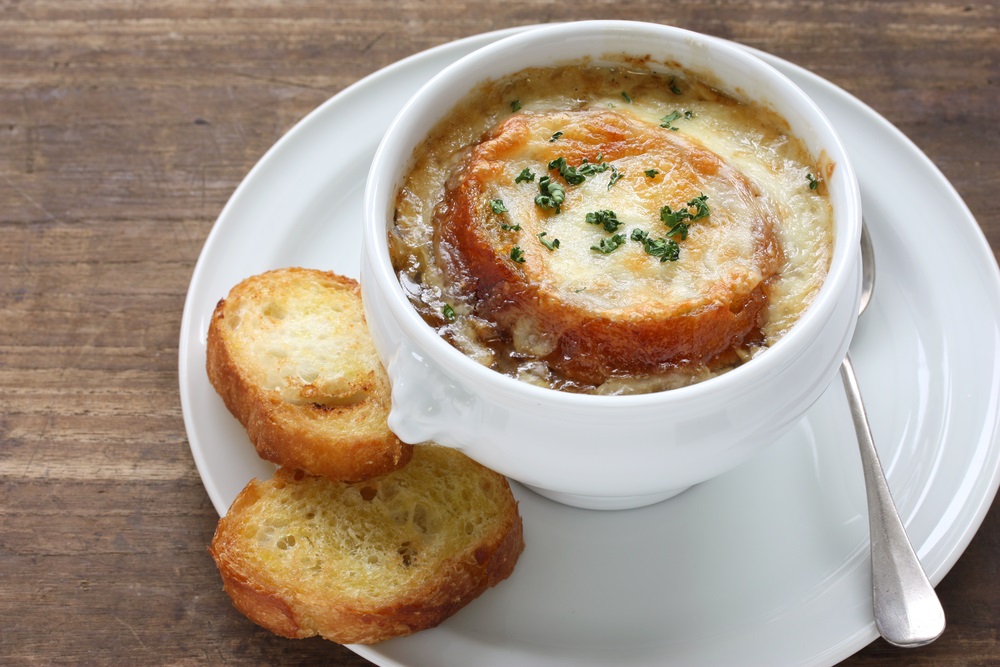 Soupe A'L'oignon, French Onion Soup
As in other French regions like Brittany or Bordeaux, oysters are frequently enjoyed as a starter in Paris. They're best enjoyed alongside a glass of Blanc de Blanc Champagne or a grassy, vibrant Sancerre from the Loire Valley. Additionally, escargot is a typical entrée served in Parisian brasseries. Loaded with butter, parsley, thyme, and garlic, then cooked in wine or broth, Parisian escargot are prepared in the same style as in Burgundy. Here are a few other Parisian entrées to savor in the city.
Soupe A'L'oignon
Today, soupe a'l'oignon, or onion soup, is adored worldwide. It was first created centuries ago in the kitchens of King Louis XV. The soup bursts with flavor thanks to caramelized onions and beef broth. Crusty bread and melted Gruyère cheese complete the dish. Please leave it to the French to turn the humble onion into a luxurious, heartwarming recipe. This onion soup is easily found in brasseries, cafés, and restaurants throughout Paris. Pair it with a glass of red Burgundy, as the wine's earthy flavors and red fruit aromas complement the rustic flavors of this Parisian comfort food.
Steak Tartare
Though consuming raw meat may not be for the faint of heart, steak tartare is a magnificent entrée in Parisian cuisine. This French dish requires the highest quality of fresh cow's meat since it's being served raw. The meat is finely chopped and marinated with Worcestershire sauce, salt, pepper, capers, onions, and parsley. An optional raw egg yolk occasionally tops the meat for added richness. Toasted bread or frites accompany the steak tartare. Since the meat is raw, the tannins in red wine can be overpowering for this dish. So, match steak tartare with a Blanc de Noirs Champagne or a Bandol rosé made from Mourvèdre. However, each offers the red fruit characteristics and depth of red grapes without the harsh tannins.
Main Courses 

Parisian classic, Steak Frites
Steak Frites
Steak frites make for the perfect plate for those who prefer fully cooked meat. The simple dish features a grilled ribeye steak accompanied by French fries. Sauce béarnaise also tags along to pour over the steak and dip the frites. The classic French sauce is made from egg yolks, shallots, vinegar, butter, tarragon, and chervil. It was first featured on a Parisian menu in 1836 at Le Pavillion Henri IV. Order a glass of red Bordeaux from Pauillac or the Médoc to accompany this Parisian dish.
Croque Monsieur
Another delightful yet straightforward brasserie specialty, croque monsieur, is a flavorful hot sandwich. Ham and melted Gruyère cheese mixed with bechamel are tucked between sliced bread. More bechamel and cheese top the sandwich, which gets browned under a broiler. French fries or salad accompany a croque monsieur. For those craving something a bit more filling, order a croque madame. This version of the sandwich sees an egg added on top. Enjoy this hot ham and cheese sandwich with a rich white wine like Viognier from Condrieu or a buttery Chardonnay from Meursault in Burgundy. Both wines have a creamy texture and rich flavors to match a cheesy croque monsieur.
Os A Moelle
Os a moelle is a fat-filled, hearty dish that satiates the appetite, especially during winter in Paris. This is a bone marrow dish prepared by roasting cow bones with herbs and spices. Os a moelle is served directly from the bones, and diners scoop out the bone marrow to spread onto crusty bread. A Northern Rhône Syrah from Cornas or a Grenache Noir, Syrah, Mourvèdre blend from Châteauneuf-du-Pape pairs deliciously with os a moelle. Dominated by red fruits with subtle animal characteristics and a robust body, these wines fall in line with the flavor profile of this French dish.
L'Escalope de Saumon à l'Oseille
Salmon escalope with sorrel is a Parisian preparation, elevating the fish to an incredible depth of flavor. It's prepared with fresh salmon, sorrel, lemon, Vermouth, Sancerre, fish stock, double cream, and pepper. Master French Chef Pierre Troisgros first developed the recipe in the 1960s. A dry white wine with bright acidity and aromas delivers a fresh wine pairing against fatty salmon in a creamy sauce. Try Pouilly-Fumé from the Loire Valley or a Sylvaner from Alsace.
Parisian Cheeses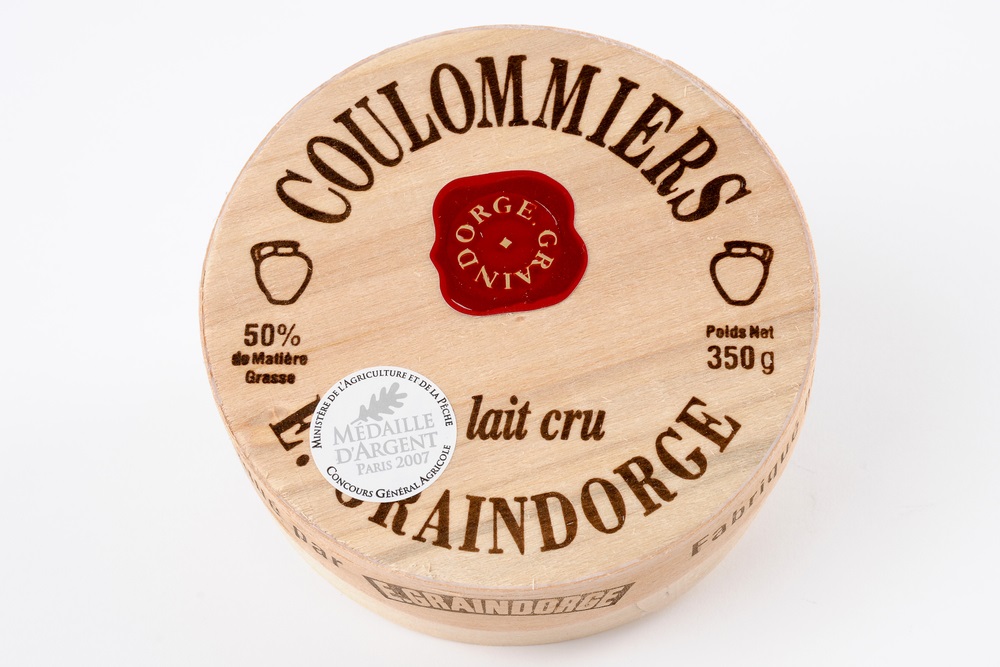 Coulommiers, a brie like cheese
Cheese is a critical part of any French meal, and cheeses from throughout the country are savored in Paris. However, a few are produced in île-de-France, the region in which Paris lies, to seek out while there.
Brie de Meaux is a soft cheese made with raw cow's milk and a white bloomy rind highlighting mushroom, nutty, and fruit flavors.
Coulommiers – similar to Brie de Meaux, but made in a smaller round mold with 40% fat content and a buttery, nutty taste.
Boursalt – a triple-cream, soft-ripened cow's milk cheese with rich, nutty, salty flavors.
Sweets of Parisian Cuisine

Colorful Macarons
Macarons
No trip to Paris would be complete without relishing in a colorful box of macarons. Pâtissier Pierre Hermé reinvented these French sweets into the delicate clouds of sugar they are today. Originally, macarons were only made in vanilla, chocolate, raspberry, and coffee flavors. Today, these smooth merengue biscuits filled with ganache feature rainbow-like colors and flavors ranging from the every day to the more exotic, such as passionfruit and green tea. read more about this delicious Parisan sweet – The rise and rise of the macaron
Paris-Brest
Chef Louis Durand created the Paris-Brest in 1910 in honor of its namesake bicycle race hosted in the city. The dessert features a hollowed-out puff pastry ring filled with a decadent almond, hazelnut, and praline cream. Topped with almond slivers and heavily dusted in powdered sugar, Paris-Brest is adored for its nutty flavors.
Rum Baba
Also known as baba au rhum, these Parisian treats are small sponge cakes filled with raisins or currants. They're soaked in rum, hence the name. While various origin stories exist, it's thought that Chef Nicholas Stohrer first created rum baba for the exiled Polish King Stanislas Lesczyńska, who married King Louis XV's daughter.
---
About Nicole Dickerson
WSET certified international wine writer with a passion for rare varieties and cellar hand experience in both hemispheres. Join me in the vineyards and cellars of the wine world at palmandvine.com.