In 2021, British retailer Marks & Spencer welcomed a new brand of Ribolla Gialla into its wine range. It represented a historic milestone for the growers of Friuli-Venezia; the Italians have long cultivated an astonishing array of indigenous grapes and unique tastes. Indeed, you could spend a lifetime and still not get to the bottom of Italy's diversity well. Yet, for the most part, major importers and supermarkets have remained aloof to this variety. Buyers have long sought familiar labels and ubiquitous styles that are an easy sell. The esoteric didn't come into the equation.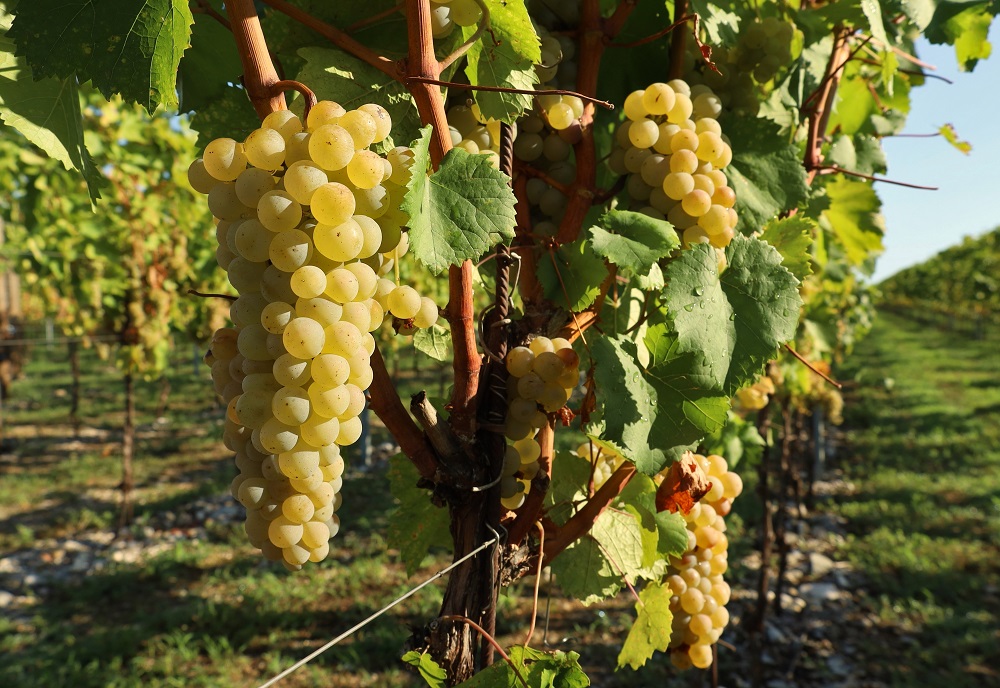 However, this move by the retailer signifies a fundamental change of direction. As consumers increasingly seek out less familiar grapes and regions, buyers are looking beyond Sauvignon Blanc and Merlot. Fifteen years ago, Ribolla Gialla's beautiful aromatics, vibrant acidity, and zesty freshness were the preserve of locals and tourists. But no longer. Today, the unique flavors of Italy are being shared with everyone.
History and viticulture
Ribolla Gialla is one of the signature white varieties of northeastern Italy. And yet, its exact origins are shrouded in mystery. For decades, many viticulturists believed that Ribolla was an Aegean import: the ancient Greeks arrived on Italian soil in the 8th century BC. Depositing vines everywhere they went – and they went everywhere! – several of Italy's leading grape varieties are thought to be descendants of the original vines planted during this epoch. However, although there is a Greek variety known as Robola cultivated in the nation today, genetic sequencing uncovered the truth in 2008. There is no genetic link between Robola and Ribolla Gialla. So historians now believe that the grape is indigenous to Friuli-Venezia, albeit they cannot be 100 percent sure.
Indeed, Friuli-Venezia received an endless stream of international visitors over the centuries, all of whom made a vital contribution to the area's economic and cultural life. Before civilizations from the Mediterranean arrived to colonize the peninsula, northeastern Italy was inhabited by several nomadic tribes, including the Carni. Their influence waned, however, as the province was absorbed into the expanding Roman Empire in the 2nd century BC. Over the years, much wealth was created in this part of Italy, centered around the capital Aquileia. Viticulture, meanwhile, became an emblem of the good life in the Western Roman Empire. The Romans ensured that every fertile corner of their domain, ranging from Burgundy to the arid plains of Castilla y Leon, was planted with vines.
Then it all fell apart. The disintegration of the Western Roman Empire in 476 AD paved the way for a series of violent conflicts in northern Italy – this strategically valuable piece of real estate was coveted by the Ostrogoths, Vandals, and the Lombards of Milan. The latter controlled the province until the 9th century, when the Carolingian dynasty assumed control of great swathes of western Europe, including Friuli-Venezia. Their powerful empire endured for over 500 years – the Venetians rose to prominence in the 14th century after establishing a maritime trading network encompassing northern Italy and parts of the eastern Mediterranean.
By this point in history, Ribolla Gialla was firmly entrenched in the vineyards of northern Italy. One key piece of evidence dates back to the 13th century: the grape was mentioned in a land contract drawn up in 1289! A hundred years later, the poet Giovanni Boccaccio listed Ribolla Gialla as one of the great epicurean indulgences of the period. But the grape was far more important than that: Friulian wines were a major source of economic prosperity in the 15th century. In 1402, a law was enacted to prevent farmers from adulterating their Ribolla Gialla wines – a sadly widespread practice. This prosperity endured until the arrival of phylloxera in the mid-1800s, which changed everything. This poisonous louse, inadvertently imported from the US, destroyed countless vineyards in western Europe. However, Italian losses were not as severe as those witnessed in Bordeaux and Champagne due to the highly fragmented nature of the Italian wine industry.
Nevertheless, phylloxera had a decisive impact on the wine-growing communities of Friuli-Venezia. Those who lost vines in the early 20th century often replanted their vineyards with international varieties – Sauvignon Blanc became trendy in the 1970s. Nevertheless, by the end of the 1900s, only 1% of the total area under vine was planted with Ribolla Gialla. This is despite a revolution in Italian winemaking: the widespread adoption of stainless steel enabled growers to craft aromatic and fruit-driven whites that could compete on the world stage. Today, such wines remain the hallmark of local production.
Thankfully, indigenous Italian grapes received a massive boost in the 2000s from Millennials keen to expand their palates. Sommeliers have also shown a keen interest in the less familiar styles of Friuli-Venezia, which encouraged winegrowers to return Ribolla Gialla to their estates. Moreover, the grape is relatively easy to grow. The only significant barrier to quality is its tendency to produce an inflated yield – judicious pruning throughout the season is vital. It responds well to free-draining alluvial soils, delivering perfumed wines of considerable finesse and charm.
Winemaking
Apathy has been replaced with excitement in the vineyards of Friuli-Venezia as local growers rediscover their love for this superlative white grape. And why shouldn't they: Ribolla Gialla can produce premium quality – and utterly delicious – still and sparkling wine. In addition, the variety is packed full of aromatic and flavor compounds, qualities that are harnessed in several ways, depending on the objectives of the winemaker.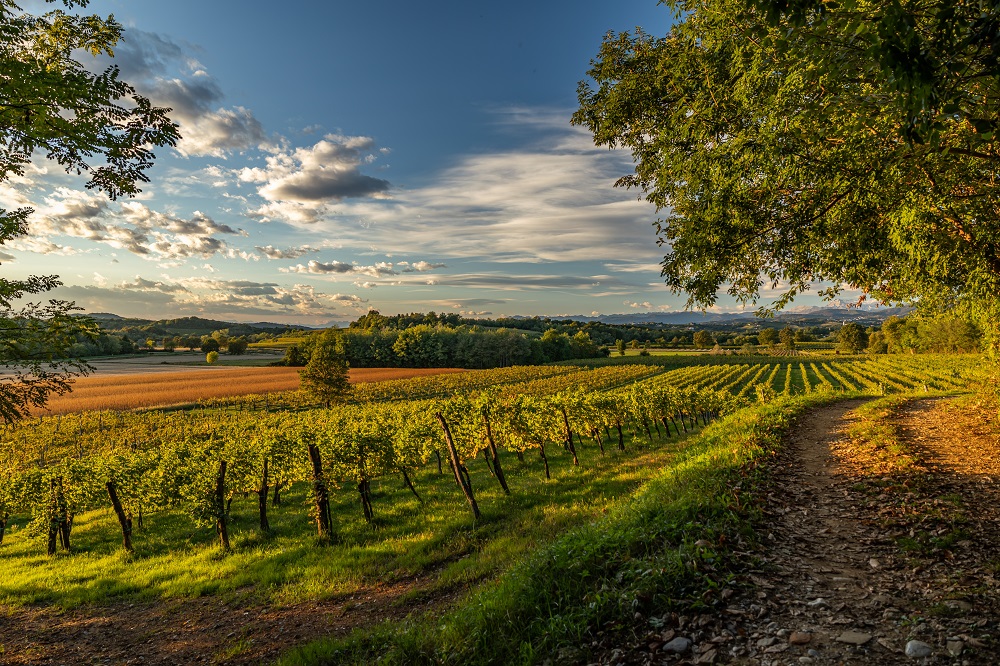 The beautiful and scenic vineyards of Friuli
That said, many consumers across the globe demand lively fruit and good acidity. Therefore, in most cases, cool fermentation in stainless steel will be undertaken as it delivers what the market wants. The 'recipe' is perhaps overly familiar to sommeliers and members of the wine trade: hand-harvested grapes are safeguarded at all stages of the fermentation from oxidation to preserve fruit and freshness. This involves the addition of sulfur, gently pressing the berries in a (typically) pneumatic machine, and chilling the must before vinification begins. Fermentation in steel or concrete is in vogue across northern Italy – cool fermentations are indispensable in protecting primary fruit aromas in the wine. In wetter vintages, malolactic fermentation may occur, which converts the harsh malic acid to softer lactic acid. Lees stirring has also become more popular in the 21st century – this Burgundian technique harnesses the complexity hidden inside the yeasty sediment to bolster a wine's texture and richness. Sometimes, the wine may be aged on its fine lees for several months before it is fined, sterile-filtered, and bottled. This 'clean' approach to winemaking rewards the consumer with bright fruit, lovely freshness, and a floral bouquet.
Such wines are perfect for the weekend. But, if you desire a more complex and left-field interpretation of the grape, search out labels produced by Franco Terpin, Gravner, and Radikon. A well-judged period of skin contact, allied to minimal-intervention winemaking, produces an explosive mouthful of tropical fruit. Complemented by their silky textures, fine tannins, and ripe acidity, these whites represent the apex of food-friendly wine.
Dining out with Ribolla Gialla
Italian white wine used to be hit-and-miss. Rustic equipment joined forces with sloppy viticulture to deliver gallons of stale, oxidized plonk; seasoned critics, such as Jancis Robinson MW, will tell you how much the nation's output has improved in recent times. Twenty-five years ago, you could taste thousands of wines, explore the length and breadth of the peninsula, and still not discover anything resembling the brilliance of Gravner. Thankfully, those days are ancient history. Whereas good white wine was limited to a few northern provinces, it is now the norm from the Alps to the heel of the boot – and very much so in the islands.
Ribolla Gialla has played an important role in this rejuvenation story. After a regrettable period of slavish devotion to international grape varieties, the Italians have realized that local is best. Indeed, it is what THEY do best: Italians are passionate about their traditions and love showing off. Producing high-quality wines from indigenous grapes allows them to satisfy both those cravings.
Our enthusiasm for the variety is based on numerous tastings – let's call it vinous research – and the passion of Friuli-Venezia's talented winemakers. They produce a bottle of Ribolla Gialla for every occasion. Young, oaked examples make the perfect aperitif – the citrus and stone fruit profile is also an ideal match to grilled scallops, langoustines, and sashimi. Richer, more structured wines call for a gastronomic pairing that is both grand and decadent: roasted monkfish, Chinese crab with ginger, onion, oxtail, and pomme purée. We've tried all of the above and loved it. Yet, our most memorable evening involved slow-cooked Calabrian pork belly – the meltingly tender meat needed a white with some oomph and acidity. A bottle of Radikon Ribolla Gialla acquitted itself nicely. As silence descended across the table, it became obvious that Italian food & drink – of both colors – has no parallel in Europe. The days of a red wine monopoly are over. Diversity be thy name!
Top producers of Ribolla Gialla wines: