What makes a wine region like Bordeaux genuinely exceptional? It takes an ensemble of elements- outstanding terroir, winemaking, and historical pedigree – bound together in perfection to forge something far greater than the sum of their parts.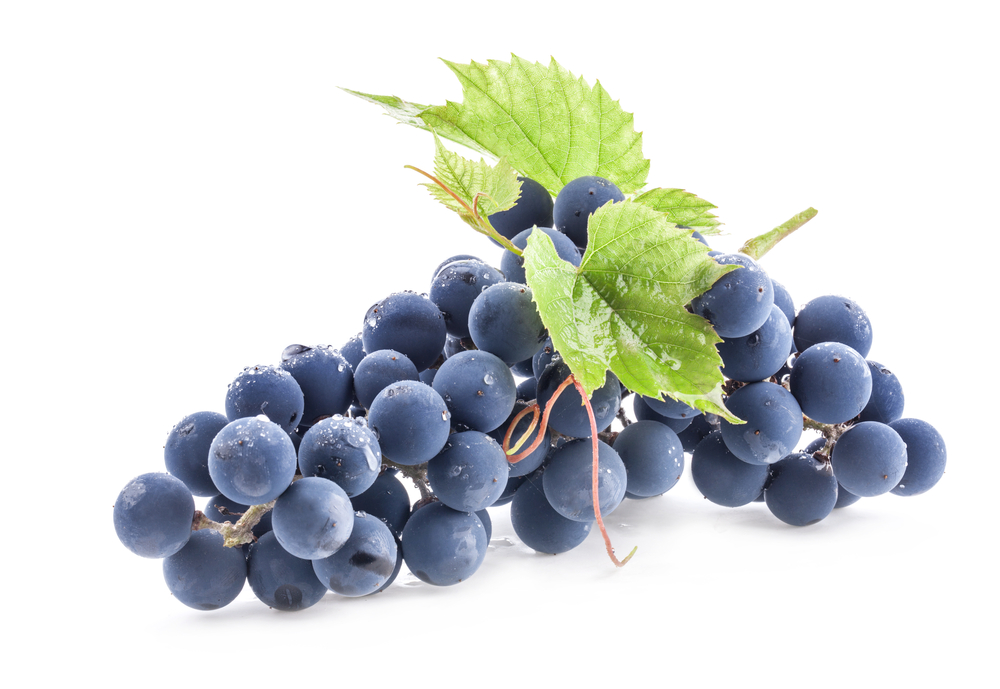 However, for all that, regions such as Bordeaux would be nothing, or indeed taste very different, without their signature grape varieties. Of course, terroir is vital, and it's not the case that just because an Australian winemaker grows Cabernet Sauvignon, they can hope to compete with the best of the Medoc and beyond. Nevertheless, there is a close relationship between the inimitable Bordeaux style and the grape variety/varieties from which it is made.
In this case: Cabernet Sauvignon, Cabernet Franc, and Merlot are the three mainstays of red Bordeaux, while Semillon, Sauvignon Blanc, and Muscadelle play a deciding role in the production of undervalued Bordeaux white. Yet single-variety wines are scarce in this part of the world; eight signature varieties are planted in Bordeaux, and minor curiosities like Carmenere (once prolific in the region) and Sauvignon Gris.
Typically, red and white vintages result from judicious blending, although certain wines – Pomerol's Le Pin, for example – are made from just one variety, in this case, Merlot. It is also possible to find single-variety white Graves and Sauternes/Barsac, but these wines are the exception rather than the norm. Indeed, the long-established tradition of blending is derived from common sense – blending grapes provide an insurance policy if one variety suffers from a disease or fails to ripen, for example. There have been plenty of vintages in Bordeaux, especially in the Medoc, where one or another variety has been virtually eliminated, thanks to diseases like coulure or rot. So it's not surprising that intrepid growers have saved themselves from financial ruin by spreading their risks.
In addition, although Merlot is normally associated with the Right Bank, an increasing amount is being planted in the Medoc and Graves. At the same time, certain properties in St-Emilion, such as Ausone and Cheval Blanc, are renowned more for their Cabernet Franc and Sauvignon than Merlot. Historically, the number of varieties was far more significant; after phylloxera decimated French vineyards in the 19th century, many varieties were not replaced. In 1795 there were records of thirty-four red varieties and twenty-nine white in the Right Bank region Libournais.
Of course, that number is far reduced today, and the signature Bordeaux red and white grapes have been planted worldwide, with great success in regions like Napa and Coonawarra in Australia. Yet there is something about the magical combination of the Bordeaux terroir and these international celebrities that produce something unique – "A middleweight, appetizing, beautifully balanced wine," to quote the writer Hugh Johnson. But while there is undoubtedly magic in the terroir, Bordeaux would be nothing without the class acts below:
Bordeaux is a wonderful destination for a Luxury Wine Tour. Cellar Tours can customize and design an unforgettable Luxury Food & Wine Experience of Bordeaux for you.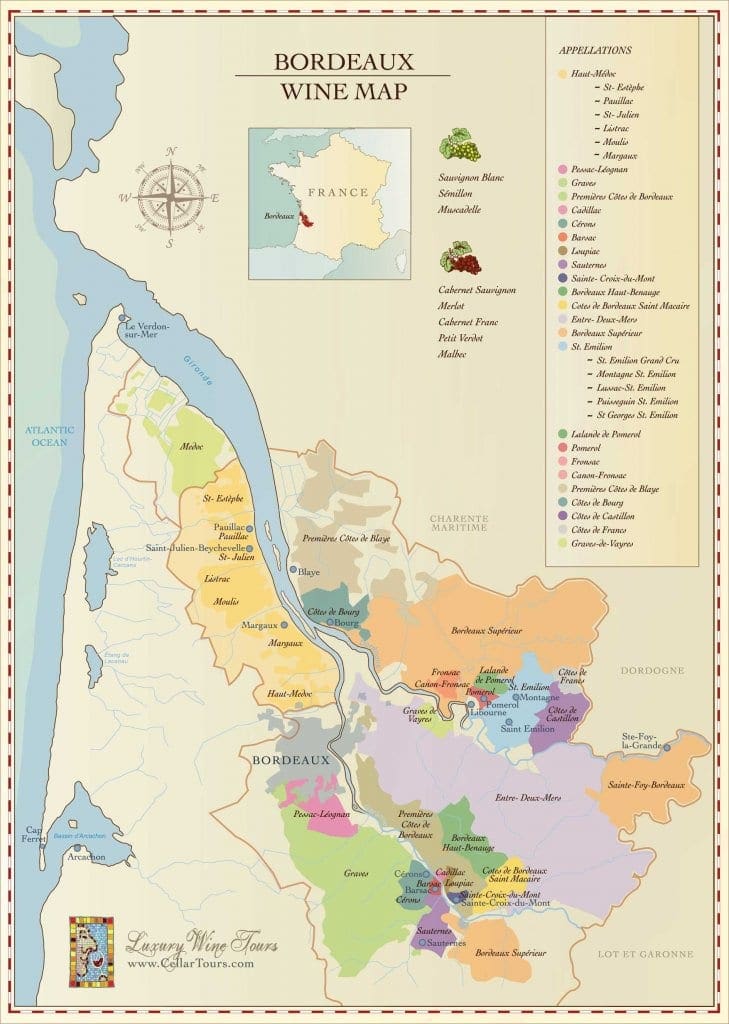 Red Grapes
Cabernet Sauvignon
Arguably the most famous red grape variety in the world, Cabernet Sauvignon requires little introduction. It became important in the Medoc during the 19th century, when growers realized it was less susceptible to spring frost than Merlot and provided good wine even at higher yields. With naturally small berries leading to a high ratio of skin to juice, good Cabernet offers deep color, high phenolics concentration, and the structure to age for a lifetime. Collaborating with the terroir is the secret to the power, longevity, and might of such wines as Chateau Lafite and Latour.
Cabernet Sauvignon is renowned for its singular flavors of blackcurrants, blackberries, and dark cherries. In hotter climates, one tends to encounter stewed fruit and chocolate characteristics, but the best of the Medoc will effortlessly marry elegance with the power to produce something spectacular. Unripe Sauvignon from weaker vintages is unpleasant, with vegetal aromas and notes of asparagus and green pepper dominating the palate.
Nevertheless, ripe Cabernet Sauvignon is the ideal match for various dishes, most famously roast lamb, the quintessential choice at any Bordeaux banquet. Entrecote is another top choice, perhaps roasted partridge, grouse, or sweetbreads. With this superstar grape, you can hardly put a foot wrong!
Merlot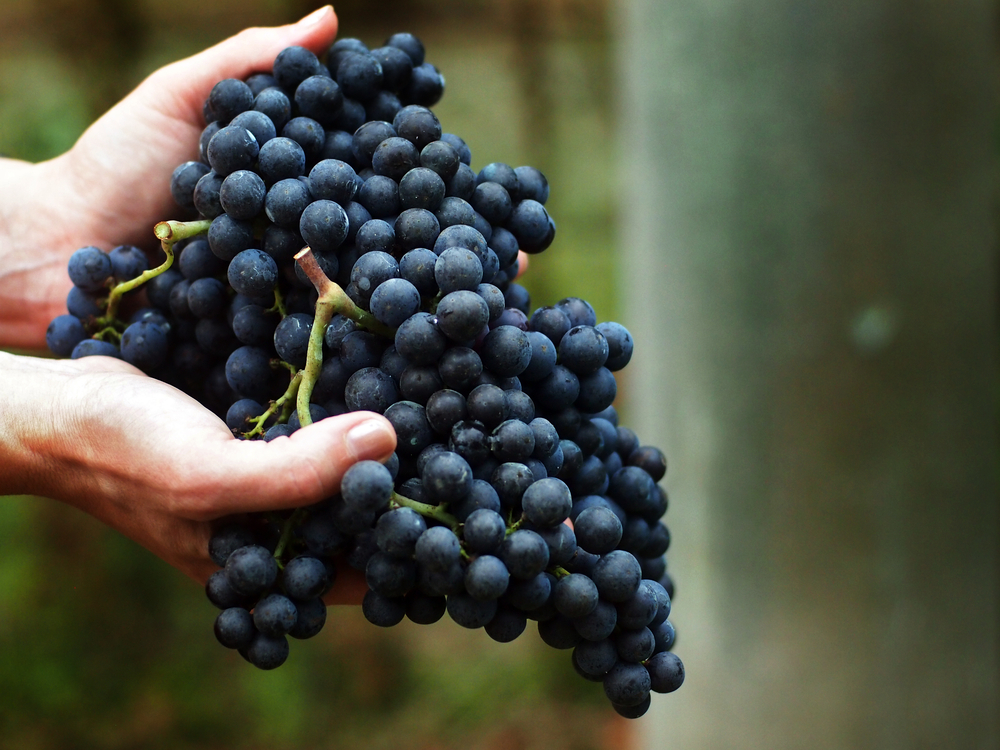 If Cabernet Sauvignon has an equal in Bordeaux, then it is Merlot. King of the Right Bank, Merlot is the mainstay of production in St-Emilion and Pomerol, a forgiving variety that ripens earlier than Cabernet and produces higher yields if left unchecked. Yet this grape's massive, worldwide appeal is easy to understand – Merlot offers rich fruit combined with a pleasing amount of tannin and structure. Even unripe Merlot is still more pleasant to drink than Cabernet Sauvignon, lacking that harsh edge and vegetal characteristic. Moreover, good Merlot is divinely supple and velvety, as anyone who has tasted Le Pin or Petrus can testify. Flavors range from plum to freshly cut grass, moving to damson and cocoa in warmer climates.
Today the variety is gaining ground on the Left Bank as Cabernet retreats. It makes sense; Cabernet struggles to ripen in certain regions like St-Estephe, whereas Merlot offers a better chance of making decent wine even in difficult years. Moreover, its supple texture and generous flavor make it an ideal accompaniment to beef dishes – top sommeliers recommend serving older St-Emilion or Pomerol with well-hung Venison, a heavenly gastronomic pairing.
Cabernet Franc
Although Cabernet Franc rarely plays a dominant role in Bordeaux blends – Cheval Blanc and Le Dome are among the exceptions – it is nevertheless a key part of Bordeaux's history. It plays a strong supporting role in St-Emilion, where it has flourished since the late eighteenth century and is present in many vineyards across the Medoc. It tends to bud and ripen earlier than Cabernet Sauvignon, but like that noble variety, unripe Cabernet Franc is nasty stuff, green and vegetal. Opinion in Bordeaux is hugely divided about the grape's usefulness; certain properties in the Medoc actively reject the variety, while others welcome the acidity, vigor, and perfume it can add to a blend. Expect aromas of blackcurrant, violets, and pencil shavings, with a lighter, more supple mouthfeel than Cabernet Sauvignon. It is also the perfect folly for rich beef dishes – casseroles and tagines all seem to love the flavors of ripe Cabernet Franc. This underrated variety performs exceptionally well if the conditions are right. Cheval Blanc is surely proof of that.
White Grapes
Semillon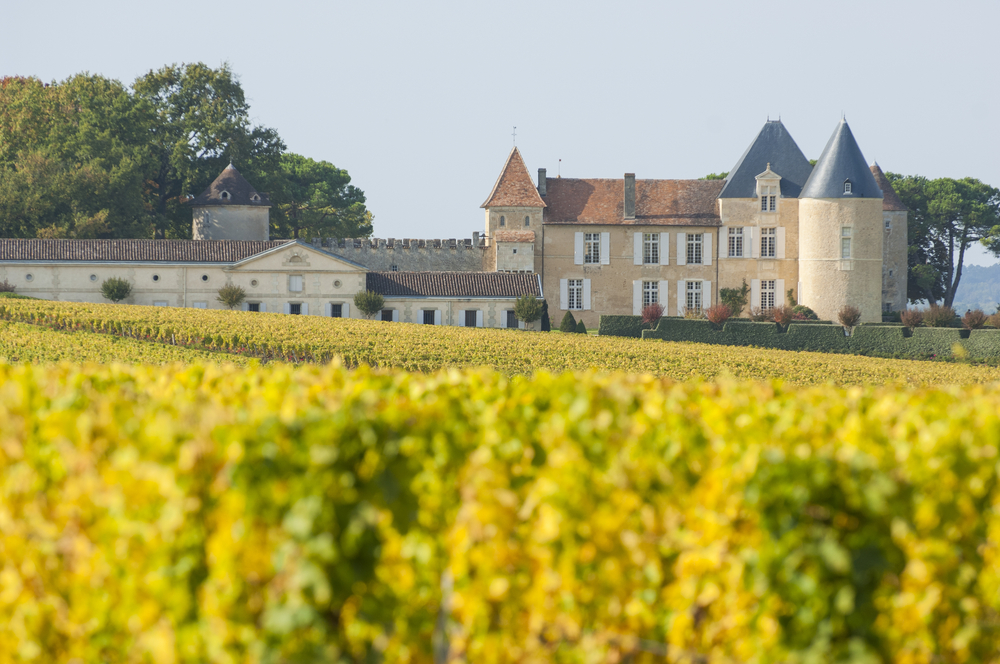 Yquem Vineyards, Bordeaux
Although arguably not as famous or globally popular, Bordeaux's key white variety is more widely planted than Sauvignon Blanc's. Moreover, it is a vigorous variety, ensuring that only low yields produce a wine worthy of the Bordeaux name. Thin-skinned and susceptible to noble rot, Semillion is an ideal variety for the production of Sauternes, where such famous estates at Climens and Yquem produce heavenly sweet wines, the best of which are incredibly complex and elegant. Nonetheless, it also makes rather good still wine. As a result, it has a strong following in the Graves, where the grape gives rich, unctuous, full-bodied wines, often displaying tropical fruit and honeysuckle aromas. Its waxy texture is another strong point, making it the ideal counterpoint to the freshness and vibrancy of Sauvignon Blanc, its traditional blending partner in Graves.
Food-wise, top white Bordeaux deserves 5-star treatment, ideally roast veal, halibut, or dover sole. Poached lobster and wild salmon would also fit the bill nicely.
Sauvignon Blanc
Supplanting Chardonnay in popularity, the world's most famous white grape is now renowned for its powerful aromatics and zesty freshness, which reach an apogee in Marlborough, New Zealand. But even in Bordeaux, Sauvignon Blanc ripens early, producing everything from the simple, racy wines of Entre-Deux-Mers and southern Graves to the more solid, structured, and complex wines of top Pessac-Leognan that are typically barrel-fermented. When blended with Semillion, it makes something quite special, a marriage of poise and freshness with generosity and richness of flavor. Pair it with roast chicken with black truffle inserted under the skin – a favorite of chef Gordon Ramsay
Muscadelle
Muscadelle is a relatively small part of Bordeaux's variety club, nonetheless prized for its powerful aromatics that many growers relish. However, it is hardly ever vinified as a varietal and rarely represents more than fifteen percent of any vineyard. Moreover, although it ripens early, it is susceptible to coulure, grey rot, and powdery mildew. For this reason, many Chateaux ignore Muscadelle, although the grape retains its stubborn admirers.
Minor varieties
Over the decades, formerly important varieties have been ripped up in favor of grapes such as Merlot, reducing the diversity inherent to this wonderful region. Yet some are making a cautious comeback as growers return to their roots and use better viticultural methods, site, and clonal selection.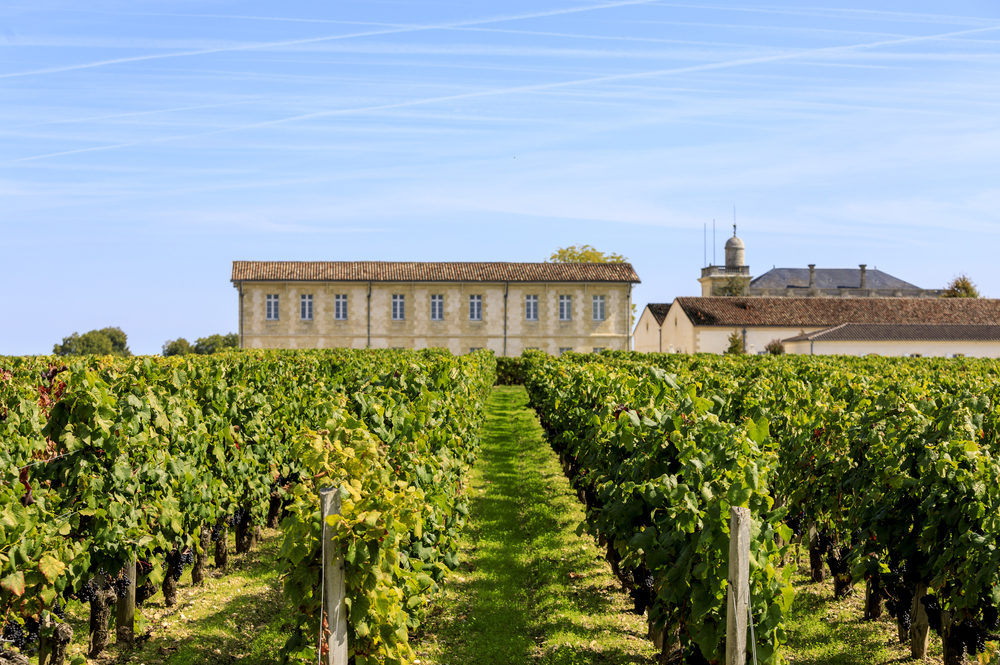 Petit Verdot vines in, Château Gruaud-Larose
Petit Verdot is one such example of a grape in ascendance. It was the grape of choice in the alluvial soils of the Gironde from the 17th century onwards – formerly rejected by many producers, Petit Verdot is enjoying a renaissance. To quote one winemaker, "the pungent spice to be added to the blend," a grape that, at its best, adds much finesse and deeper color to Bordeaux reds. Aromas of licorice and spice fill the glass – Petit Verdot is occasionally made as a varietal wine in Bordeaux and regions such as Jumilla in Spain and Australia's Hunter Valley.
Meanwhile, Carmenere stubbornly refuses to leave the region. An ancient variety now found across Chile, Carmenere all but disappeared after phylloxera, although it is making a modest comeback in St-Emilion and the Left Bank. Malbec is generally regarded as unsuitable for producing high-quality Bordeaux, although the grape arrived in the region in the 18th century, transported from Cahors. It was known as Pressac for centuries in St-Emilion, as its importer was based in the southwest and owned a property called Chateau de Pressac. Today there are minute amounts in the Medoc, Graves and Cotes de Bourg, and Blaye.
The two minor white varieties still alive in Bordeaux are Colombard and Sauvignon Gris, both curiosities at best. Colombard suffers from a poor reputation, yet a good deal survives in Blaye, where it produces light, fresh, aromatic whites for early drinking. Sauvignon Gris is a more noble variety and is finding a growing fan club in the Graves, as it ripens earlier than Sauvignon Blanc.
Related Blog Posts