Profile of Domaine Coulée-de-Serrant
No other property in the Loire arouses such passion and diverse opinion as the estate of Coulée-de-Serrant. Many producers cast a slightly envious eye over their prized Chenin Blanc vineyards, without question the most privileged terroir within the appellation. Their wines are a cause of great controversy, with admirers and critics in both camps.
The estate began its life in 1839 when it was designed by the architect Edouard Moll. It is a substantial residence of great beauty which has survived two World Wars and remains largely unchanged today. The property was owned by successive generations of the Walsh de Serrant family during the late 18th and early 19th century. In 1830 the ownership passed through marriage to the Duc de la Trémoïlle, where it remained until 1894, when, threatened with the cost of having to replant the whole vineyard after phylloxera hit, the Trémoïlles decided to sell up. As with so many wine estates in France, during the first half of the 20th century, the Château changed hands quite a few times! The defining moment in its history came in 1962 when André Joly purchased the property. His son Nicolas continues to run the estate today with great energy, passionately defending some of his more controversial decisions.
The vineyards here have been fully certified biodynamic since 1985. Three wines are produced from the Chenin Blanc variety grown in distinct terroirs. Nicolas Joly's personal mantra states, 'I don't only want a good wine but also a true wine,' and there can be no doubting that these are unique and complex wines, offering an incredible bouquet with age. Nicolas is committed to Biodynamic farming, and some of his methods attract criticism; he believes that the less man interferes with nature, the better. Whatever you make of his wines, love them or hate them, we guarantee you won't be left feeling indifferent. If we were to measure the greatness of a wine by the reaction it invokes, then Coulée- de- Serrant would be top of the class!
Wines produced
Coulée de Serrant

100% Chenin Blanc. Fermented in oak barrels and ages in 5% new oak. Produced from low yielding vineyards.

Clos de la Bergerie

100% Chenin Blanc. Fermented in oak barrels and ages in 5% new oak. Produced from low yielding vineyards from a unique terroir distinct from Coulée de Serrant.

Vieux Clos

100% Chenin Blanc. Fermented in stainless steel. Produced from low yielding vineyards.
Winery details
Chateau de la Roche aux Moines
49170 Savennieres
France
Tel +33 (0) 02 41 72 22 32
Fax +33 (0) 02 41 72 28 68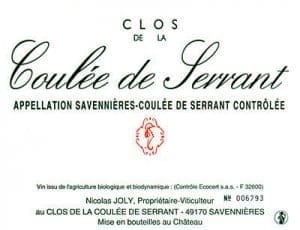 Appellation

Savennières

Founded

1152

Area under vine

12 Hectares

Age of vines

30 years+

Oak barrel origin

French
Winemaker

Nicolas Joly and Virginie Joly

Owner

Nicolas Joly

Production

18,000 bottles per annum

Grape varietals

Chenin Blanc