Located in the beautiful hill-topped village of "Montefalco" in dreamy Umbria, the Paolo Bea Winery estate is one of Italy's finest. With an unshakable commitment to the terroir and old-fashioned techniques, the boutique wine estate is known for its expressive, organic wines. Owner Paolo Bea is passionate about preserving the region's unique personality and climate, and the mineral character of Montefalco's soils is lovingly shepherded into each bottle of wine.
While Sagrantino has been grown for wines for literally centuries in the pretty hills of Umbria, there are also some theories as to its ancient origin. Some say it was brought by the invading Saracens, while others say it originated in Spain. At any rate, the DOCG (highest level of quality control) for the Sagrantino is spread out today over a stunning part of the world- in the Umbrian communes of Montefalco, Bevagna, Castel Ritaldi, Giano dell 'Umbria, and Gualdo Cattaneo.
The winery traces its history in Montefalco back to the 16th century, and in many ways, it continues to follow ancient traditions. Paolo Bea is staunchly artisanal, with much of the work (including all of the harvesting) done by hand (like in the majority of Italian wineries) and without the aid of modern technology. The wines, made organically without pesticides or herbicides, are robust and complex. Unfiltered, their slight sediment content only serves to enhance their rustic nature.
Paolo Bea's flagship wine is the Sagrantino di Montefalco Secco from the Pagliaro vineyard. It is a fleshy, jewel-toned red; it is a dense wine that often expresses spicy cinnamon notes or jammy blackberry notes. Also highly acclaimed is the Montefalco Rosso Riserva from the Vigna Pipparello vineyard. With softer tannins and a brighter feel, this is a well-structured wine that features notes of licorice, chocolate, and cherries. And one of the most cherished wines for true Italian wine lovers is the Paolo Bea Sagrantino Passito. The Passito style of winemaking (it's a sweetie) is actually the traditional ancient way Sagrantino was made. With Cellar Tours, on a Umbria Wine Tour, you can visit this remarkable winery and taste its amazing wines.
Wines produced
Sagrantino di Montefalco DOCG

100% Sagrantino; 14.6% Alcohol; Aged first in steel, then 12 months in large oak barrels and 12 months in bottle.

Sagrantino di Montefalco DOCG, passito

100% Sagrantino; 15% Alcohol; Aged 60 months in steel (containers changed annually to decant the wine), then aged in the bottle. This late-harvest wine is made with raisins.

Montefalco DOC Rosso

70% Sangiovese, 20% Montepulciano, 10% Sagrantino; 13.5% Alcohol; Aged 24 months in steel, then 4 months in bottle.

Montefalco DOC Rosso Riserva

Blend of 60% Sangiovese, 25% Montepulciano,15% Sagrantino; 13.4% Alcohol; 18 months in steel, 12 months in large 20 hectoliter oak barrels and 10 months minimum in bottle.

Santa Chiara Bianco

Blend of Grechetto, Malvasia, Chardonnay, Sauvignon Blanc, Garganega.
Winery details
Via Cerrete, 8
06036 Montefalco (PG)
Italy
Tel +39 0742 378128
Fax +39 0742 371070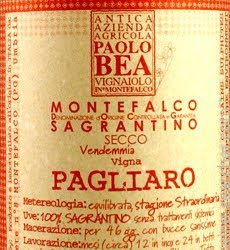 Appellation

Sagrantino di Montefalco DOCG, Montefalco DOC

Founded

1500s

Area under vine

15 hectares
Winemaker

Paolo Bea and family

Owner

Paolo Bea and family (sons Giuseppe and Giampiero)

Grape varietals

Sagrantino, Montepulciano, Sangiovese, Grechetto, Malvasia, Chardonnay, Sauvignon Blanc, Garganega