It's the dream of every wine lover who has allowed themselves to be seduced by the rolling vineyards, forests, and olive groves of Tuscany to find a little corner to call your own and to join in the age-old tradition of coaxing luscious wines out of the soil. The dream came true for Vittorio Moretti and his daughter, Francesca, who discovered this beautiful seaside estate while on vacation nearby. In 1997 the pair founded this boutique winery in Maremma Toscana in Suvereto, where Val di Cornia's hills rise toward the Colline Metallifere.
Although only a third is planted with vineyards, three hundred hectares make up the peaceful estate. Sitting on the edge of the Tirreno Sea, they're continuously caressed by the breezes blowing in off the Follonica Gulf. The soil of the steep slopes here (which form part of the Colline Metallifere, or "Metal-Yielding Hills") is particularly mineral-rich and ruddy colored, leading to strong-willed, complex wines. The vineyards' layout is a patchwork of different varieties (Merlot, Cabernet Sauvignon, Sangiovese, Petit Verdot, Syrah, and Cabernet Franc) seemingly strewn about randomly, which is no coincidence. The arrangement is based on long and careful studies of the soil, wind, sun, and climate conditions in each area of the estate. Only the vines most suited to a particular area were planted there.
Deep consideration went into the creation of the spectacularly designed winery as well. A stunning contemporary structure designed by the famed Swiss architect Mario Botta (who also designed the San Francisco Museum of ModernArt) uses sweeping lines and a ruddy, earth-toned color scheme to complement its environment. The building digs 500 feet deep to create a state-of-the-art cellar; above ground; it is a poetic addition to this land of groves and vineyards. The four high-end wines made here — Ebo, Petra, Quercegobbe, and Zingari — are known for being expressive, aromatic wines with a fresh modern style. Enjoy a VIP tasting of these exclusive wines at the winery on a Maremma Wine Tour, organized by Cellar Tours.
Wines produced
Zingari Igt Toscana Rosso

Petit Verdot and Syrah, with a bit of Sangiovese and Merlot, 13% Alcohol, Stainless steel vinification and 12 months stainless steel aging.

Ebo Val di Cornia DOC

50% Cabernet Sauvignon 30% Sangiovese, 20% Merlot, 13.5% Alcohol, Stainless steel vinification and 12 months in used French oak barriques and barrels. 6 months bottle aging.

Quercegobbe Merlot Igt Toscana Rosso

100% Merlot, 14% Alcohol, Vinification in French oak 100Hl tanks; aging 15 months in French oak 620 L barrels and 10 months in the bottle.

Petra Igt Toscana Rosso

70% Cabernet Sauvignon 30% Merlot, 14% Alcohol, Vinification in French oak 100Hl tanks; aging 18 months in barriques mainly new and 18 months in the bottle.
Winery details
Loc. San Lorenzo Alto 131
57028 Suvereto (LI)
Italy
Tel +39 0565 845308
Fax +39 0565 845728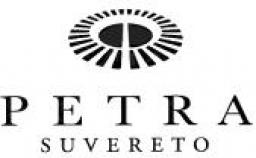 Appellation

Val di Cornia

Founded

1997

Area under vine

100 hectares

Age of vines

The oldest vineyard is about 25 years old. The average age of the others is about 7 years old. The youngest was planted in 2006.

Oak barrel origin

On average the winery uses 400 new French oak barriques (Capacity: 225 litres) each year. They're then used twice depending on the wine and on the desired ageing period.
Winemaker

Pascal Chatonnet and Pierangelo Bonomi

Owner

Moretti family

Grape varietals

The three most important varietals are Merlot, Cabernet Sauvignon and Sangiovese; Petit Verdot, Syrah and Cabernet Franc are also used.