The captivating Quinta do Carmo estate near Estremoz, in the heart of the Alentejo, is now firmly on the map, not only for its beauty and history but for the superior quality wine produced. By far one of the most beautifully preserved stately homes in the region, with many original Baroque features and architecture from King John V times (who bought the palace for his Lady, Dona Maria, not his wife). Júlio Bastos inherited the Quinta and vines with over 130 years of winemaking history and, in 1988, started his wine business with the acclaimed Quinta do Carmo Garrafeira 1986 and 1987. The next stage in the history explains where some of the confusion comes from regarding the names Quinta do Carmo and Dona Maria. In 1992 Júlio Bastos sold 50% of the Sociedad Agricola Quinta do Carmo to Domaines Barons de Rothschild and transferred the winery to another property. At the start of the millennium, Júlio sold his remaining share of the Sociedad Agricola Quinta do Carmo but kept the Quinta, enabling him to commence his new project, Dona Maria Wines. The wines have gone from strength to strength, winning multiple national and international awards, prizes, and recognition. We can confidently say that we are huge fans of each of the Dona Maria wines. When visiting the Quinta on our luxury wine tour, you will be received by Isabel, Júlio's wife, who is extremely passionate and takes great pleasure in sharing their wines and charming home. After an extensive tasting, you will be invited to join Isabel for an intimate lunch in the ornate palace dining room. This is a sublime and unforgettable experience.
Wines produced
Dona Maria Viognier

100% Viognier from clay/limestone soils. No barrel ageing, resulting in fresh primary aromas and flavors of jasmine and apricot.

Dona Maria Amantis Reserva

100% Viognier which undergoes fermentation in 400 L French oak barrels, with batonnage during 6 months. Smooth and silky with a great structure and balanced acidity.

Dona Maria Rosé

Aragonez 60% and Touriga Nacional 40% provides a pretty light salmon color. A very zippy rosé with good acidity, tropical fruits and a hint of strawberry.

Dona Maria Amantis Red

An equal blend of Syrah 25%, Petit Verdot 25%, Cabernet Sauvignon 25% and Touriga Nacional 25%. Ageing of one year in 70% French oak and 30% American oak barrels. The finished result is a dark, ruby red with a complex nose and rich red fruit mouth, a very elegant expression of Alentejo terroir.

Dona Maria Touriga Nacional

100% Touriga Nacional is aged for 12 months in new French oak. Deep violet color. Dark fruits on the nose with a hint of spice. Tannins, fruit and acidity are in harmony, a great example of what this native Portuguese grape is capable of.

Dona Maria Petit Verdot

100% Petit Verdot ages for one year in new French oak barrels. Full bodied and powerful with strong tannins, which benefit from bottle ageing. Elegant nose and sweet, dark fruits in the mouth.

Dona Maria Grande Reserva

50% Alicante Bouschet with Petit Verdot, Syrah and Touriga Nacional selected from old vines and fermented in the ancient marble "lagares" using the traditional foot-treading method. It ages for one year in new French oak barrels. Incredibly intense, yet rounded with an excellent structure and long finish. Dark fruits with mint and spicy notes are expressed on the nose and follow through in the mouth.

Júlio B. Bastos Alicante Bouschet

Dedicated to Júlio's father, this wine is from select old Alicante Bouschet vines. Traditional vinificaction; foot-trodden in marble lagares is followed by a slow maturation over 14 months in new French oak barriques. The resulting wine is beautifully elegant, with rich plum and blackberry flavors and a hint of chocolate and spice.
Winery details
Quinta do Carmo
7100-055 Estremoz
Portugal
Tel (+351) 268 339 150
Fax (+351) 268 339 155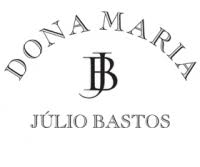 Appellation

Alentejo

Founded

2003

Area under vine

80 ha

Age of vines

The Alicante Bouschet is over 60 years old and the younger vines were planted in 2002

Oak barrel origin

80% of French oak and 20% American oak
Winemaker

Júlio Bastos

Owner

Júlio and Isabel Bastos

Grape varietals

Whites: Arinto, Antão Vaz, Viosinho and Viognier - Reds: Alicante Bouschet, Aragonez, Syrah, Petit Verdot, Touriga Nacional and Cabernet Sauvignon