In a region now filled with big names, Daphne Glorian has been a quiet godmother to the younger generations of winemakers, promoting the good name of the Priorat wine region with her exceptional and highly sought-after wines. Her boutique estate of 10 hectares barely produces 140 cases each year, so her first label, Clos Erasmus, is inevitably scarce and expensive. Deservedly so, however, as this is one of the regions' and indeed Spain's greatest of all red wines – rich, powerful, dense, and exotically perfumed. Clos Erasmus is also one of the few Spanish wines ever to achieve 100 Parker points, proof that the Priorat region in the right hands produces wines to rival the finest from Rioja and Ribera Del Duero.
Despite its current global renown and acclaim, Clos Erasmus actually started life by accident when Swiss-born Daphne Glorian visited Priorat with her friends in the late 1980s. Although taken with the inspiring beauty of the region's terraced vineyards, Daphne had no intention of purchasing any vines until Priorat pioneers Alvaro Palacios and Rene Barbier convinced her of the untapped potential of the area. Although vineyards had been found in Priorat since Roman times, it was only since the 1990s that Priorat emerged from an unknown backwater to an important wine appellation. Taking plenty of advice and valuable guidance from Rene, Daphne purchased a plot and planted Cabernet Sauvignon, Syrah, and Grenache vines to complement the existing old-vine Grenache plantations. Her hard work and dedication soon transformed this boutique estate into one of Spain's rising stars, which has operated bio-dynamically since 2004.
Ever since her estate was awarded 100 Parker points for the 2004 vintage, Daphne has not looked back, and the high demand for both her first and second wine speaks volumes. The flagship Erasmus is aged for over 20 months in the new oak; the resulting wine is massively powerful and expressive. Although many can hardly wait, it deserves at least 5-6 years bottle age. The second and outstanding value wine Laurel is a softer, lighter version that can always be enjoyed on release. But the most remarkable thing about this estate is how informal and relaxed everything feels, despite Clos Erasmus' global fame. If booked in advance for our special clients, Daphne will happily show you around herself and, after tasting a range of her wonderful wines, perhaps join you for lunch. So for a perfect introduction to the remarkable and stunningly beautiful Priorat region, we cannot think of a better place to start!
Wines produced
Clos Erasmus

80% Grenache and 20% Syrah. Fermented in oak barrels and then aged for 20 months in 40% new French oak. Produced from old Grenache vineyards, this wine will benefit from an extensive period of cellaring after release.

Laurel

10% Cabernet Sauvignon. 70% Grenache and 20% Syrah. Fermented in oak barrels and then aged for 16-18 months in two year old French oak barrels. Produced from younger vineyards in the region, Laurel is a softer wine and approachable on release..
Winery details
Carrer La Font
1 Gratallops, 43737
Tarragona
Tel +34 (0) 977 839 426
Fax +34 (0) 977 839 426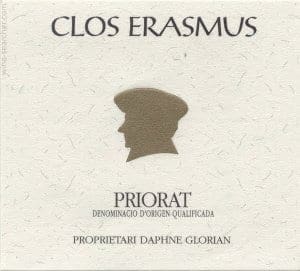 Appellation

Priorat

Founded

1988

Area under vine

10 Hectares

Age of vines

35 years

Oak barrel origin

French
Winemaker

Ester Nin and Daphne Glorian

Owner

Daphne Glorian

Production

5,000 bottles per annum

Grape varietals

Cabernet Sauvignon, Syrah, Grenache