Profile of Conde de los Andes
Built by Portuguese workers in the 16th century, the legendary cellars of Conde de Los Andes in the historic village of Ollauri in Rioja are a monument to this venerable wine region's sacred traditions. Blackened and musty, with low corridors and dripping walls, over 600 meters of passages are today used to store this great brand's rare old vintages.
Conde de Los Andes boasts a complex and fascinating history, having started life as a premium brand owned by the historic winery Paternina, founded in 1896 by the Eguizabel family in the pretty village of Ollauri. For decades they produced a range of excellent wines – by the 1950s, their renown had even attracted celebrities like Ernest Hemingway. The Conde de Los Andes brand was subsequently created in the early 1960s, produced exclusively from superior estate vineyards.
Indeed, from the outset, outstanding terroir has been at the forefront of the Conde de Los Andes philosophy. The winery is situated in the heart of the Rioja Alta zone, between the Ebro River's southern banks and the foothills of the Sierra de la Demanda mountain range. These vineyards are considered some of the finest in Rioja, with prices to match!
However, by the dawn of the millennium, the bodega had fallen into a poor state of repair, neglected by its cash-strapped owners. Its salvation came from the Murua family, a well-respected family who owned several bodegas throughout the region. They brought Conde de Los Andes in 2014 with a dream of restoring the historic brand to its former glory. To that end, Javier Murua invested a monumental amount of time and money into renovating the cellars and buildings and cataloging the 300,000 bottles in the cellar (with wines dating back to 1892), tasting through all the historical vintages.
Today Conde de Los Andes, despite its historical pedigree, is a poster child for the modern face of Rioja. You can visit this winery on a luxury Rioja Winery Tour, organized by Cellar Tours. Eschewing the Reserva and Gran Reserva hierarchy, the Murua family instead focuses on one red release, a 100% Tempranillo-based Rioja of considerable weight, depth, and texture. The white is no less impressive – a delicious Viura-based wine aged in French oak barriques, imbuing it with spicy complexity and remarkable length of flavor. But it is perhaps the semi-dulce wine that is truly outstanding, a late-harvested blend of Viura and Malvasia blended with small amounts of older reserve wine from the legendary Conde de Los Andes back-catalog. A fitting emblem for a resurrected brand now restored to its former glory.
Wines produced
Conde de los Andes Blanco (White)

100% Viura. Fermentation takes place in French oak for 3 months. The wine is then aged for a period of 6 months in the same barrels. A complex, structured white Rioja that will improve with bottle age.

Conde de los Andes Tinto (Red)

100% Tempranillo. The wine is fermented for 21 days in stainless steel vats. The wine is then aged in 50% new French oak for 14 months, and subject to a further 12 months bottle age prior to sale. Accessible on release, the wine will benefit from cellaring.

Conde de los Andes Semi Dulce

90% Viura, 10% Malvasia. Produced from late harvest grapes, the wine is fermented in stainless steel tanks. It is then aged in American oak for 15 months and given extended bottle age before its commercial release.
Winery details
Sol de la Cabra s/n
26220 Ollauri
La Rioja, Spain
Tel +34 941 31 05 50
Fax +34 941 31 27 78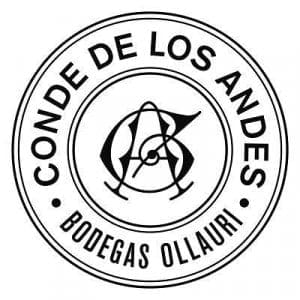 Appellation

Rioja

Founded

1896

Area under vine

49 Hectares

Age of vines

30 years+ Low yields

Oak barrel origin

French Barriques
Winemaker

Julian and Javier Murua

Owner

Murua family

Production

Approximately 45.000 bottles per annum, depending on the vintage

Grape varietals

Tempranillo, Viura, Malvasia