Enate calls itself the "Winery of the 21st century", and its spectacularly designed modern winery attests to that. Located in the stunning Wine Region of Somontano in the Pyrenees Mountains, a region with its roots in wine production dating back to the Roman Empire. Somontano is full of lovely hamlets, medieval monasteries, and vineyards. Most of the top wineries in the area, however, are quite new. It is quickly gaining recognition for being a leading Spanish region of quality wines, with low yields and ultra-modern facilities. Completely contrasting with the atmospheric, moldy wine caves of La Rioja and Ribera del Duero, Somontano is becoming known for its avant-garde stylish wineries. In particular, Enate is heavily involved in the art scene; in fact, they regularly commission Spanish artists to design their wine labels and have an art gallery at the beautiful winery. Enate's wines are incredibly clean, with depth and complexity, and consistently offer value for money. The winery has been very active in promoting wine tourism and is a treat to visit as they have put in place the infrastructure for the wine tourist.
Wines produced
Enate Chardonnay 234

Blanco joven (young wine), 13% alc.

Enate Barrel Fermented Chardonnay

8 months in cask, 13.5% alc.

Enate Gewurztraminer

100% Gewurztraminer, young wine, 13% alc.

Enate Rosado

100% Cabernet Sauvignon, 13% alc.

Enate Cabernet-Merlot

Semi Crianza, 6 months in oak, 50% Cabernet Sauvignon, 50% Merlot, 13.5% alc.

Enate Tinto Crianza

75% Tempranillo, 25% Cabernet Sauvignon, 9 months in oak, 13.5% alc.

Enate Tinto Reserva

100% Cabernet Sauvignon, 12 months in oak, 13.5% alc.

Enate Merlot Reserva

100% Merlot, 14 months in oak, 14% alc.

Enate Reserva Especial

80% Cabernet Sauvignon, 20% Merlot, 18 months in oak, 14% alc.
Winery details
Barbastro a Naval Km. 92
22341 Salas Bajas
Huesca
Tel + 34 974 302 580
Fax +34 974 300 046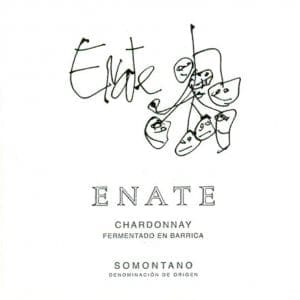 Appellation

Somontano

Founded

1991

Area under vine

370 ha

Age of vines

8-10 year

Oak barrel origin

75% French, 25% American
Winemaker

Jesus Sese

Production

Tempranillo, Cabernet Sauvignon, Merlot, Chardonnay, Gewurztraminer