Italian cuisine is incredibly rich in variety, from the piquant flavors seen in the gastronomy of Naples and Calabria, the Pesto dishes of Liguria to the creamy cheese and risotto dishes of the Italian Alps. Apart from the Chinese, the Italians have got to be the people to have brought their phenomenal cuisine and wines to the highest amount of locations across the planet. You can find "Trattorias", "Osterias", "Enotecas" (Wine Bars) and "Pizzerias" everywhere from Los Angeles to London. Prosciutto, Parma Ham, Balsamic Vinegar, Funghi Porcini, Parmiggiano, Provolone, Mascarpone, and Tiramisu are all uniquely Italian. Chianti wine, Barolo, Prosecco, Frascati, and Marsala, as well. Lest us not forget the endless shapes, colors and flavors of pasta, from taglioni to pappardelle, ravioli to bucatini. The gastronomic diversity is fabulous, varying from rich tomato and seafood based dishes from Sicily to spicy ham dishes from Calabria to heavy cheese Risotto (rice) dishes from Trentino and the Alps. Classic Italian dishes are known virtually everywhere, including Spaghetti Carbonara, Spaghetti Bolognese, Ossobucco and Ravioli ai Cuattro Formagi. What foreigners see as "Italian food", to Italians is much more regionalized. Italy is a beautiful, diverse country with incredibly rich and varying gastronomic references. While in Milan, the use of Saffron is the norm to season a dish, Southern Italy and Sicily use the spicy Peperoncino and Tuscany favors Rosemary. Here is a short introduction to a few classic Italian regions famous worldwide for their gastronomy.
Central Italy- Rome, Bologna and Emilia-Romagna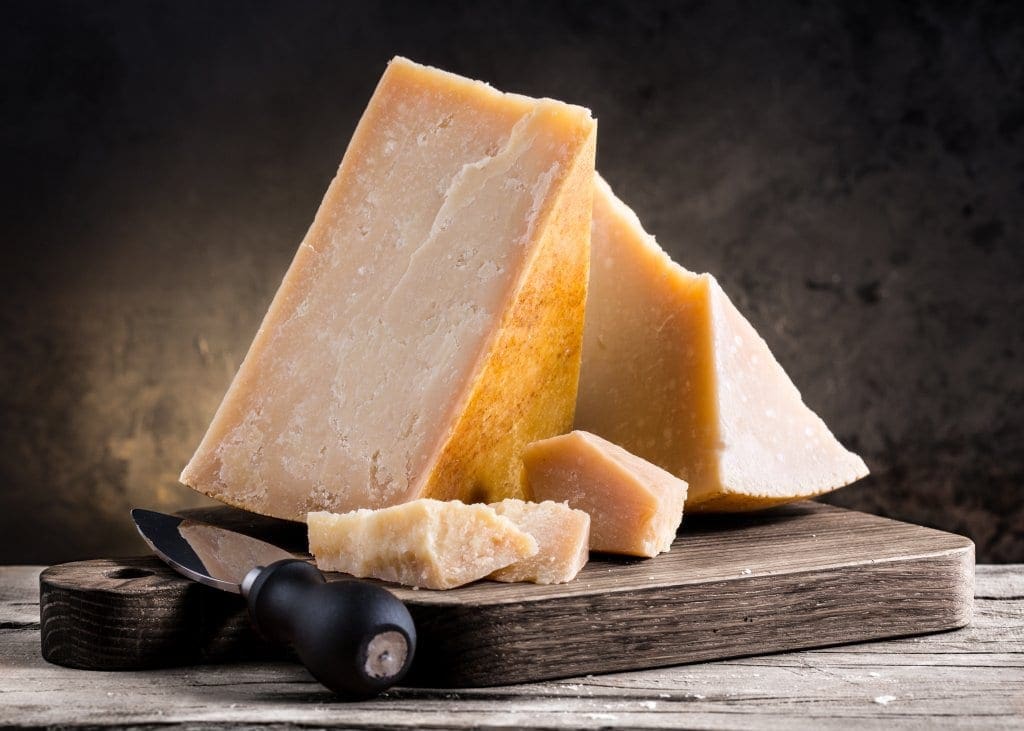 Parmesan Cheese
Called "La Grassa" (the fat one), Bologna is known for its fantastically rich cuisine. Many of the sauces used to accompany the different pastas are cream based. Spaghetti Bolognese comes from Bologna and other unique products form Emilia Romagna include Balsamic Vinegars from Modena, cured and air dried Parma Ham (Prosciutto) from Parma (traditionally served with figs), Parmesan cheese (Parmigiano Reggiano, also from the town of Parma) and a slew of Salami varieties. Lambrusco wine also comes form the area, and while only the cheap Lambrusco was exported for years, in Italy you can find some delicious examples of the dry red Lambrusco, which cuts into the rich cream sauces from the area, perfectly. Rome's most famous dish would probably be the Spaghetti alla Carbonara, which pairs perfectly with the light, unpretentious Frascati white wines made outside Rome. Carciofi alla Romana (Artichokes prepared with mint and parsley) and "Coda alla Vaccinara" (an Oxtail soup made with wine, celery, onions, etc, very wintery) and the Bucatini all' Amatriciana (Bucatini pasta prepared with bacon and tomatoes), are all classic Roman dishes.
Liguria – Cinque Terre and Genova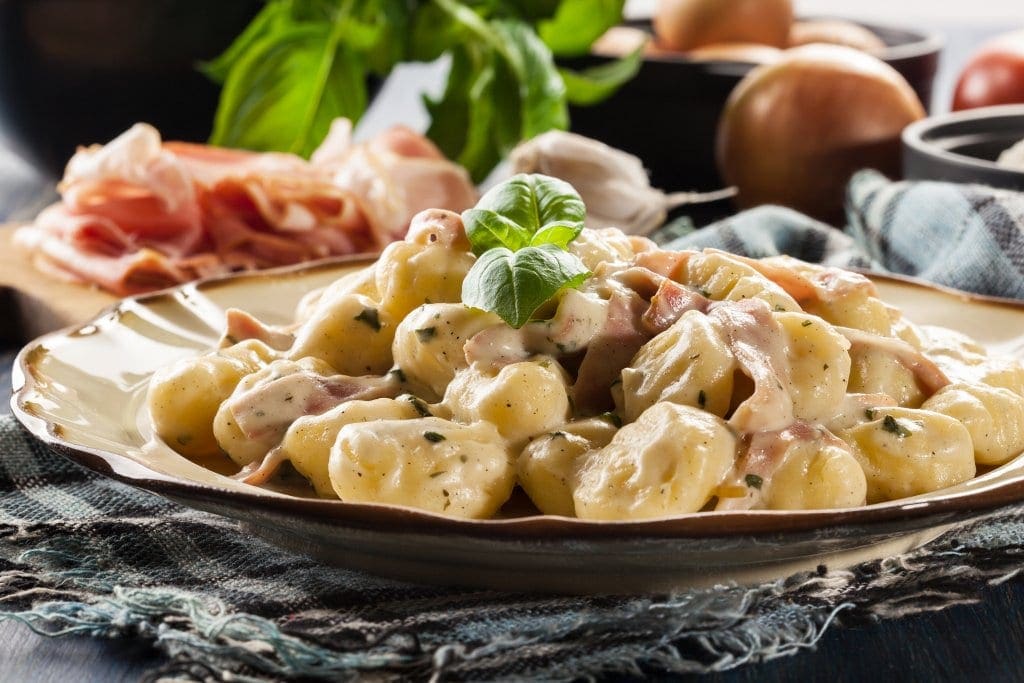 Gnocchi
The cuisine in Liguria is 100% Mediterranean, bursting with fresh flavours, healthy seafood, extra virgin Olive Oils and most famously, Pesto. Pesto hails from the town of Genova and Pesto Genovese is the best there is. It's made with basil, pine nuts, Pecorino cheese, garlic and copious amounts of good olive oil. It usually accompanies that other great Ligurian invention- Gnocchi. Gnocchi is a delicious dish made with potato flour and rolled into little balls and topped with various sauces, pesto being the most famous combination. Liguria is also well know for Focaccia, the wonderful flat bread available in every supermarket from Paris to Tokyo nowadays. These breads tend top be flavoured with Fennel, Rosemary, olive oil and/or garlic. Farinata, is a typical Italian Mediterranean dish, a little chick pea (garbanzo) tartlet. The local wines are mainly white and are grown on treacherously steep slopes that have to be harvested by hand. Vermentino and Pigato are the main white wines and a light red made with Ormeasco (Dolcetto) is produced on the Italian Riviera.
Piedmont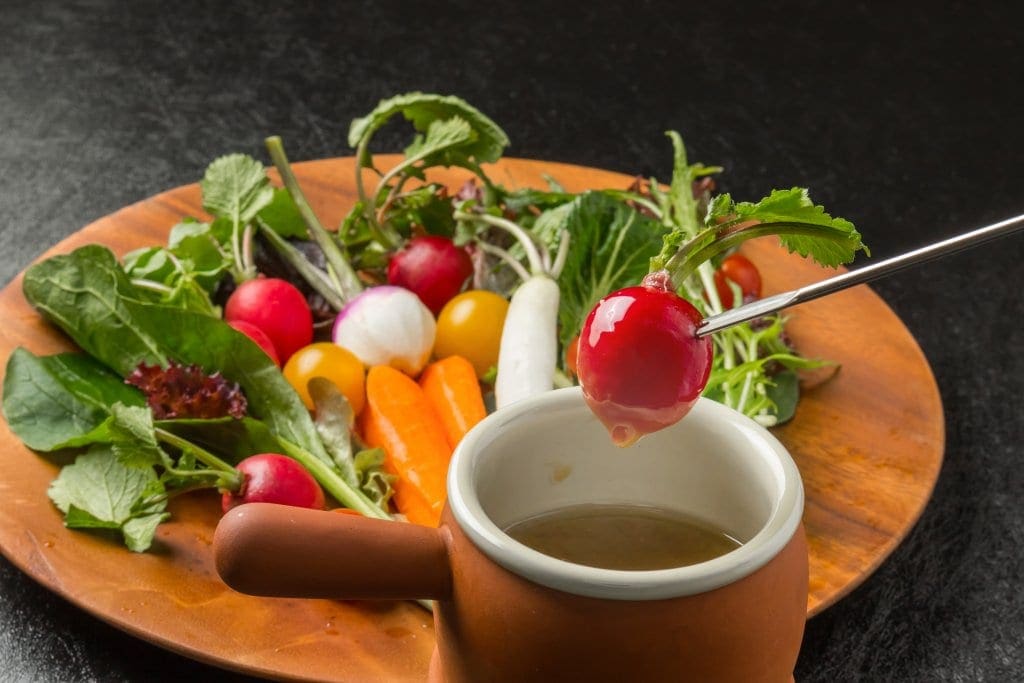 Bagna Cauda
White truffles and chestnuts, vermicelli rice, along with some of the best wines in the country, are the products most typical to Piedmont. The locals shave white truffles over everything from Polenta, Risotto, Pasta and their traditional Fonduta (a Fondue, evident of the Swiss influence). Like elsewhere in Italy, a meal begins with Antipasti which can include Salami, olives, anchovies, crusty bread, etc. the Primo (pasta or rice dish) follows. Typical primos in Piedmont include "Agnolotti dal Plin" (tiny ravioli stuffed with meat sauce and sage) or Tajarin (thin taglietelle made with egg pasta). Main dishes (secondo) typically feature the classic "Brasato al Barolo" (the region's famed beef stew, cooked in Barolo wine) or "Bollito Misto" (real mountain fare- a big pot of boiled meats served with different relishes). "Bagna Cauda" (meaning "hot bath", it's a dish full of strong flavours, garlic, anchovies and olive oil) is served with the local red wines, either Barbera or Dolcetto. For the heavier meat dishes a Barolo or Barbaresco wine could be served. For the summer, more seafood oriented dishes like "Penne al Tonno" (penne pasta with tuna and a cream sauce), a light white Gavi wine would go down perfectly.
Tuscany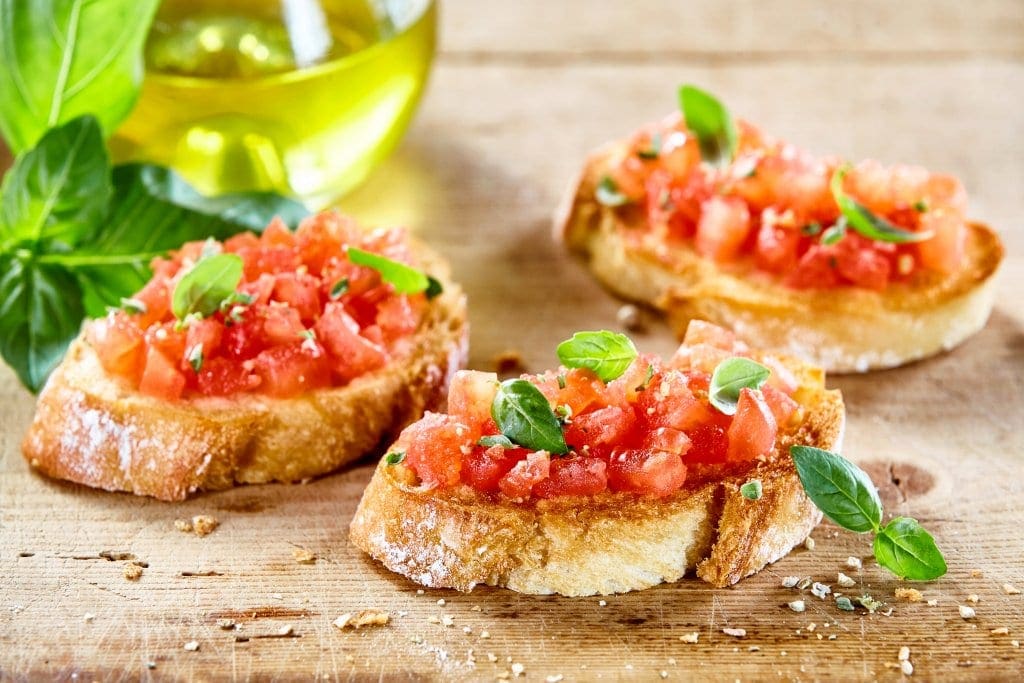 Bruschette
The best olive oil in Italy comes from Tuscany, mainly from the beautiful town Lucca, also famous for lingerie and shoes. Olive oils are flavored with Bay leaves, Chilli (Peperoncini) and Fennel typically, and doused on virtually everything. "Bruschette" is a typical Antipasti, crusty bread topped with olive oil, roast garlic and roast tomatoes, topped with fresh basil. Crostini, slivers of bread covered in chicken liver, are also popular. The most typical pasta dish, served as a "Primo" in Tuscany, must be the Pappardelle a la Lepre (pappardelle pasta cooked with hare). Sauces are normally meat based and can include "Coniglio" (rabbit) or "Anatra" (duck) along with spinach and mushrooms (funghi) accompanying them. Wild boar sausage is another typical product of the area ("Prosciutto di Cinghiale"). "Ribollita" is a classic Tuscan soup- thick, rustic, made with beans and cabbage and perfect with a bottle of young Chianti Classico. The most famous main course is definitely "Bistecca a la Fiorentina", a huge T-Bone Tuscan steak usually big enough for two and enjoyed with a good bottle of Brunello di Montalcino. Finally, to finish off any proper Tuscan meal, perhaps while you are sitting outside on the veranda of your Tuscan vacation villa, lounging after a long lunch, is Cantucci with Vin Santo. Cantucci are hard and sweet cookies, macaroons, made especially to be dipped into Tuscany's "Holy" dessert wine (made with semi-dried grapes). Delicious.
Umbria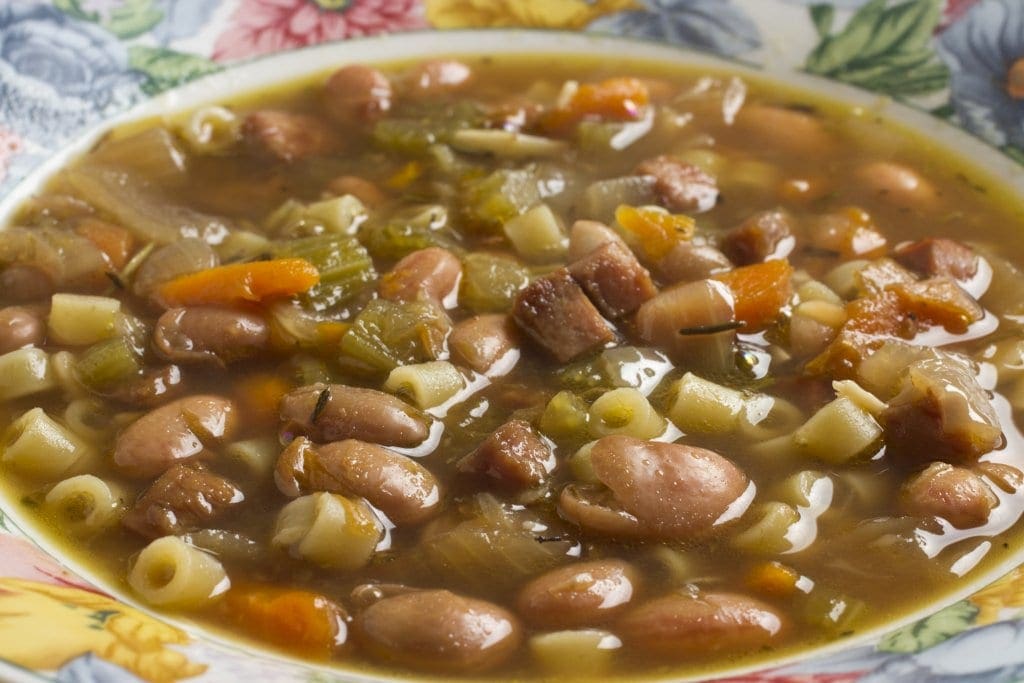 The lovely region of Umbria, right below Tuscany, is most famous for it's "Baci" chocolates, which come from the pretty, historic university town of Perugia. Umbria's cuisine is fantastic as it is simply fresh and natural, with quality ingredients like good meats, truffles (black truffles here, as opposed to the white truffles of Piedmont) and a multitude of cheeses. Very good cured hams are made from the town of Norcia in the Valnerina sub region. Umbria's most famous product besides the Baci chocolates are the Black Truffles, "Scorzone" from Norcia and Spoleto. 80% of Italian Truffle production actually takes place in Umbria. The pasta dishes of Umbria are similar to Tuscany, many of them made with egg. Taglietelle is big here and often prepared with goose based sauces. Beans, as in Tuscany, are common and classic dishes include: like "Pasta e Fagioli" (heavy dish made with pasta, beans and pork) and "Scafata" ( a wintery soup made with lentils from the town of Norcia). While Liguria has "Focaccia", Umbria boasta its own flat bread called "Torta al Testo" made with flour, olive oil, etc and cooked in interesting marble stoves in wood fired ovens. They are then stuffed with sausage, herbs, etc. the nearby Trasimeno Lake provides the region with plenty of freshly caught fish such as carp, eel, perch and trout. Excellent white wines are produced in Umbria, in Orvieto, in semi sweet style ("Amabile") and "Secco" (dry).