Home to one of Spain's most magnificent cathedrals, the stately Castilian city of León clusters a wealth of impressive Gothic monuments within a compact historical center, making it a magical place to explore. Although founded by the Romans in 70 AD, León didn't have any real clout until nearly a millennium later, when it became a capital in the 10th century. The centuries of splendor that followed led to the construction of the city's most emblematic buildings, not least of which is the stunning 13th-century Gothic Cathedral that stands tall over the center. León slid into decline as the Spanish base of power shifted south. Still, thanks to the Camino de Santiago (the Saint James' Way pilgrimage, which ends in Santiago de Compostela), the decline was cushioned, today as in centuries past, this is one of the main stops along the legendary pilgrim route.
León is a lovely city to combine with the Bierzo wine country and fits nicely with an itinerary in "Green Spain" (Basque Country, Cantabria, Asturias, and Galicia). León's historic center, dubbed the "Barrio Húmedo" ("Damp Quarter"), lies to the east of the Río Bernesga and is home to most of the city's impressive sights. You can't help but be drawn first to the ornate façade and luminous interior of the Cathedral. From here, the maze of cobblestone streets that makes up the Barrio Húmedo fan out.
Shops, restaurants, and tapas bars rub shoulders with elegant palaces and churches along these narrow streets. Don't miss the Real Basílica de San Isidoro, a Romanesque basilica famous for its pantheon, decorated with richly colorful frescoes. The Hostal de San Marcos, a 12th-century pilgrims' hospital later used as a convent and is now a luxurious Parador Hotel, is another highlight. Perhaps most appealing of all is merely strolling the neighborhood's winding streets, stopping for coffee or tapas in atmospheric squares like the Plaza del Grano or the Plaza de San Martín.
Gastronomy & Wine
Traditional Castilian cuisine is known for being rich and hearty, and the fare in León is no exception. The area's long, often harsh winters have led to dishes like "cocido leonés," the local version of Spain's rich meat and chickpea stew. Pork is king, and there is no end to the delicious ways the meat is prepared. Roast suckling pig is an eternal favorite, as is botillo berciano, stuffed pork intestines served with potatoes, garbanzo beans, and chorizo.
For tapas, there's no beating a "tabla de embutidos," a plate or wooden tray laden with cured sausages, sliced and ready to pop into your mouth atop a piece of bread. Of course, typical treats from the Castilian heartland, including savory cured hams and creamy sheep cheese, are ubiquitous as well. Other local specialties include game, like venison and wild boar, and lamb dishes. Soups and stews are popular year-round. This is a great place to try the tasty Sopa de Ajo (garlic soup), a flavorful broth with chunks of bread and topped off with a poached egg.
The potent yet fruity Mencía wines from the nearby Bierzo appellation are ideal for León's sumptuous cuisine. An exciting up-and-coming region, Bierzo is known for making balanced reds that are smoother than many of the rowdier wines coming out of central Spain yet pack in plenty of personality. The white wines you often find on wine lists are delicate Albariños from Galicia's Rias Baixas region, just beyond Bierzo to the northwest.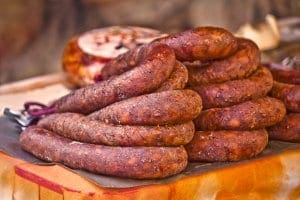 Highlights
This 13th-century Gothic masterpiece is the pride of León and is one of the most beautiful cathedrals in all of Spain. The ornate façade is only rivaled by the treasures inside: a beautiful rose window, stained glass galore (there are 128 windows in total), richly carved choir stalls, and a tranquil cloister.

A Romanesque basilica built in the 11th century, this was the burial place for nearly two dozen monarchs. Although much of the pantheon was destroyed when Napoleon came through in the 19th century, you can still see beautiful Romanesque frescoes and several impressive sarcophagi.

Now an exclusive Parador Hotel and only partially open to the public, this former pilgrims' hospital and convent has a marvelous Plateresque facade and a lovely cloister.

A Renaissance palace in the heart of the Barrio Húmedo, this 16th-century creation has an ornate facade and patio.

Designed by famed Modernist architect Antoni Gaudí, whose masterpiece is Barcelona's Sagrada Familia temple, this imposing construction is less fanciful than some of Gaudí's better-known works but is still worth seeking out.

Standing guard on the picturesque Plaza de Santa María del Camino (better known as the Plaza del Grano), this is a lovely Romanesque church.

Plaza Mayor

León's main square, dominated by the former town hall, hosts a market on Wednesdays and Saturdays.