Few other cities in the Provence region offer as much delight and wonder as Aix-en-Provence. For a start, the region's former capital is a vibrant and dynamic international student city, with a university that dates back to 1409 and the nightlife that goes with it. The central boulevard, the Cours Mirabeau, is filled with stately mansions, trees, and fountains, a fitting representation of a city that manages to be both grandiose and graceful but also exciting and provocative. Anyone who has experienced a heavy night out in the beautiful and lively old quarter can vouch for that! Aix-en-Provence is a major bastion of local tradition and culture; its museums, squares, and monuments are among the region's finest. It is merely an unmissable destination on your Provencal adventure.
History
Like most southern French towns and cities, Aix-en-Provence owes its origins to the Romans, who invaded France (then known as Gaul) in the last century BC. History records that the Roman Consul Sextius Calvinus founded the settlement in 123 BC. He was attracted by a nearby thermal spring, which would form the basis of the settlement's prosperity and renown. This, combined with its excellent location on a major trading route through southern Gaul, ensured that Aix-en-Provence rapidly grew in size and importance.
The settlement prospered for several centuries under Roman rule and attracted merchants, traders, and pilgrims who would pass through Aix-en-Provence on their way to Rome. At the height of its importance in the 4th century AD, the city became the Gallia Narbonensis Roman province's capital, which included what we today know as the Provence and Languedoc regions. There seemed to be no end to the city's ambitions.
However, Aix-en-Provence's fortunes took a dramatic change for the worse, following the Western Roman Empire's collapse. A series of attacks by the Lombards, Visigoths, and Saracens did untold damage to the city. Most Roman architecture was destroyed. Visigoth tribes finally captured what was left of Aix-en-Provence in 477. They kept control until competing Saracen forces claimed the city for themselves in 731 – they were ousted by the Frankish ruler, Charles Martel, in 737. Aix-en-Provence was in ruins.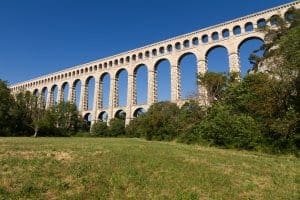 Middle ages
Over the following centuries, the city remained something of a provincial backwater, having lost its wealth and architectural heritage due to the conflicts that followed the Roman Empire's collapse. Its regeneration came in the Middle Ages when Aix-en-Provence was once again made a regional capital in the 12th century. The fabled Counts of Provence, most notably the last Count, Rene, re-established its importance as a dynamic artistic and trading center, constructing new buildings, including an impressive Palace, replacing the ones destroyed by the Barbarian invasions. Rene's father, Louis II of Anjou, also bequeathed a great legacy to Aix-en-Provence, opening the first university in 1409. It remains an important historical landmark and thriving center of learning today.
During this period, Aix-en-Provence was also caught up in the hostilities between the Capetian rulers of Paris and the Anglo-Normans, known as the Hundred Years' War. This terrible conflict would rage until the middle of the 15th century and claimed many lives.
Following Count Rene's death, Aix-en-Provence lost its sovereignty and became part of the broader French Kingdom in 1487. The King, Louis XII, established a formal parliament in 1501, which governed the city for several centuries, until 1789. A golden age dawned on Aix-en-Provence, as successive French Kings did much to cement the city's reputation as a critical Court City. However, it was not unaffected by the 16th-century Wars of Religion between French Catholics and the Huguenots (Protestants) as the city sided with the Catholics. It was a real spirit of optimism, not pessimism, that dominated the 16-17th centuries.
Golden age
The 17th century saw Aix-Provence endowed with many elegant buildings and monuments. A growing middle class emerged, attracted by the city's prosperity, and with their new-found wealth came mansions, cathedrals, and public squares. This great transformation of the historic central area was dominated around pulling down the old Roman ramparts and replacing them with a broad, mansion-lined boulevard called the Cours Mirabeau. It remains the city's most charming street – indeed, Aix-en-Provence was riding an unparalleled wave of prosperity.
This golden age continued mostly unabated until the outbreak of the French Revolution in the 18th century. After the Revolution, Aix-en-Provence was relegated to a mere "sous-prefecture," meaning a sub-administration city, and its importance diminished. The 19th century's great industrial revolution also somewhat bypassed the city. Marseille became the de facto economic capital of Provence, albeit Aix-en-Provence remained a vital center of learning, art, and culture. Indeed, the famous Post-Impressionist artist Paul Cezanne was born in the city during the period, in 1839. His works are today much-appreciated globally, particularly his paintings of the luminous Provençal landscape.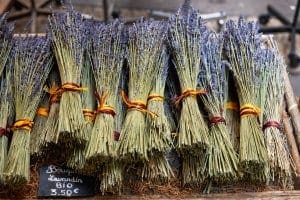 Modern times
The outbreak of the 1st and 2nd World Wars did not significantly affect Aix-en-Provence; in the First World War, the fighting never reached the city; Trench War was played out in northern France. During the Second World War, Aix-en-Provence formed part of Vichy France, a puppet state that acted for the Nazis during the conflict.
Aix-en-Provence, like all European cities, has experienced both prosperous and trying times. But despite such hardships, the city's sense of optimism and joie de vivre has prevailed since the 1960s a vibrant economic and cultural life has attracted many thousands of students and the younger generation in search of both job prosperity and excellent quality of life. Its beautiful squares, parks, and palaces contribute to the popular and apt image of Provence as a holiday paradise, drawing millions of visitors each year in search of historic villages and dramatic landscapes. But if you tire of such beauty, fear not, for Aix-en-Provence has enough lively squares, bars, and restaurants to keep any night-owls and gourmets thoroughly satisfied. Welcome to Aix-en-Provence – The South of France's undisputed City of light.
Gastronomy & Wine
It's a very heady experience to take in Aix-en-Provence's smells, sights, and sounds of a food market. Tables sag under piles of braided pink garlic, colorful fresh peppers, tomatoes, eggplants, courgettes, and asparagus all tantalize the taste buds. Fresh herbs and lavender fill the air with their pungent scent; locals playfully jostle for prime position to snap up the freshest offering of the day. Provencal cuisine invokes all the classic flavors of the Mediterranean, including fantastic seafood (oysters and mussels are a particular highlight), freshly caught fish, and the legendary Bouillabaisse fish soup, which originated in Provence. And then there is the local olive oil, some of the most delicious and potent in Europe.
Eating out in Provence is rarely about pomp and ceremony; chefs usually prefer to use only the freshest, local ingredients to craft homely classics, but, of course, more avant-garde cooking is found in cities like Aix-en-Provence. Lamb is a kitchen favorite; the best comes from the Camargue, where lambs graze on the herbs and salt-marsh grass. Summer fruits are another major treat; Provence supplies France with the first of the season's peaches, cherries, melons, and apricots.
Aix-en-Provence is today simply full of good restaurants. Some traditional dishes you will undoubtedly encounter are Bouillabaisse, an assortment of local seafood flavored with tomatoes, saffron and olive oil, Salade Niçoise, a salad of lettuce, green beans, tomatoes, black olives, eggs and anchovies, and calisson, a traditional biscuit made from almond paste, flavored with orange and melon. The city's old quarter groans with restaurants, one of our favorite is Le Bistro Latin, which serves imaginative local specialties such as roast Dover sole with fennel cream. Or, head to L'Aix Quis, a stylish restaurant that serves the right mix of fish and meat dishes and has cemented its reputation as one of the top culinary destinations in Aix.
Provence has been making wine for centuries, but it is only relatively recently that its reds – other than Bandol – and whites have been held in high regard. And while delicious rosé remains the mainstay of Provencal wine production, exciting reds and some superb whites have emerged over the last 20 years or so. Cotes de Provence is the most commonly seen appellation, home of sun-kissed rose that perfectly suits the region's climate. Based on the Mourvedre grape variety, Bandol can be divine: intense, spicy, aromatic, and long-lived. Bellet is another exciting sub-region, offering some well-structured reds and lightly floral nutty whites, and gorgeous rose. But whatever you take a fancy to, you can be sure that local restaurants and bars are well-stocked with a wide variety of wines from within the region. Locals like to drink local, and we suggest you do too.