In so many important ways, Provence's wine appellations share little common ground with their neighbors further north. Historically, Provence was renowned as a luxury vacation destination first and foremost, rather than as a source of quality wine. Millions of bottles of 'sun-kissed' rose have been sold across Provence since time immemorial – many were of dubious quality, succeeding because of a suspension of critical faculties. When faced with Provence's benign climate, gorgeous scenery, and excellent gastronomy, how many sybarites could claim to be in a critical mood? Meanwhile, Bordeaux and Burgundy established reputations globally as fine wine regions, yet Provence did no such thing. Outside of the tourist season, wines were largely consumed locally and with local dishes. They were not widely promoted to the outside world.
Visiting
Explore Cote de Provence with Cellar Tours on a Private Luxury Tour of Provence Wine Region. Enjoy VIP private tastings at top chateaux and experience the world-famous Provençal cuisine.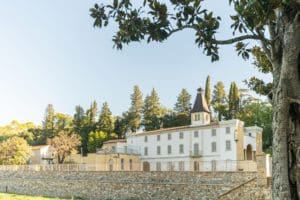 History of Côtes de Provence
Provence has also taken a different trajectory in other ways. The appellations covering the wider region are relatively young; Bordeaux and Burgundy have been delineating terroir for centuries. Provence showed no such interest in terroir stratification, although an anomaly occurred in 1955 when 23 wine estates – now 18 – were awarded a 'Cru Classe' designation based on their perceived superior status.
Yet vines have been cultivated across Provence for centuries. Provence's first inhabitants were believed to have used indigenous varieties to make wine before the Greeks arrived in Marseille in 600 BC. This ancient civilization naturally brought their winemaking traditions with them – soon, vines were covering Provence's landscapes. The Romans continued this fine tradition, as did the numerous European civilizations and rulers who once called Provence their home. The Catalans, Counts of Toulouse, House of Savoy, and the Sardinians have all left their indelible mark on Provencal wine. Subsequently, the phylloxera louse, which reached Europe in the 19th century, did not spare the Mediterranean regions. However, viticulture recovered in the early 20th century. Nevertheless, Provence has traditionally been viewed through the prism of wine styles and individual estates, with little attention focused on specific regions or vineyard sites.
Thankfully, this captivating Mediterranean region has undergone a dramatic revolution over the past two decades. A raft of investment, combined with a surge of new talent, has upgraded quality across Provence's appellations. The quality of rose made in Provence has reached new heights, buoyed by the insatiable and increasingly year-round consumer demand. Seriously exciting reds and racy, structured whites are now being made in the most hallowed terroirs, formerly ignored but now cherished.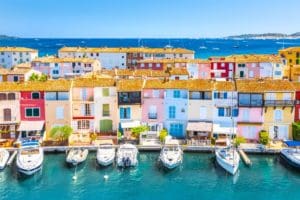 Viticultural Revolution
At the forefront of this viticultural revolution has been the appellation of Cotes de Provence. It is the largest in Provence, with over 20,000 hectares under vine. It is also unusual as the boundaries are non-continuous. Growers who market wines under the appellation are found north of Marseille, in Mediterranean islands, around St-Tropez, in the sub-alpine retreats north of Draguignan, and even a small enclave around the area of Villars well north of Nice. However, Cotes de Provence's central hub is predominately situated in the Var department, which covers the eastern section of the Provence wine region. As a result, Cotes de Provence is perhaps the least homogeneous viticultural zone in France. A mosaic of terroirs awaits the new investor, with micro-climates, soil variations, and varying altitude/aspect, all creating intriguing points of difference. Growers now recognize that the grape variety comes second to the unique characteristics of an individual vineyard plot or 'climat.'
But in general terms, Cotes de Provence enjoys a dry, sunny Mediterranean climate, responsible for attracting tourists year-round. Winters are mild, while summers have seen precious little rainfall in recent years – sometimes leading to hydric stress as vines shut down due to the intense heat and drought. The most significant viticultural hazard in the appellation is overripeness. Winemakers must remain vigilant if they wish to avoid a high pH and jammy, flabby wines.
Terroir
Of course, the topography provides several important moderating influences. Strong mistral winds from the north can moderate heat and prevent rot and damage vines that are not securely trained. Exposed vineyards can be problematic, while south-facing sites – unlike in Burgundy – are often considered inferior terroirs due to the intense heat and lack of respite. Today, some of the best wine in Cotes de Provence is made from grapes grown on north-facing vineyards, with proximity to the Mediterranean and higher altitudes helping maintain freshness and balance. That word, ubiquitous all over France, is what Provencal growers desperately covet. This climate naturally provides fruit-forward, intense wines with little work; balance, elegance, and poise require a concerted effort in both the vineyard and the cellar.
So too, does soil vary considerably. Cotes de Provence runs the whole gamut, from sedimentary deposits of limestone to metamorphic soils – namely schist and quartz. Clay and sandstone dominate inland, while coastal areas typically have a higher concentration of metamorphic soils. The appellation is relatively young; awarded AOC status in 1977, Cotes de Provence existed for decades as a VDQS (Vin Delimite de Qualite Superieure), a mid-level classification used between 1949 and 2012. Higher than Vin de Pays but lower than AOC. However, many excellent wines are produced under the Vin de Pays designation across Provence, and it is simply not accurate to declare all AOC wines automatically superior.
Cotes de Provence has become the sommelier's favorite choice for excellent quality at reasonable prices. Some wine snobs may consider the appellation a poor choice compared to the (justifiably) exalted wines of the Rhone further north, but Provence has finally shaken off its lackluster image. The reds and whites produced across the appellation vary enormously in style and quality. The best examples are complex, structured wines with that unique scent and taste of garrigue. The red grapes planted include Cabernet Sauvignon, Grenache, Syrah, Carignan, Cinsault, Mourvedre, and the local Tibouren. A new generation of winemakers has proven that the terroir in Cotes de Provence can equal any vineyard in the Rhone. Seeking out the best sites and cultivating at low yields, vignerons are increasingly making excellent wines that, when tasted blind, convince critics that they're imbibing something exceptional – and expensive. The best examples of winemaking in Cotes de Provence tend to be blends rather than single-variety wines. There is also a small volume of white made from a diverse palate of grapes, including Vermentino, Chardonnay, Grenache Blanc, Sauvignon Blanc, and Semillon.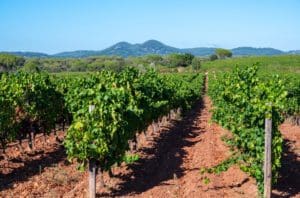 Rose
However, any discussion about Cotes de Provence must inevitably conclude with an ode to the region's incredible diversity of rose output. Constituting over 75% of the region's total production, styles, blends, price points, and quality varies enormously, as one would expect. Examples produced from old bush vines, cultivated at tiny yields and then subject to slow fermentation and maturation in barrique, are a world away from the "sunshine in a bottle" cliché. This is the appellation's most significant advantage – it caters to every whim and desire. Pale-colored rose, more textured/gastronomic wines, superlative whites, fruit-forward reds, and more structured, age-worthy examples – Cotes de Provence is arguably the most heterogeneous part of France's wine map. For too many years, its potential was ignored, but no longer. The region's time has come, and Cotes de Provence is at the front of the queue.