Profile of Château Haut-Bailly
There are few estates in Bordeaux that inspire the same affection as Haut-Bailly. And with good reason. Their wines are superb, the Château is beautiful and the owners are always friendly and welcoming. It is a star in the Pessac-Leognan region of Bordeaux, making incredibly consistent, fine red wine at a reasonable price! For a great introduction to the wines of Bordeaux, Haut-Bailly is hard to beat.
The property was created in the 1630s by a Parisian banker called Firmin Le Bailly, in partnership with a wine merchant called Nicolas de Leuvarde. It passed through various hands until 1872, when it was acquired by an engineer Alcide Henri Bellot des Minieres (let's stick to Alcide!), who built the Château and planted the ancestors of the vineyards we see today. As with so many of these great estates, a period of instability and neglect would follow Alcide's death in 1906, when the property was inherited by his daughter who quickly sold it. Thankfully, in 1955 a Belgian merchant, Daniel Sanders, brought Haut-Bailly and replanted much of the property. Unbelievably, only 10 hectares were under vine at the time, as many of the vineyards had been abandoned and given over to grazing land. In 1979, his son Jean took over and continued his father's work in restoring the property to its original size.
Jean Sanders had a few years in which to enjoy his hard work until his sisters decided they wanted their share of the estate. As fortune would have it, the Château was purchased by a banker from New York State called Robert Wilmers, who had a real passion for the region and its wines. He has continued the hard work of Jean and invested heavily in Haut-Bailly. Today, it produces some of the best value wine in the region, never disappointing, always excellent. The Château offers a fantastic view of the vineyards, blessed with magical soil and situation that make outstanding wines. For very special guests, we can organize a private stay at the Château including superb meals created by your own personal chef.
Wines produced
Château Haut-Bailly (Grand Vin)

64% Cabernet Sauvignon, 30% Merlot, 6% Cabernet Franc, 18 months in 50% new oak barrels.

La Parde de Haut-Bailly (Second wine of the property)

64% Cabernet Sauvignon, 30% Merlot, 6% Cabernet Franc, 18 months in 50% new oak barrels. Less concentration and power than the first wine.

Rosé de Haut-Bailly

Rosé Wine, 64% Cabernet Sauvignon, 30% Merlot, 6% Cabernet Franc.
Winery details
Léognan
33850, Bordeaux
France
Tel +33 (0) 556 64 75 11
Fax +33 (0) 556 64 53 60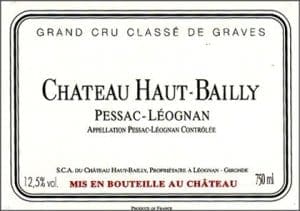 Appellation

AOC Pessac-Léognan

Founded

1630

Area under vine

33 ha

Age of vines

35 years+

Oak barrel origin

French
Winemaker

Gabriel Vialard

Owner

Robert Wilmers

Production

160,000 bottles

Grape varietals

Cabernet Sauvignon, Merlot and Cabernet Franc