Profile of Château Montlau
This elegant, beautiful Château (well castle would be a better description) could not have wished for a better location. Perched on a hill with spectacular views across the Dordogne River, Montlau is on the doorstep of the famous region of Saint-Emilion, the perfect base for exploring! The castle grounds are simply stunning; with picturesque gardens, immaculately groomed horses and occasionally you might see the owners taking a stroll! Located in the Entre-Deux-Mers region of Bordeaux, Montlau may not be positioned in the most exalted area of the district, but that scarcely matters with such a fairy tale experience to offer visitors. Oh and not forgetting they make rather good wines too!
Montlau has an ancient history, one of the oldest in the area. The origins of the property date back to when the Romans were in town, as they planted the first vines in Bordeaux. The ancestor of the estate was built on terraces around 850 AD, where one of the original towers is still in existence. The castle was 'modernized' several times throughout the ages, the English left their mark when they ruled Bordeaux in the 15th century. Wine was first made here in 1473, and the operation was expanded in 1667. What we see today was built in 1763, and has hardly changed since. They survived the French Revolution, World Wars and the recession to emerge stronger than ever before!
The estates modern history began 40 years ago, when a Swiss aristocrat, Armand Schuster de Ballwil Sen Fontblanche brought the property and decided to carry on its legacy. His very capable son, Armand Jr makes the wines, while Armand and his wife Elizabeth run the estate and always welcome visitors! Montlau makes a wide variety of fantastic wines, from red to sparkling and they always impress those who taste them. Their strength is their balanced outlook; the owners merge modern ideas on wine-making with ancient traditions. The cellar was created in the 1830s and they still use the original wine-making equipment, antique presses, and pumps. A museum cellar indeed, but definitely not a shadow of its former self. Montlau produces some of the best wines in the region and also offer high-quality hospitality. Contact us for information on unique wine lunches here, overlooking the Dordogne river in a fairy tale setting.
Wines produced
Montlau (Grand Vin, Red)

66% Merlot, 33% Cabernet Franc, 14 months in oak merrain barrels.

FontBlanche

70% Merlot, 25% Cabernet Franc, 5% Malbec, 6 months in concrete vats.

Montlau Entre Deux Mers (Grand Vin, White)

15% Sauvignon Blanc, 30% Semillon, 55% Muscadelle, 1 month in concrete vats.

Montlau – Hors Serie (Second red wine of the property)

70% Merlot, 30% Cabernet Franc, 14 months in oak merrain barrels. Less power and concentration than the first wine.

Favory Cremant de Bordeaux (White Sparkling Wine)

65% Semillon, 35% Muscadelle, 1 month in concrete vats.
Winery details
Moulon
33420 Bordeaux
France
Tel +33 (0) 557 84 50 71
Fax +33 (0) 557 84 64 65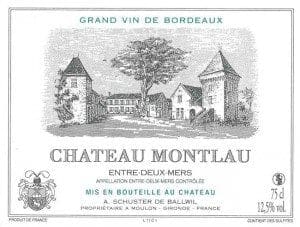 Appellation

AOC Bordeaux Superieur

Founded

1473

Area under vine

28 ha

Age of vines

25 years+

Oak barrel origin

French
Winemaker

Armand Schuster de Ballwil Jr

Owner

Schuster de Ballwil family

Production

175,000 bottles

Grape varietals

Merlot, Cabernet Franc, Malbec, Semillon, Sauvignon Blanc, Muscadelle