The Italian red Barbera grape accounts for more than 50 percent of all the vineyards planted in Piedmont. A hardy and exuberant varietal, it's appreciated for its adaptability; a Barbera can be anything from cherry-scented and cheery, to rich and robust, to smooth and sultry. Yet, the grape was not always so valued here. It owes its skyrocketing prominence almost solely to one man: Giacomo Bologna. In the 1960s, this now-legendary winemaker was the first person to prove that, under the right planting and aging conditions, Barberas could rank with the great wines of the world.
The son of a winemaker, Giacomo Bologna established the small Braida Winery in Rocchetta Tanaro in Asti, Piedmont, in 1961. By the early 1980s, Braida di Bologna Giacomo had produced three stellar crus: Uccellone, Bricco della Bigotta, and Ai Suma, a "Super Barbera," extremely high-quality wines and some of the most famous in Italy. By planting with care and then aging the wines in small, French oak barrels to compensate for Barbera's lack of tannins, Bologna was able to stun the Piedmont wine world by creating deeply flavorful, complex wines out of a variety normally considered to be an acidic filler.
These days, Bologna's widow, Anna, and children, Raffaella and Giuseppe, run the wine estate. With their state-of-the-art cellars and forward-thinking work ethic, they have made Braida one of the most respected wineries in Piedmont. Their wines – most of them made from indigenous varieties – are well known among wine lovers as being refreshing, easy-to-drink ambassadors of the region. Highly rated wines include Il Bacialé, an elegant blend made with Barbera and Pinot Nero, Cabernet Sauvignon and Merlot; Montebruna, made in a large wooden barrel according to ancient tradition; Brachetto d'Acqui, a sparkling, fresh and delicate red; and Moscato d'Asti ("Vigna Senza Nome"), an elegant, aromatic wine. Visit this delightful winery on a Private Piedmont Wine Tour organized by Cellar Tours.
Wines produced
Bricco dell'Uccellone

DOC Barbera (14.5° alc./vol.)

La Monella

DOC Barbera (12.5° alc./vol.)

Brachetto d'Acqui

DOCG Brachetto (5.5°alc./vol.)

Vigna Senza Nome

DOCG Moscato (5.5° alc./vol.)

Grignolino d'Asti

DOC Grignolino (12.5° alc./vol.)

Il Bacialè

DOC Barbera, P.Nero,Cab.S,Merlot- (13.5° alc./vol.)

Montebruna

DOC Barbera (13.5° alc./vol.)

Ai Suma

DOC Barbera (15° alc./vol.)

Bricco della Bigotta

DOC Barbera (14° alc./vol.)

Dolcetto d'Alba Serra dei Fiori

DOC Dolcetto (12.5° alc./vol.)
Winery details
Via Roma n.94
14030 Rocchetta Tanaro (Asti)
Tel +39 0141 644113
Fax +39 0141 644584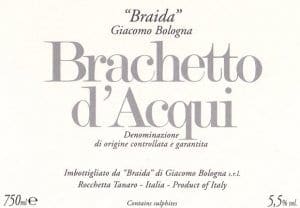 Appellation

Barbera d'Asti, Brachetto d'Acqui, Dolcetto d'Alba, Langhe, Moscato d'Asti, Monferrato Province: Asti (Piedmont)

Founded

1961

Area under vine

56 Ha

Age of vines

12 to 35 years old

Oak barrel origin

Reserva wines such as Bricco dell'Uccellone, Bricco della Bigotta and Ai Suma Barbera's are aged in small French oak barrels (225 L) for 6 to 18 months. Montebruna and Il Bacialè blend are aged by one year in large oak barrels.
Winemaker

Giuseppe Bologna

Owner

Anna, Raffaella and Giuseppe Bologna

Grape varietals

Barbera, Moscato, Grignolino, Merlot, Pinot Noir, Cabernet Sauvignon, Chardonnay, Riesling.