The Balearic Islands are world-renowned for their beautiful coastlines and countryside. Millions of visitors set foot in the Balearics each year, to the packed beaches and marinas of Mallorca, for intense hedonism in Ibiza's clubs, and to the quieter spots in the islands with their enticing beauty and tranquility. Though, most of these visitors are completely unaware that these islands also possess a long and celebrated tradition of producing wine. Mallorcans, in particular, are very proud of their wines and native varieties, Manto Negro and Callet. Although formerly derided by some critics as merely 'tourist wines,' these wines are experiencing a massive renaissance, and new investment has taken the wine-producing industry to new and exciting heights.
Each of the four Balearic Islands – Mallorca, Ibiza, Formentera, and Menorca – has vines planted, although Mallorca's the only island with a sizeable industry. For example, Ibiza produces only a small amount of wine, and Menorca has just 20 hectares given over to vines. The vineyards of Mallorca, Ibiza, and Menorca are some of the most picturesque in Spain – grapes ripen in a benign sub-tropical climate, and the landscape is spectacular. Vineyards cling to steep terraces on the island's hills, and olive, almond, and citrus trees dot the fertile land.
It was, unsurprisingly, the Romans first exploited the great potential for grape growing on these islands, although they only planted on Mallorca during their foray into the region. Vines were planted around 120BC, and wine has been produced on this beautiful island ever since. The Philosopher, Pliny, the Elder, is reported to have compared the island's wines to Italy's finest in the first century AD. However, the industry almost completely died after the arrival of the phylloxera louse in 1891. Before the advent of phylloxera in Europe, Mallorca was famed for its sweet Malmsey wine, produced from the ubiquitous Malvasia grape found across the Mediterranean. At the peak of the mid-19th century, the style was in great demand in northern Europe, especially in the UK, Germany, and Holland markets. Sadly, this style has largely died out, as the prevailing trend for dryer styles means winemakers must adapt to cater to today's wine drinkers' tastes.
Indeed, over the past 15 years, great changes have occurred in the Mallorcan wine industry. International varieties that were once non-existent now appear with increasing frequency across the island's vineyards, and fresher, more aromatic whites are now the mainstay of production here. But, more importantly, the next generation of winemakers, returning from trips abroad, are bringing with them a new sense of the importance of terroir. Today, they are utilizing their best sites to produce wines of real class and quality. A thriving tourist industry continues to provide a ready market for these wines in the summer months, but their renown has spread to mainland Spain, especially the Catalan capital, Barcelona. These islands are most definitely on the winemaking map and appear here to stay!
Mallorca
The largest of the Balearic Islands has two important D.O.s (appellations) to its name – D.O. Binissalem-Mallorca and D.O. Pla I Llevant. The oldest is Binissalem, which was established in 1991 and was the first designation to be legally recognized outside the Spanish mainland. Today, there are about 600 hectares under vine, located in the center of the island, northeast of the capital – Palma. The vineyards are mainly found on a high plateau at altitudes between 125 m and 300 m above sea level. The terroir is generally conducive to quality grape growing. The Sierra de Alfaba mountain range to the north protects the vineyards from the intense winds and cold. The soils are predominantly poor in nutrients but rich in limestone and clay. The water retentive properties of the lime soils allow the vines to cope with the often scorching summers in this maritime Mediterranean climate. Irrigation is sometimes employed as excess heat can be an issue, leading to hydric stress and poor ripening. Growers must also contend with violent autumn downpours and sometimes hailstorms.
But despite these challenges, this region continues to be the main source of Mallorca's best wines. According to the appellation framework, the red wines have to contain 50% Manto Negro, a variety native to the island, which accounts for over three-quarters of all vines planted. It is a large, dark-skinned variety, which tends to give wines with strong alcohol and tannins. Growers can also blend in up to 30% Cabernet Sauvignon and Tempranillo. As a result, the best wines are full-bodied, powerful, and long-lived. If they have a distant cousin, then it's the wines of Priorat in Catalunya.
Other varietals include Monastrell, the indigenous Callet, and a smattering of Merlot and Syrah. White production in the region is similarly tiny, accounting for barely a fifth of the total output in Binissalem. The most common white grape encountered is the local Moll or Prensal Blanc. If its yield is controlled and the variety is fully ripened, then Moll produces aromatic, pleasant fruit wines of good structure that also make good base wines for sparkling wines. There is also a fair bit of Parellada and Macabeo cultivated, the main grapes used in Cava production. Although it usually only constitutes a tiny proportion of the white blends if it is used with Moll, some Chardonnay is also planted.
Today, about 17 producers and growers work in the appellation who have found a ready and captive market in the form of the island's tourists. However, these wines also find favor in discerning export markets, such as mainland Spain, France, and Germany. The net benefit of this expanding market for the Binissalem wines has been giving the industry a much-needed shot in the arm – standards are ever-improving. Growers know they must continue to craft excellent, value-quality wines if they are to compete in a crowded global arena.
Mallorca's other key vine-growing region – Pla I Llevant – is located on the south-eastern part of the island and enjoys a similar maritime Mediterranean climate as Binisssalem further west. In contrast, the vineyards in the eastern part of Mallorca tend to be at lower altitudes, averaging just 100m above sea level, which presents a challenge to winemakers who wish to keep their wines fresh and aromatic. About 260 hectares are currently planted on fertile limestone soils with high clay content and good drainage. The limestone's water retentive properties are again essential to allow the vines to cope with these hot, dry summers in the region.
The region is one of Spain's newest D.O.s, having been classified as recently as 2001. Before that, the area was only entitled to the Vino de La Tierra ranking – equal to the French Vin de Pays – which it was awarded in 1991. About 12 growers cultivate mainly red varieties, giving fruit-rich, alcoholic wines for early consumption. Few producers barrel age their reds, and the wines are perfect for early consumption with hearty Mallorcan cuisine. The palate of varieties used is broader than in Binissalem – Callet, Tempranillo, Manto Negro, Monastrell, Merlot, Syrah, Fogoneu, and Cabernet Sauvignon are all used in blends by the region's winemakers. The white varietals are the ubiquitous Spanish Macabeo and Parellada, although small amounts of Chardonnay have been planted.
However, in contrast to the generally good value and fruity style emanating from this area of Mallorca, a few boutique wineries are also crafting low-yield, powerful wines that have found favor with discerning clientele abroad. These so-called boutique outfits release minuscule amounts of powerful, structured wines, which again might be comparable to the wines of Priorat or Montsant in Catalunya. The net result is that this region offers something for every palate – lighter whites, straight-forward fruity reds, or age-worthy 'serious' wines.
In addition to Mallorca's two D.O.s, the island has another designation: Serra de Tramuntana-Costa Nord, which was recognized in 2007. This Vino de La Tierra region covers the island's northwest coast and has approximately 40 hectares of mainly Cabernet Sauvignon, Mallet, and Manto Negro planted. Some good fruity styles are being produced, and the area offers excellent value compared to the more prestigious regions of mainland Spain. There is also a generic Illes Balears designation for Vino de La Tierra wines from any of the four Balearic Islands. Mallorcan growers are entitled to use this lower rank for wines that cannot qualify for D.O. status. About 300 hectares and 37 wineries currently use the designation.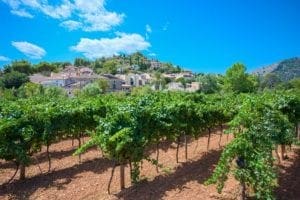 Ibiza
Ibiza, the hedonistic hotspot of the Balearic Islands, also has a thriving small winemaking community, some crafting delicious wines that sadly few outsiders ever enjoy. Although Ibiza – like Menorca and Formentera – has no D.O. to its name, it does have a Vino De La Tierra designation, which it acquired in 1996. It is true that compared to Mallorca, vine growing here is a tiny enterprise, with about 30 hectares of vineyards in the west of the island and only a handful of wineries producing wines of any note. Historical evidence suggests that the Phoenicians planted the first vineyards on the island. Although no industry ever fully developed over the centuries and vine growing remained largely a hobby for the island, the wines only served to family and friends.
Formentera and Menora
Although only planted with just over 30 hectares between them, these two islands have some real surprises in store for the unsuspecting visitor. Again, neither island has a D.O.; Formentera was awarded its Vino De La Tierra status in 2004. The Isla de Menorca designation covers the entire island of Menorca and was granted in 2002. Formentera has just two wineries, although the celebrated producer Cap de Barbaria has found willing consumers across Europe. Their star red – Vi de la Terra de Formentera – is a blend of Cabernet, Merlot, Monastrell, and local Fogoneu and has won critical pundits for its powerful yet a balanced expression of the island's terroir. In Formentera, a small percentage of Malvasia, Chardonnay, and Viognier is planted, but the island is really only renowned for its fascinating red blends.
Menorca currently has four wineries in operation, and the first Balearic red sparkling wine was made thereby Viñas Binifadet. The wineries are dotted around the island's exterior and mainly work with Chardonnay, Macabeo, Malvasía, Moscatel, Parellada, Cabernet Sauvignon, Merlot, and Monastrell. Although these wines are largely the preserve of visiting holiday-makers, you would be well advised to seek out local wines in the island's restaurants, as they can offer superb value and rich, vibrant fruitiness. After all, when in Rome!