Profile of Abadia Retuerta
Abadia Retuerta is considered one of the fastest "up and coming" wineries in the entire Ribera del Duero region after establishing itself commercially in 1996. Since it won the "Best red wine of the world" last year at the International wine challenge in London in 2005, it has sold out many of its wines! The winery is located on a 700 ha estate in Sardón del Duero. Apart from the modern cellar, there is an incredible 12th-century Romanesque monastery on the property, which lucky visitors can see. Wines are tasted in the centuries-old, high vaulted monk's dining quarters. The monastery was originally founded in 1145 by the aristocratic Doña Mayor. She was the very wealthy daughter of Count Ansúrez, Lord of Valladolid (the city at the heart of the Ribera del Duero wine region). The Abbey was one of many monastery-fortresses built during the Christian "Reconquest" in the region of Castile (which in fact means "castle"). The grounds around the Abadia Retuerta property were actually donated to the church by the aristocratic owners. They left "terras et vineas" (land and vines) to the French-based order of St. Norbert, which was the beginning of this estate's history of producing wine.
Fast forward to the 21st century. The winery is now owned by the Swiss company Novartis and has restored the monastery to its former glory (now a luxury hotel) and is, above all, making incredible wines! Attention to detail, quality, and ambition are all descriptions you could use about Abadia Retuerta. They make a range of exquisite wines which have been hailed in the wine press, considered "modern classics."
.
Wines produced
Pago Negralada

Single Varietal Tempranillo, drink immediately and excellent value.

Cuvée El Campanario

100% Tempranillo, 18 months in oak.

Cuvée El Palomar

50%Tempranillo and 50% Cabernet Sauvignon, 18 months in oak.

Abadía Retuerta Selección Especial

70% Tempranillo, 20% Cabernet Sauvignon and 10% Merlot, 18 months in oak.

Rívola

60% Tempranillo, 40% Cabernet Sauvignon, 12 months in oak.

Abadía Retuerta Primicia

60% Tempranillo, 20% Cabernet Sauvignono, 20% Merlot.

Pago Valdebellón

100% Cabernet Sauvignon, 24+ months in oak.
Winery details
Santa Maria de Tetuerta
47340 Sardón del Duero
Valladolid
Tel +34 983 680 314
Fax +34 983 680 286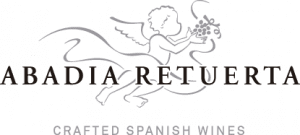 Appellation

Vino de la Tierra de Castilla y León – Sardón de Duero

Founded

1996

Area under vine

204 ha

Age of vines

10-12 yr old vines, "Cordon Doble" pruning methods
Winemaker

Pascal Delbeck and Angel Anocibar

Owner

Novares

Grape varietals

Tempranillo, Cabernet Sauvignon, Merlot, small quantities of Syrah and Petit Verdot