Roda produces some of the most delectable and sought-after red wines in the Rioja region, and indeed in Spain. Small quantities of spicy, powerful, and concentrated ultra-high quality Reserva wines are released each year and snapped up by those in the know. Yet, for all Roda's pedigree, it is still a baby with fairly recent history, having been established in 1987 by the Catalan Mario Rotllant. Mario arrived in Rioja to pursue his vision with a single-minded determination to create a unique, modern-style wine that would become the region's benchmark. On close examination, we think he succeeded!
Mario chose Haro, a Rioja wine hub, to begin his long journey into winemaking. Haro dates back to the 10th century and has been at the center of viticultural activity in Rioja for centuries. It is built on the sides and top of a hill on the southern slopes of the Obarenes mountains at the river Tirion's mouth and is the first point of call for any visitor to the region. Mario instinctively knew that Haro would yield the best results of his wines, and he spent many years searching for the perfect vineyards and constructing the perfect winery. Eventually, after painstaking analysis and research, he found his chosen 17 sites. However, early results were disappointing, with the wines lackluster and lacking depth. Nonetheless, he remained undaunted.
In 1992, Roda burst into the Rioja limelight when a great vintage finally yielded a wine that Mario was happy with. First released in 1996, Roda took its name from its proud parents, Mario and his wife, Carmen Daurella. The estate has gone from strength to strength with the Roda 1 Reserva now the jewel in the crown, rich, structured wine of great finesse and breeding. Roda is lighter but still much more than a second wine. And then there is the prestige wine, Cirsion. One of the most profound and immortal expressions of the region astonishes all who taste it: intoxicating perfume and concentrated, spicy berry fruit. The aim has always been to produce excellent reservas (in other words, no "vino joven" or "crianzas"), and these splendid, single estate wines are absolutely worth seeking out. Apart from their fine wines, Roda also produces some of the best olive oils in Spain, and on our private VIP tours for our special guests here, you will taste them!
Wines produced
Roda

83% Tempranillo, 14% Garnacha. 3% Graciano. Fermented in oak vats. Aged for 12 months in French oak.

Roda I

100% Tempranillo. Fermented in oak vats. Aged for 16 months in French oak. A more structured, complex wine than Roda.

Cirsion

100% Tempranillo. Fermented in oak vats. Aged for 8 months in French oak. Produced from very old vines. The signature, prestige wine of the estate.

Corimbo

100% Tinta de Pais (Tempranillo). Made in Ribera del Duero, at Roda´s new estate La Horra. Aged for 12 months in French and American barrique.

Sela

89% Tempranillo and 11% Graciano. Fermented in oak vats with a short maturation in oak barrels. A fresher, lighter style of wine.
Winery details
5 de la Avenida de Vizcaya
26200 Haro
La Rioja
Tel +34 (0) 941 334 366
Fax +34 (0) 941 334 180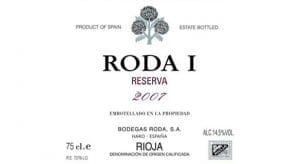 Appellation

La Rioja

Founded

1987

Oak barrel origin

French
Winemaker

Carlos Díez de la Concepción

Owner

Mario Rotllant and Carmen Daurella

Production

300,000 bottles

Grape varietals

Tempranillo, Graciano, Garnacha