The Regional Gastronomy of Spain
As Spain has such a diverse mix of climates (from desert-scapes of La Mancha to fertile hills in the green north to Mediterranean seascapes and the far-flung volcanic Canary Islands), the gastronomic offering is astounding. Cow´s cheeses from Asturias, Sheep´s cheeses from Extremadura, Gin from Menorca, Plantains from the Canaries, white asparagus and artichokes from Navarre, Piquillo Peppers from Rioja, Saffron from Consuegra, Baby lamb from Burgos– these are just some of the regional ingredients and delicacies that can be found in beautiful Spain. Here is a quick introduction to the local specialties by region
Northern of Spanish
The cuisine of Spain is amazingly varied. The gastronomy varies by region dramatically. The north of Spain is a must for gourmet travelers. It is also a lush, mountainous, and gorgeous region. The cuisine ranges from hearty, delicious mountain dishes to exquisite seafood freshly caught in The Atlantic. This is the heart of "Gourmet" Spain. Some towns, like San Sebastian and Bilbao, take their cuisine so seriously that they have "Gastronomic Brotherhoods," where they organize "cook-offs." There are plenty of Michelin starred restaurants, like Arzak in San Sebastian, but there are also endless quaint local restaurants along the coast, serving phenomenal, fresh seafood. Some of the best cheeses and beef also come from the north: particularly Roncal cheese from Navarra and tender beef from Galicia. The south of Spain offers visitors fresh seafood, various fried tapas (deep frying is a culinary technique that is a legacy of Spain's Jewish population), and cold soups such as Gazpacho and "Ajo Blanco."
Asturias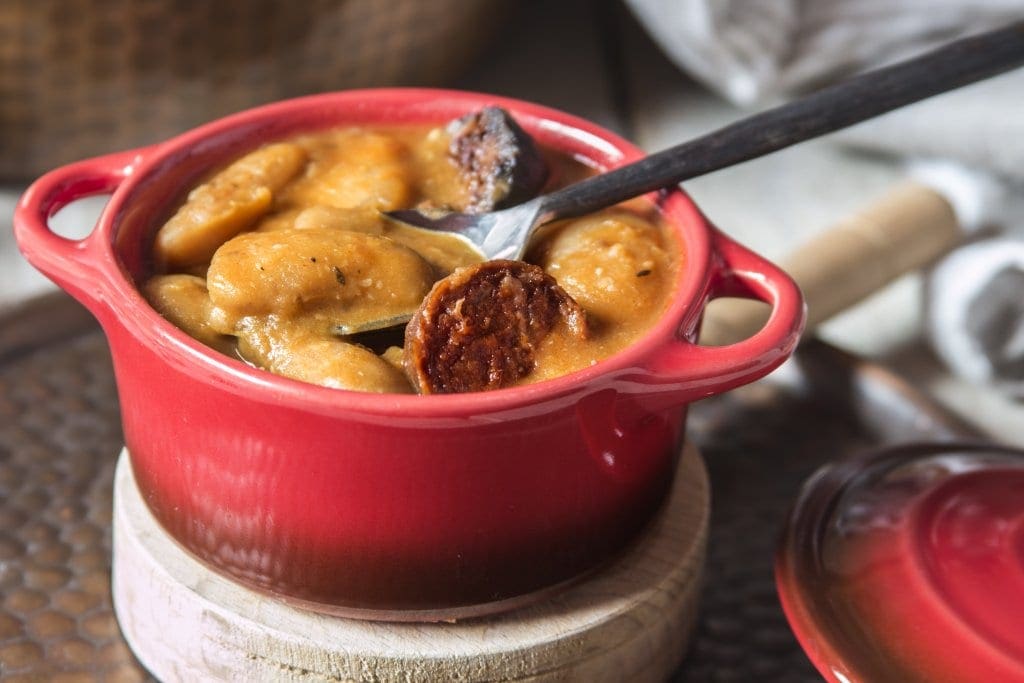 Asturian Fabada
Asturias has a similar cuisine, though with local touches worthy of mention, such as the fabada (tasty winter stew of haricot beans and chorizo), the regional cheeses, and famed apple cider. Asturias is famous for its cider tradition and how the waiters pour it behind their backs. This can be an enjoyable show!
Basque Country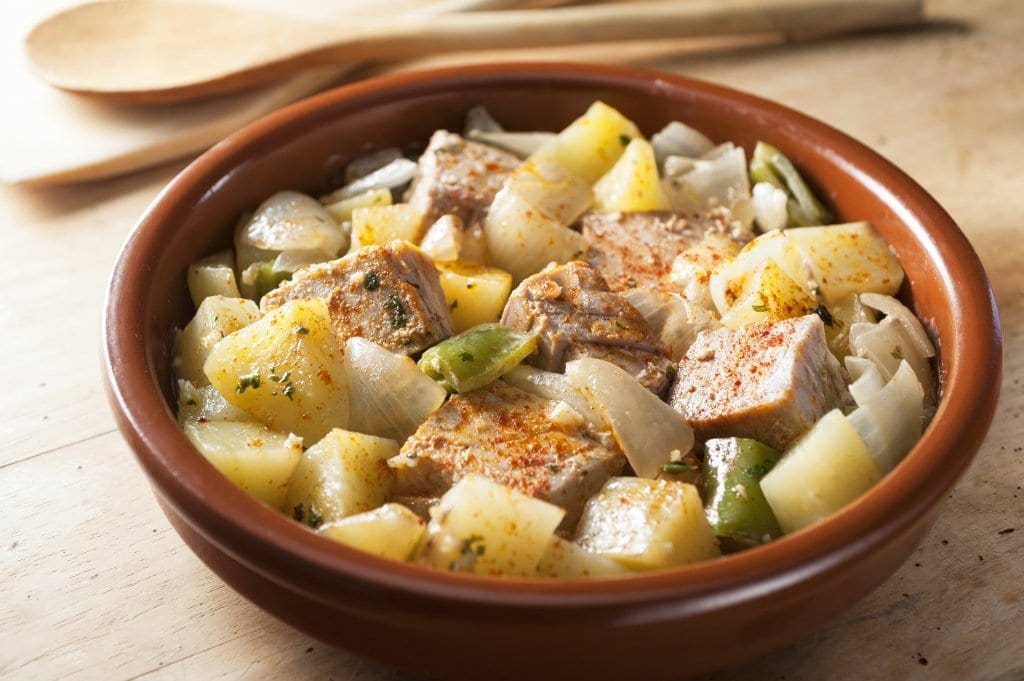 Marmitako
The Basque Country leans towards seasonally-based regional cooking, with local specialties like marmitako (potatoes with bonito, a cousin of Tuna) and Txangurro (spider crab shells filled with fabulous clam and crab mousse). The Basque country is home to some of the best restaurants in Spain, particularly in San Sebastian. The local Wine Region DO Txacoli, a light, spritzy white.
Cantabria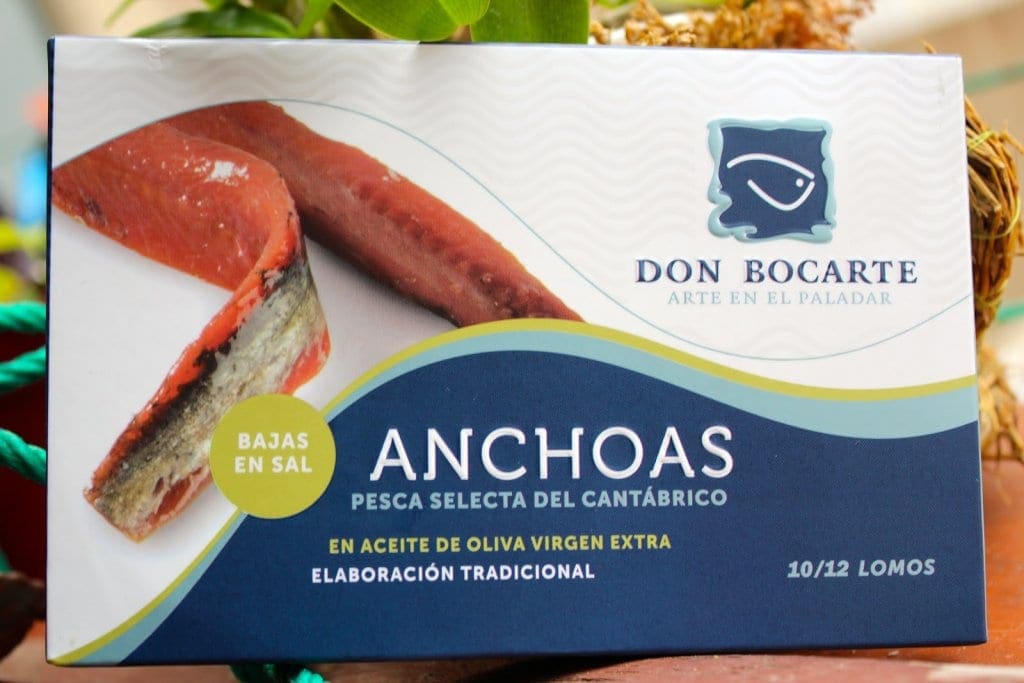 Cantabria offers diversity in cuisine that blends "sea and mountain" with top-quality ingredients, including beef, anchovies, and cheeses. Cantabria is also one of Spain's most beautiful regions, with perfectly preserved medieval towns like Santillana Del Mar.
Galicia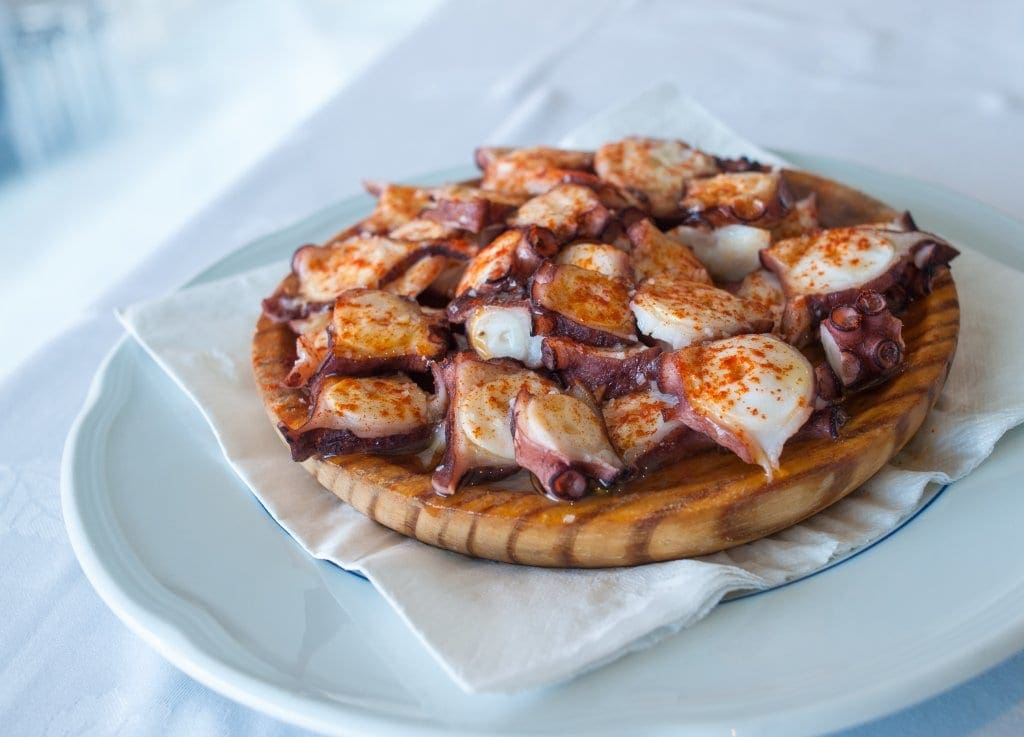 Galician Pulpo
Delicacies include (octopus), caldeiradas (akin to bouillabaisse), Pote (a hearty stew made with ham, haricot beans, garlic), and a multitude of seafood, including vieiras (excellent, succulent scallops). The wines from Galicia can be marvelous, particularly the posh Albarino whites. Top producers include Terras Gaudas, Martin Codax, Condes de Albarei, and Pazo de Barrantes (owned by famed Rioja winery, Marques de Murrieta's Count of Creixell). Other excellent white wines can be found in the Ribeira Sacra DO (Denomination of Origin).
Navarra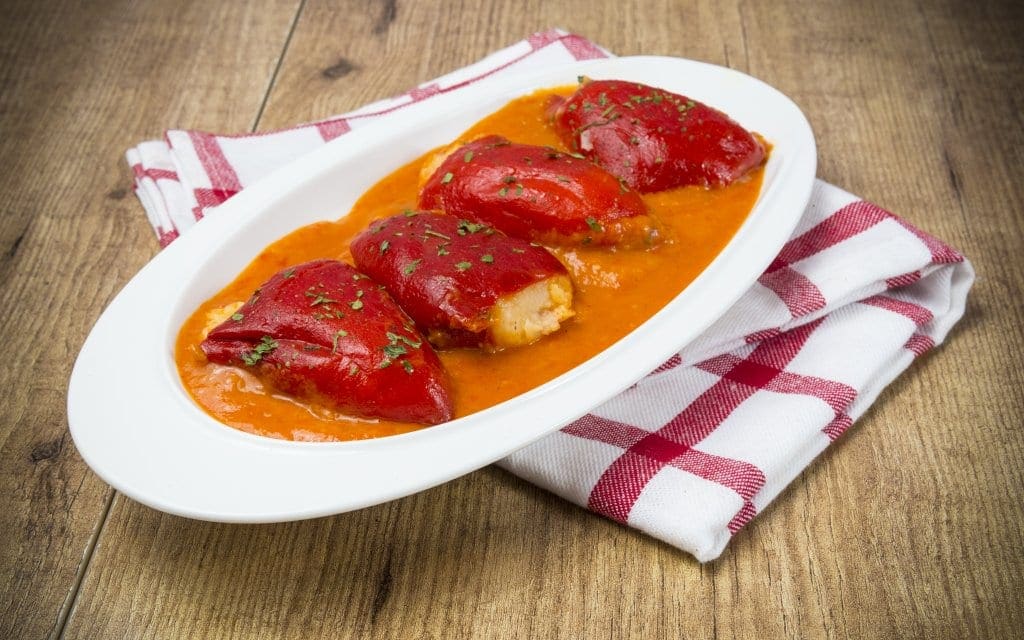 Pimientos del Piquillo (Stuffed peppers)
Geographically and spiritually part of the Basque Country, Navarra has an excellent reputation for its incredibly varied cooking. Game dishes, usually in tasty sauces, are typical in the more mountainous villages. Wild salmon and trout are also seen on the menus here. A creative local recipe is a trout-filled with cured ham. Pochas de Sangúesa, Navarra's famed beans, are the base of many typical dishes. The region of Tierra de Estela is famous for lamb and goat dishes: Asados de Cordero, Cabrito, and Cordero en Chilindrón. Perhaps the most famous food product from Navarra is the fantastic piquant peppers, Pimientos del Piquillo. Navarra Asparagus is also held in extremely high regard in Spain. The Wine DO of Navarra is one of Spain's best for Rosados, and increasingly for reds and whites. Great producers include Guelbenzu, Chivite, and Ochoa.
Mediterranean
Ever since the Middle Ages, Catalonia has been noted for its delicious and refined cuisine. It is famous for its concept of "mar i montanya," combining the sea and the mountains' products to combine inventive dishes. This is the land of Salvador Dali, whose favorite meal was lobster with a chocolate sauce! Some stunning restaurants can be found here, including Ferran Adrià's "El Bulli" in Roses, "El Raco de Can Fabes" in Sant Celoni (located in a fabulous 18th-century villa, north of Barcelona) and "Restaurante Neichel," a Relais & Chateaux establishment situated in a beautiful locale overlooking a garden full of lavender, rosemary and lemon trees in central Barcelona. Regional dishes include "Xai a les dotxe cabeces d'all (lamb with 12 heads of garlic), "Arros Negre" (Rice with seafood and squid cooked in its own ink), "Bacallà a la Llauna" (cod baked in a tomato, garlic, white wine, and Paprika) "Escudella i carn d'olla," made of vegetables, rice, noodles and potatoes, "Cocido con judias blancas de Butifarra (a typical stew with white beans and regional sausage), "Pilota" (a dish made with beef, bread, eggs, and white beans) and the ever-constant "pan amb Tomaquet," lovely rustic country bread smeared with fresh, juicy tomatoes and Olive Oil. Fish specialties include "Empedrat" (fish cod salad), "Zarzuela," a dish name after the Spanish operetta and made of cuttlefish, mussels, and prawns, and its more upmarket version, "La Opera," with spiny lobster. Traditional desserts are Crema Catalana and the Moorish-inspired Postre del Musico ("The Musician's Dessert") made with pine-kernels and raisins. Mediterranean Catalonia is also home to some of the most exciting and diverse wine regions in Spain: Penedés (famous for its Traditional Method Cava made with the indigenous grapes of Xarel.lo and Parellada, and for important wineries like Miguel Torres and Jean Leon), Alella (excellent whites, made with the local Pansa Blanca, Carmenet Bodegas Parxet being the top producers), Conca de Barberà (many of the Miguel Torres vineyards are here, including those used for the famous "Grans Muralles" wine) and Priorat (powerful and elegant reds, some say very similar to France's Burgundy, top producers being Alvaro Palacios and Rene Barbier).
Balearic Islands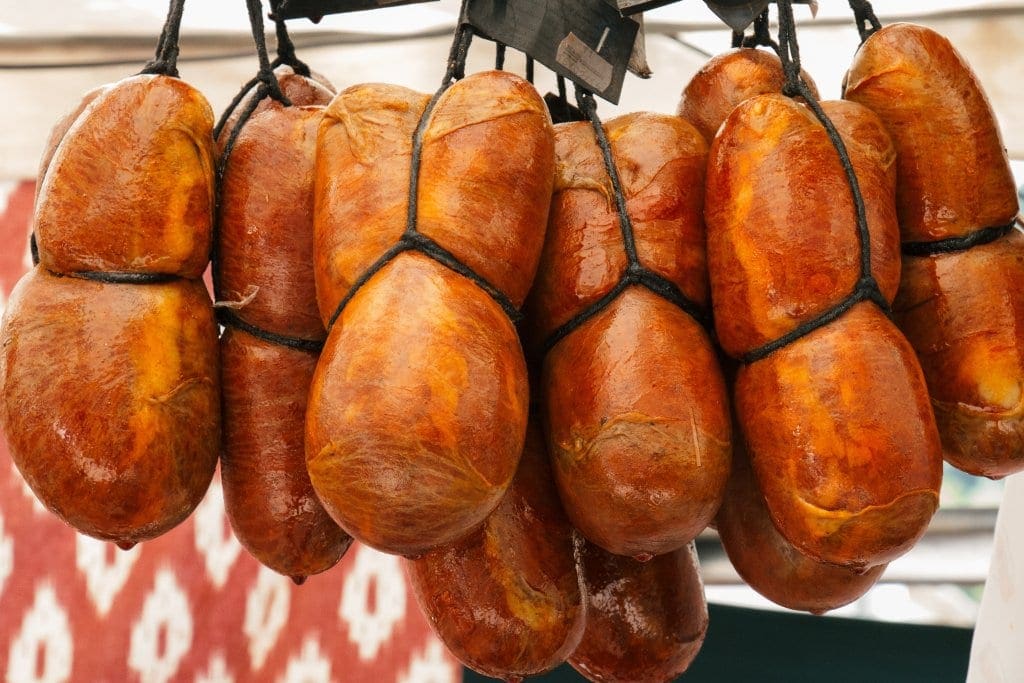 Sobrasada
Balearic Islands specialties rely on vegetables, fish (caldereta – sea-food stew), and pork (sobrasada – a spicy red sausage spread). Some excellent red wines are made generally with the local grape "Manto Negro." One of the best wineries is Finca Sons Bordils, which have had wonderful results with their Cabernet Sauvignon blends.
Valencia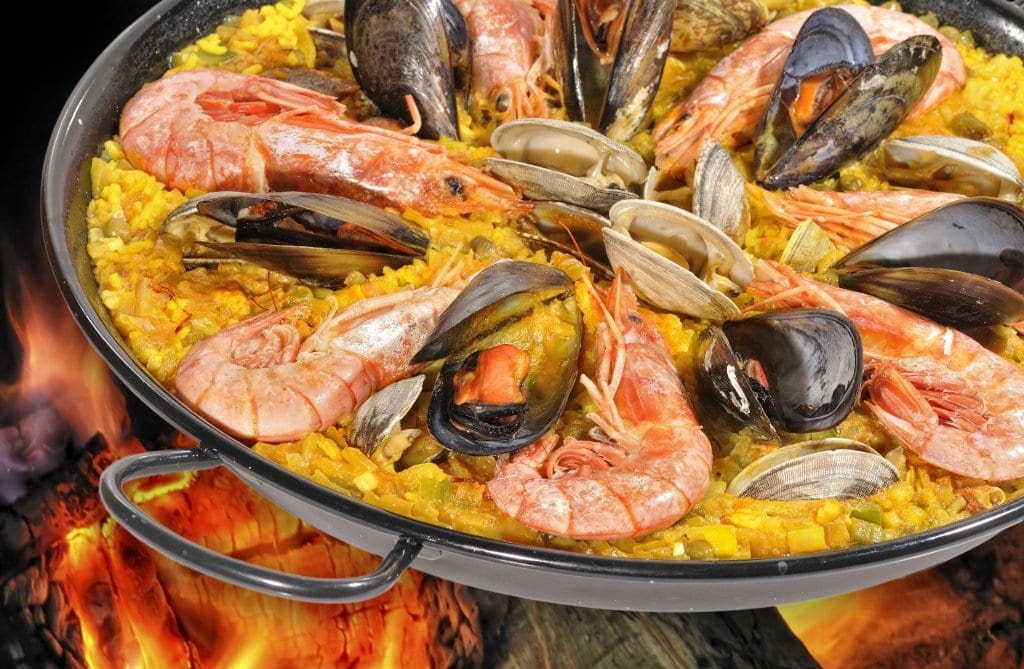 Valencia is the home of paella. "Valenciano" cooking combines typically Mediterranean dishes -fish, green vegetables, and fruit. The sweetmeats, nougats (turrón), and ice creams show the Arabic influence on regional cooking.
Southern Spain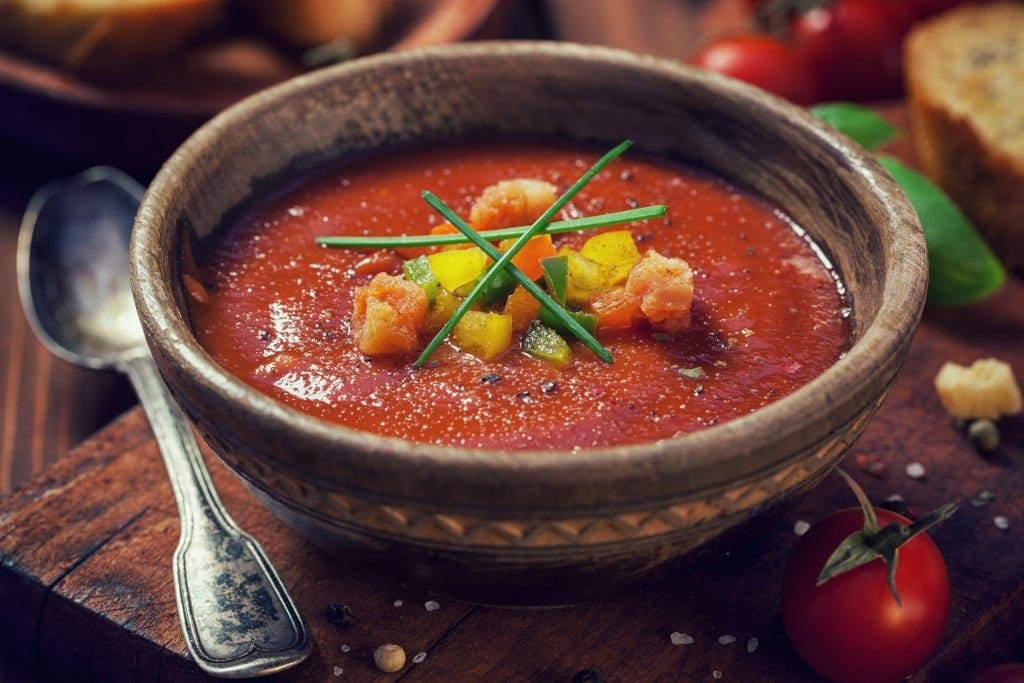 Gazpacho Soup
Andalusian cooking is truly based on the mix of cultures that together forged its culinary heritage- Moors, Jews, and Christians. Dishes include Gazpacho, the famous cold "soup," a vegetable-cream made of tomato, cucumber, paprika, garlic, olive-oil, Sherry Vinegar, and bread; Pescaito Frito, fish coated in flour and fried in olive-oil; Huevos a la Flamenca, a fried egg in a tomato and Chorizo sauce (a spicy Spanish sausage); Cocido Andaluz, a "hot-pot" made of chick-peas and different vegetables; Rabo de Toro, a ragout of bull's tail, Pinchos Morunos, small spicy pieces of pork with paprika, Pavías de Pescado, marinaded fish fried in olive-oil, Caracoles, snails, Jamon, cured ham, and of course the fantastic olives from the surroundings. The great local wines, Jerez (Sherry), Manzanilla, and Montilla, match the dishes perfectly. The traditional sweets are mostly of Moorish influence and are typically prepared with honey and wine.
Related Blog Posts: