Profile of Château Angelus
The name Angelus supposedly derives from a particular vineyard where devout winemakers could hear the Angelus bell tolling from all the town's churches. The estate was brought by the present owner's great-grandfather, Comte Maurice de Boüard, in 1921. He also owned another property Château Mazerat, and after World War II, his sons united the two estates under its present name. The next generation took over in the form of the dynamic Hubert de Boüard in 1985. Hubert felt that the Château was underperforming, and he has worked hard since to re-energize the property. His energy and investment were rewarded in 1996 when the Château was promoted to a First Growth – which was well deserved! Just ask the actor Daniel Craig, who drank a bottle of Angelus as James Bond in the film Casino Royale.
There was a clear change of direction when Hubert took over from his father, not least his commitment to biodynamic farming methods. Fertilization is now organic rather than chemical, there is grass covering between the vine rows, and great emphasis is placed on naturally preserving the soil's health. Angelus has become a leading example in the region by implementing sustainability practices; let us hope his predecessors follow his lead. Hubert even paid frequent visits to Burgundy in the 1980s and has adopted some of their wine-making methods. People were skeptical, but he has, of course, been vindicated. His wines are the most opulent in the Saint-Emilion region – rich, exotic, and heady. Anyone who tries them falls immediately in love. We are sure you will too!
Today, Château Angelus is one of St-Emilion's finest estates, and it's not hard to see why tens of thousands of visitors are drawn to this town. It's a UNESCO World Heritage site, thanks to its unspoiled character and its medieval monuments. Picturesque vineyards stretch in all directions from the hub of the old town. St-Emilion's celebrity has always been closely tied to the wealth and renown of its famous Châteaux, who continue to produce some of the finest and most awe-inspiring red wine in the world.
Wines produced
Château Angelus (Grand Vin)

3% Cabernet Sauvignon, 50% Merlot, 47% Cabernet Franc, 22 months in 80% new oak barrels.

Carillon d'Angelus (Second wine of the property)

3% Cabernet Sauvignon, 50% Merlot, 47% Cabernet Franc, 22 months in 80% new oak barrels. Made from younger, lesser quality vineyards. Less concentration and power than the first wine.
Winery details
Saint-Emilion
33330 Bordeaux
France
Tel +33 (0) 557 24 71 39
Fax +33 (0) 557 24 68 56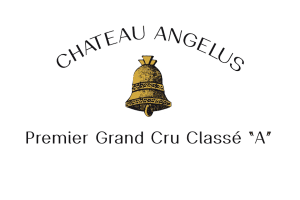 Appellation

AOC Saint Emilion / First Growth (B)

Founded

1909

Area under vine

23 ha

Age of vines

30 years+

Oak barrel origin

French
Winemaker

Emmanuelle Fulchi

Owner

Hubert de Boüard de Laforest

Production

First Wine 10,000 cases, Second wine 1000 cases

Grape varietals

Cabernet Sauvignon, Merlot and Cabernet Franc