Château Kirwan Winery Guide
Château Kirwan, like so many of the excellent properties in the Margaux appellation in Médoc, Bordeaux, has known some good and not-so-good times. Its original name was Domaine de Lassalle. In the eighteenth century, it was brought by John Collingwood, a particularly enterprising local merchant. His daughter married the dashing Irish merchant Mark Kirwan, so the name Château Kirwan was born. Indeed, Kirwan is known as one of the Irish wine geese estates, and Irish wine lovers regularly make a pilgrimage here. The former US President Thomas Jefferson even visited the property in the 18th century – he was reportedly very impressed with the wines!
However, this golden era was sadly not to last. The estate received its fair share of hardships before emerging triumphant in the late 20th century. The Château was seized in 1789 during the French Revolution, although Mark subsequently regained control under Napoleon's rule. Then came the economic depression of the early 20th century, which hit the property's fortunes hard. Phylloxera, the louse which destroys the roots of vines, had also arrived – not to mention the 1st World War. By now, the estate was due some good fortune. Enter the Schyler family.
The Schylers are a well-established family of wine merchants who brought the Château in 1925, principally as a country residence. And a very beautiful property is also appreciated for its gardens. Over the years, they have carefully restored the wine estate and vineyards to its former glory. Château Kirwan now produces some of Margaux's most powerful, elegant, and rich wines. The estate enjoys a privileged position in the town, nestled amongst the trees with a fairy tale façade and beautiful banqueting rooms. Visitors always receive a warm welcome! Margaux produces some of the world's most famous and elegant red wines; its Château is a must to visit for any wine lover, and for our VIP clients, we can organize unforgettable experiences here at Kirwan.
Wines produced
Château Kirwan (Grand Vin)

40% Cabernet Sauvignon, 30% Merlot, 20% Cabernet Franc, 10% Petit Verdot, 18 months in new French oak (40%).

Les Charmes de Kirwan (second wine of the property)

40% Cabernet Sauvignon, 30% Merlot, 20% Cabernet Franc, 10% Petit Verdot. 35% of the harvest is bottled as the second wine. Less concentration and power than the first wine.
Facts & Figures
Appellation
AOC Margaux / Third Growth
Winemaker
Philippe Delfaut
Grape varietals
Cabernet Sauvignon, Merlot, Cabernet Franc and Petit Verdot
Grape Varieties Used by the Winery
Winery Appellations
Explore Margaux, Bordeaux's crown jewel, renowned for its exquisite châteaux & incomparable red wines. Plan your trip now!

Read more
Winery Contact Details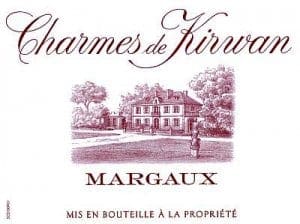 More information
If you would like us to customize an exclusive luxury tour, contact us and let us know your travel plans. We offer luxury food and wine tours for private groups of a mininium two guests. In addition, all of our private, chauffeured tours are available year-round upon request.
Cellar Tours
Welcome to Cellar Tours, the premier Luxury Travel Specialist since 2003. Our goal is to provide you with the ultimate food and wine vacation experience, with exclusive Mercedes chauffeured tours that showcase the best of local cuisine and wines.
Our team specializes in crafting bespoke, custom-designed vacations, events, and incentives tailored to your unique tastes and preferences. Travel is not just about seeing new places - it's about creating unforgettable memories and indulging in the finer things in life.
As members of Slow Food, OTAVA (Travel Agency Association in Spain), and the IACP (International Association of Culinary Professionals), we promote sustainable tourism and support local communities. We work closely with top-rated hotels, restaurants, and wineries to provide you with the highest level of service and attention to detail.
Whether you're planning a romantic getaway, a family vacation, or a corporate retreat, let Cellar Tours be your guide. With our passion for food and wine, extensive knowledge of local culture, and dedication to exceptional customer service, we're confident we can exceed your expectations.
Contact us today to start planning your dream vacation – we can't wait to hear from you!