Profile of Domaine de la Charmoise, Henry Marionnet
This substantial and family-owned operation has long been regarded as the benchmark for quality Loire Valley wines and still continues to be so, although there is always competition from the smaller producers. But, Monsieur Henry Marionnet and his son are undoubtedly passionate about quality, only producing certain wines in very good vintages.
The family has owned the estate since the mid 19th century and unlike so many of their counterparts in France, they kept control throughout the 20th century. Nestled in the village of Soings, deep in the forests of La Sologne, the family quietly continues, as they always have done, to make superb wines that are wonderfully refreshing and enliven your palate.
Henry Marionnet is the most driven winemaker you could hope to meet, continually pushing the envelope, each vintage is a challenge to overcome the last. Their vineyards were completely replanted and enlarged between 1967 and 1978 and most of the wines are produced from vines more than 30 years old. The two key varieties here are Gamay and Sauvignon Blanc. However, look closer and this estate produces many gems, wines you simply will not find elsewhere in the world. The Provignage is produced from Romorantin, an extremely rare variety and the Cépages Oubliés is also a rarity, from an almost obsolete clone of Gamay de Bouze – darker in color with a heady aroma. A winery full of surprises indeed! We can organize private visits and tastings here for our special guests.
Wines produced
TOURAINE Sauvignon

100% Sauvignon Blanc. Aged for 1 year stainless steel vats

Le Vinifera Chenin

100% Chenin Blanc. Made from ancient, ungrafted vines

Blancs De Noirs Wintertime.

100% Pinot Noir. Can be made from wines from different vintages.

M de Marionnet

100% Sauvignon Blanc. Made from low yielding vineyards

Le Provignage

100% Romorantin. Produced from very rare, ancient vines planted in 1850's

Le Vinifera Sauvignon.

100% Sauvignon Blanc. Dry white

TOURAINE Gamay

100% Gamay. Fermented using carbonic maceration

Première Vendange

100% Gamay. Fermented using carbonic maceration

Le Vinifera Gamay

100% Gamay. Fermented using carbonic maceration

Les Cépages Oubliés

100% Gamay de Bouze. Unique species of Gamy imported from Burgundy over a hundred years ago

Le Vinifera Côt

100% Cot. Rare varietal wine.
Winery details
Domaine de la Charmoise, Henry Marionnet
La Charmoise
4123 Soings
France
Tel +33 (0) 02 41 52 94 11
Fax +33 (0) 02 41 52 49 78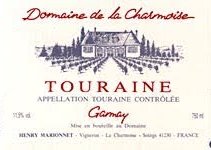 Appellation

Touraine

Founded

1850

Area under vine

60 Hectares

Age of vines

30 years+

Oak barrel origin

None - stainless steel vats
Winemaker

Henry Marionnet

Owner

Marionnet family

Production

400 000 bottles per annum

Grape varietals

Sauvignon Blanc, Gamay, Cot, Chenin Blanc, Romorantin