Ezcaray is a small inviting town that combines history, culture, gastronomy, and style into a lively base for exploring the gorgeous Rioja wine region. Situated in the Oja Valley, the Rio Oja, which flows through the region is generally credited with the origins of the name of the Rioja DO (appellation). It is a land of vines, of proud traditions, interspersed with modern approaches and attitudes—a diverse and fascinating culture meriting a closer investigation.
History
Historically, there is no mention of Ezcaray until the 10th century. Ancient man, living as hunter-gatherers, roamed these lands for many centuries until a Neolithic farming population drove them out. They asserted their dominance over this part of Spain in around 5000 BC, which held until powers from the Mediterranean decided to colonize Spain. Finally, in 218 BC, the Romans began their conquest of Hispania. They endowed the Iberian Peninsula with their legal system, administrative infrastructure, and many elegant buildings, including amphitheaters and aqueducts, some of which can be seen across Spain today.
However, in the 5th century AD, the Western Roman Empire collapsed. After that, a recurring theme in early Spanish history was the nation's susceptibility to foreign invasion – empires that rose and fell on Spanish soil invariable came from elsewhere. In time, that pattern would transform into a struggle for the soul of Spain. The Visigoths, a civilization from northern Europe, made Toledo their capital in 542 and ruled over their Spanish territories for almost two centuries.
But the Visigoths could not withstand the might of the Arab and Berber armies from North Africa, who began their conquest of Spain in 711. Encountering little resistance from the disorganized and soon to be disposed rulers, Tariq ibn Ziyad's armies, the Muslim governor of Tangier, swept across Spain. Their advance into Europe was checked by the Franks at the battle of Poitiers in 732.
The enlightened Islamic civilization that would control most of the Iberian Peninsula for centuries would be called Al-Andalus. However, resistance to their rule began almost immediately – the city of Pamplona fell to the Basques in 755. Indeed, many battles were fought between the Christian forces of Northern Spain and the Muslim armies over the next few centuries.
Middle Ages
It is during this point in history that Ezcaray enters the playing field. The settlement was founded in the 10th century by the Navarrese kings to repopulate their expanding territories. The name comes from the Basque term "Haitz-Garai," which means high rock, referring to "The pillory of San Torcuato," a cliff about 200 meters high that rises above the valley's entrance. By this period, Navarra had emerged as an independent Christian kingdom – Sancho I Garces became king of Pamplona. His successor, Sancho III the Great, distributed his kingdoms among his sons, and Ezcaray fell under the control of his heir García Sánchez III.
Unfortunately, the settlement was annexed by the kingdom of Castile in 1076, when Alfonso VI captured the lands formerly belonging to the Navarrese kingdom. Yet, in the 14th century, the Castilian King Ferdinand IV granted an exclusive charter to the now thriving town of Ezcaray, granting them certain self-determination rights. Ezcaray enjoyed an unparalleled period of growth and prosperity as part of the unified Christian kingdom, cemented by the marriage of the monarchs Fernando and Isabel in Valladolid in 1269. The last Moorish stronghold, Granada, fell in 1492. Spain was a unified country again.
The 17th century was a significant decade for the whole of Spain. The nation entered a golden age, which saw hitherto unknown artists and writers achieve widespread fame. Also, the Rioja region's economy had become so inexorably linked to its vineyards that the Mayor of Logrono banned carriages from passing along roads near the wineries in 1635. Rioja's first recorded commitment to quality dates back to this period; in 1650, official documents referred to quality control.
The 18 century was similarly a very prosperous time for the citizens of Ezcaray. King Ferdinand VI founded the Royal Cloth Factory this century, which remained profitable until the 1950s. Moreover, the Real Sociedad Economica de Cosecheros de Rioja (Royal Economic Society of Rioja Wine Producers) was established in Haro this century. Ezcaray was subsequently integrated into the society, along with other Rioja municipalities.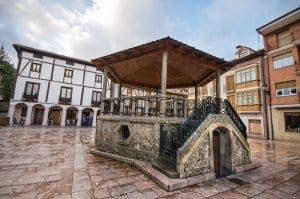 Modern times
Ezcaray played a pivotal role in the events of the Spanish War of Independence. In 1807, French forces poured into Spain, supposedly on the way to Portugal, but by 1808 this had become Spain's French occupation. Ezcaray, due to its strategic position and textile industries, was an obvious target of Napoleons' armies. In 1808, troops settled in Haro and demanded that Ezcaray supply them livestock, textures, and money. However, in 1809, General Bartolomé Amor Pisa's soldiers helped to push the French out of Ezcaray; they were finally driven out of Spain after the defeat at Vitoria in 1813.
But despite Spain's victory against the French, the nation was bitterly divided and prone to civil and political unrest. Its initial foray into democracy in 1873 lasted only one year, consuming four presidents. In the 20th century, Spain would be split by the Spanish Civil War outbreak between the Nationalists, led by General Franco, and the official government of the Second Republic. Established in 1931, Franco rose up against the legitimate Spanish government in 1936, finally achieving victory in 1939. However, this is a complicated period in history – Franco asserted total control over Spain's social and political life but kept the nation out of the Two World Wars. In 1953, the Consejo Regulador (regulatory board) of Rioja was officially recognized by the Spanish government led by Franco.
Spain fully embraced democracy after the death of Franco, which it continues to defend today fiercely. Ezcaray has since prospered as a tourism destination and as a village nestled at the heart of Rioja wine production. Yet even newcomers to Spain's signature wine style will find much to love in Ezcaray – the interlocking lanes and plazas of the compact Old Town are abuzz with shops, markets, cafes, and tapas bars. It's a hedonistic paradise waiting to be explored.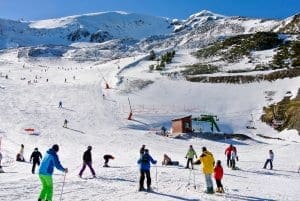 Gastronomy & Wine
If one thing unites Spain's diverse and proud citizens, it is undoubtedly a passion for eating and drinking. Spain boasts great culinary culture, and in this regard, Ezcaray is no exception. One of the world's most enjoyable ways to eat is sampling tapas, preferably in as many different bars as possible. Ezcaray does this venerable tradition full justice – these bite-sized bar snacks are the accompaniments to seemingly endless nights of revelry in Ezcaray's Old Town.
Of course, your choices are not merely limited to tapas in Ezcaray, mouthwatering as they are. The region's gastronomy benefits from the wealth of fruit and vegetables grown in local market gardens, in addition to an abundance of meat and game and fresh fish – both from the Atlantic and rivers. The most iconic local dish is solomillo al vino de Rioja, beefsteak macerated in red Rioja and brandy and cooked with shallots and mushrooms. Utterly delicious when paired with a velvety Rioja Gran Reserva. Meat lovers also swoon over the signature lamb dish of lechazo asado or cordero lechal asado, a young milk-fed lamb rubbed with garlic and roasted in a hot wood-fired oven until tender – the flavors are unsurpassed. Fresh seafood also features prominently on local menus, particularly trout and freshwater crayfish from local rivers, and Atlantic hake (merluza) and Bacalao (salted cod) from the Atlantic. So if you'll forgive the cliché, you are spoiled for choice in Ezcaray.
In terms of wine, the most appropriate question would be – where do you start? Rioja has been producing world-class wine for hundreds of years – the humble grape has created enormous wealth for villages like Ezcaray. Red, white and sparkling styles are produced across the region, covering some 63,500 hectares under vine, spread across three distinct sub-regions. Rioja Alta is situated west of Logrono; Rioja Alavesa is partly located in Alava, a province in the Basque Country to the north. Finally, Rioja Oriental is found southeast of Logrono, parts of which lie in the neighboring region of Navarra.
Tempranillo is the mainstay of red Rioja, producing wines of unparalleled velvety complexity with bottle age. Rioja has a strict hierarchy – young wines are in their first or second years, delightfully fresh and fruity wines for early consumption. Crianzas must have matured into their third year, while Reservas and Gran Reservas pay homage to the best vintages. However, some producers avoid the official classification, making wines in a more powerful, concentrated style that eschews long aging in American oak. Thankfully, there are enough styles to please everyone; these are wines that beg to be served alongside Rioja's splendidly diverse gastronomy.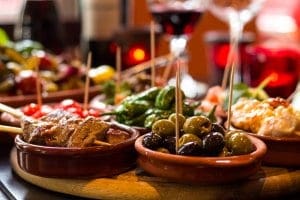 Highlights
Church of Santa Maria Mayor

Extensively rebuilt in the fifteenth century, the church of Santa Maria Mayor is exquisite. The main altarpiece, which dates back from the 16th century, is of great interest, as is the existing museum in its sacristy, which includes carvings from the village churches.

The compact old quarter of Haro is a beautiful place to get 'lost' for a few hours. Its intriguing alleyways, filled with bars and shops aplenty, never fail to seduce visitors.

Sierra de la Demanda

La Rioja's spectacular mountain range is a paradise for hikers and outdoor enthusiasts.

A name synonymous with excellent red and white wine, Rioja begs to be explored. Let Cellar Tours organize the visit of a lifetime.