Antibes is an extraordinary part of the Cote d'Azur (Azure Coast). Writers, artists, and tourists are seduced by the glistening seas, spectacular views, lush hills, and vibrant cultural life for centuries. Although a small destination, compared to Nice and Toulon, Antibes is a concentrate of local history. The town's sea walls bear witness to its turbulent past, while Golfe Juan staged Napoleon Bonaparte's surprise return from his exile on the island of Elba, Italy. To visit Antibes is to understand why writers such as F Scott Fitzgerald – author of Tender is the Night – could not help but propel the Cote d'Azur's magical villages to international stardom.
History
Early Homo Sapiens have inhabited the Cote d'Azur for many centuries – burgeoning Mediterranean powers such as the Ligurians and Greeks were quick to spot the appeal of this spectacular piece of coastline. Indeed, the eastern part of France's Mediterranean coast was occupied by the Ligurians from the 1st Millennium BC. They used the Cote d'Azur as a trading and fishing base, prospering from the bountiful local produce and serene climate.
However, The Greeks weren't prepared to sit idly by and let the Ligurians enjoy the Cote d'Azur unchallenged. They arrived at about 600BC and took control of the region, colonizing settlements along the coast, including Antibes. The Greeks founded it in the 5th century BC, known as 'Antipolis.' All was well and prosperous until the Romans wrestled control of the Cote d'Azur and, indeed, France away from Celtic Gauls and other civilizations. They fought an alliance of Celto-Ligurians, who threatened to invade the former Greek settlement of Massilia – today, Marseille – triumphing over their opponents in 125 BC. As they consolidated their hold over southern France, the Romans created Provincia Romana – the land between the sea, the Alps, and the River Rhone – which ultimately became Provence.
Of course, it could not last. By the 5th century AD, Roman control over Western Europe was looking very tenacious indeed. Better armed and organized competitors – tribes such as the Visigoths from Northern Europe – kicked the Romans out in the 5th century. Neighboring Marseille temporarily became a Visigothic stronghold, and darkness descended over Antibes for many centuries.
Little is known about the town's fate during this period; after the collapse of the Roman empire, Antibes suffered centuries of unrest and consistent invasions by various tribes desperate to control such a prized piece of real estate. After the Visigoths came and went, the Franks, Saracens from North Africa, and Aragonese tried to subjugate the region.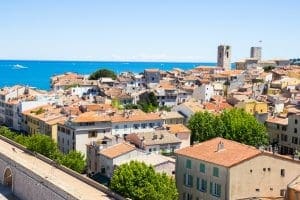 Middle Ages
Yet, in the late 14th century, Antibes' fortunes started to recover. In 1388, regional capital Nice was incorporated into the house of Savoy, a royal family established in 1003 with grand ambitions. However, Antibes and most of the Cote d'Azur became part of the French kingdom in 1482. Neighboring Nice had switched alliances to Savoy, which led to fierce battles between Antibes and Nice, leading to the construction of sea walls, which are still in evidence today. Nevertheless, Antibes prospered as part of the French kingdom, growing wealthy from Mediterranean trade and fishing – history repeating itself, it seemed.
Unfortunately, the 16th century was hardly a stable period for the citizens of Antibes. The Reformation and the emergence of the Protestant faith caused massive divisions and unrest across France. The Wars of Religion ignited historic rivalries and caused much bloodshed, as conflict spread between the Huguenots (French Protestants), the Catholic League, and the Catholic monarchy.
In the 1700s, King Louis XIV sent an army to the city of Marseille in Provence to quash a violent uprising. There were yet more trials and tribulations for every citizen of Provence, not least the Black Death outbreak in 1720, which killed over 90,000 people. But Antibes continued to prosper, lacking the political importance of its larger neighbors. For the most part, the thriving town was left alone.
Nevertheless, Antibes could only keep its head down for so long. Significant social and economic injustices were pushing French society headfirst into revolutionary territory. In the 18th century, France was declared a constitutional monarchy and reforms enacted, but this was not enough to starve revolutionary fever. An uprising saw Louis XV publicly guillotined in January 1793 and the establishment of the First French Republic. However, even that was to prove inherently fragile; Napoleon Bonaparte rose to power in the early 19th century. He was exiled to Elba in 1814, although he escaped from the Mediterranean island kingdom in 1815. Landing at Golfe Juan – a resort close to Antibes – he marched north and entered Paris on May 20. But, Napoleon's subsequent defeat at the battle of Waterloo led to his permanent banishment. His remains are buried at Paris' Eglise du Dome.
Modern Times
Antibes saw several significant political and social changes in the mid and late 19th century. Napoleon's nephew led a coup d'etat in 1851 and proclaimed himself Emperor Napoleon III of the Second Empire. After the Austrians were driven out of Northern Italy due to an agreement between Napoleon III and the House of Savoy, France took possession of Savoy.
Meanwhile, the Cote d'Azur was becoming more and more celebrated as a playground of wealthy debutantes, artists, writers, and tourists. Sleepy towns like Antibes are propelled to fame, and the landscape was immortalized in brush strokes and verses. Before too long, little fishing ports were morphing into glamorous resorts. Antibes would never be quiet again. The construction of the first luxury hotel in 1870 only added to the region's appeal.
The 20th century saw two terrible World Wars break out across Europe, and yet Antibes continued to prosper, despite the political turbulence and machinations. Paid holidays for all French workers from 1936 and improved rail and road links saw more and more visitors arrive in the 1930s, making it a year-round holiday playground. After the end of WWII, famous Spanish artist Pablo Picasso came to the town in 1946, having visited his friend and fellow painter Gerald Murphy. During his six-month stay at Chateau Grimaldi, Picasso produced many masterpieces – the castle has since become the Picasso Museum. However, Antibes can work hard when it needs to; Antibes' area inland has become home to France's "Silicon Valley," a massive center of technological innovation and research in Europe.
These days, Antibes and the Cote d'Azur are still the destination de rigueur for the celebrity set. It's not hard to see why. The hedonistic lifestyle, the gorgeous scenery, the glamour, the sophistication – Antibes inflames the senses and nourishes the soul. Its marina is the second biggest in Europe, attracting the best and brightest of Europe's yacht set, who come to enjoy the food, culture, wine, and weather. Shimmering Mediterranean shores, the very best of Mediterranean cuisine, a unique historical legacy, and an Alpine wilderness within an hour's drive. No wonder Antibes sells itself, year after year.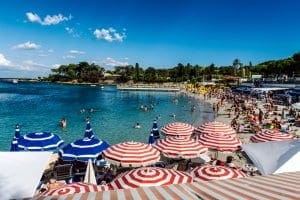 Gastronomy & Wine
The quality of food and drink in the Cote d'Azur is almost overwhelming. The imagery is as potent as any other gastronomic capital of the world. The region offers acres of rose-yielding vineyards, turquoise waters bursting with fresh seafood, market stalls that groan under the weight of shiny fruit and vegetables, and the best herbs in France. It is a place to indulge your every gastronomic desire – be it simple or sophisticated. Immigration and modern culinary techniques have varied the palate and added verve and exciting innovation to classical dishes, while Michelin-starred dining is almost ubiquitous in the region. The only price to pay for these endless indulgences is possibly your waistline.
Yet, in a sense, little has changed. The Roman legacy of olives, wheat, and wine, remains the undisputed trinity of la cuisine provençale. Many local dishes are prepared with olive oil and very generous amounts of garlic. In a local restaurant, you'll undoubtedly see much seafood on the menu – always fresh and always seasonal. There's usually an abundance of John Dory, sea bream, turbot, and especially loup de mer (sea bass), often cooked in a salt crust, which tastes far better than you might imagine. Then, there's the freshest shellfish: king prawns, oysters, mussels, sea urchin, and scallops make the ideal medley, served together as a "plateaux de fruits de mer."
But if you want to eat like a local, order soupe de poissons or even better, bouillabaisse. Marseille claims to hold a monopoly on authentic versions, but good examples are available across the Cote d'Azur. It is a lovely fish chowder made with at least three fresh saltwater fish cooked in a broth containing onions, tomatoes, saffron, and various herbs. It is eaten as a main course with toasted bread and rouille, a spicy mayonnaise of olive oil, garlic, and chili pepper. Divine!
Meat dishes and Provencal cheeses are no less tempting. If you visit in May, order gigot d'agneau (leg of spring lamb) prepared with olive oil, garlic, and herbs, but it is exquisite. In winter, game meat dominates, while rabbit cooked in a tomato sauce with olives is irresistible with local reds – more on that soon. Cheese lovers always rave about the quality of local goat's cheese, particularly Fromage de Banon, a specialty of the Luberon region, which comes wrapped in chestnut leaves.
So too, are your wine choices almost limitless. Once, the Provence wine region was dismissed as a one-trick pony – the land of straightforward, sun-kissed rose. And while it is true that many appellations in Provence are rose workhorses, your wine options stretch far beyond poolside quaffing.
Bandol is a classic case in point. A relatively young appellation, created in 1941, Bandol now covers many wine styles and price points. Its signature red blend relies heavily on Mourvedre, which thrives in the local hot climate, ripening to spicy, exotic elegance. The best Bandol reds are brilliant examples of local terroir merging with sophisticated winemaking: powerful, structured, and yet very fresh and balanced. Grenache also plays an important role, while the formerly 'stale' white wines are riding a wave of investment and experimentation. Oxidized and flat has been replaced with fruit-driven, fresh and elegant, with a dose of French barrique, often adding structure and class. Of course, quality varies as in all regions, but we can promise you this – there is no shortage of excitement and innovation in 21st century Provence winemaking.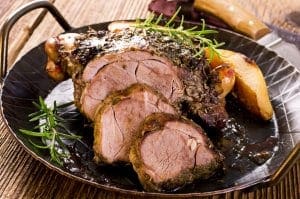 Highlights
One of the best experiences wine lovers can enjoy while in Provence is actually visiting the beautiful Chateaux and vineyards, tasting top wines in historic cellars and picturesque tasting rooms. Imagine yourself sipping rosé in the sunshine while admiring the views of lavender and cypress-lined rows of vines, before sitting down with your hosts for a Provençal wine tutorial. Learn all about the region's varied grape varietals, terroir, and local winemaking; walk through the vines
and taste the grapes; soak up the dreamy views of mountains and the patchwork of vineyards… A wine tour of Provence will leave you with lifelong precious memories, get in touch for more info on our private,
luxury tours

Art lovers always adore a visit to the 12th century Chateau Grimaldi, which Picasso used as a studio in the 1940s. The collection of sculptures, drawings, and other curiosities is unrivaled in Provence.

The entertaining and light-hearted Musee Peynet displays more than 300 humorous cartoons, pictures, and costumes by former Antibes resident Raymond Peynet, as well as witty temporary exhibitions.

St Tropez

Despite the undeniable bling, St Tropez is a must-visit icon of Cote d'Azur style. Avoid high summer – in the gorgeous autumn or spring light; it is hard to imagine that the pretty terracotta fishing village of St Tropez is one of the world's most chic resorts. The crowds are thinner, the experience far superior.