Fantastic food, excellent wine, heady history, and rolling countryside sum up the delightful Dordogne region. Long a favorite place for discerning travelers to enjoy rest, Perigueux is understandably one of the most sought-after destinations along this tranquil and captivating stretch of river. It is the biggest (and busiest) city of the Dordogne departement, with a bustling commercial center and a surfeit of charming bars, cafes, restaurants, and shops. Indeed, it's no secret that Perigueux has become the place to visit in summer.
History
Historically, there has been a settlement on the site of present-day Perigueux for over 200 years. Initially occupied by Gallic tribes, the settlement was occupied by the Romans during their conquest of Gaul. By the end of the third century AD, Perigueux (or Versunna, to give it its Roman name) was among the most important cities in Roman Gaul. Strategically important and prosperous, it embellished with many civic amenities, including temples, baths, amphitheaters, and a forum. It was also heavily fortified to offer stiff resistance against an opposing army.
Yet Roman rule in France was ultimately not to endure. In the 5th century, ongoing pressure from rival powers caused the collapse of the Western Roman Empire in 476. After that, France fell under the control of the Frankish Merovingian and Carolingian dynasties; their reign lasted for over four centuries. However, despite the fall of the Roman Empire, the Merovingians adopted many aspects of Gallo-Roman culture, including the Christian religion.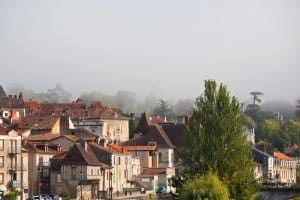 Middle Ages
Little is known about Perigueux during this period – the next crucial historical event occurred in 1152, when Eleanor of Aquitaine married Henry of Anjou, bringing a further third of France under the English crown's control – including the Dordogne and its towns and cities. It marked the frontier between the French and English forces during the Hundred Years' War; the area is sometimes known as the 'Land of 1001 Chateaux' thanks to its abundance of historic castles. Eventually, after a seemingly endless struggle and bloody fighting, French Monarch Charles VII marched triumphantly into Paris in 1437. However, it was not until 1453 that the English were almost entirely driven from French territory (except for Calais).
The 16th and 17th centuries were hardly a more stable time for the inhabitants of Perigueux, yet the quieter periods saw a flourishing of impressive architecture; indeed, some of the most beautiful Gothic and Renaissance residences were built in Perigueux. Meanwhile, a burgeoning wealthy rural elite built over a thousand chateaux, manor, and country houses.
Sadly, the Wars of Religion between the Catholics and Huguenots (French Protestants who received help from the English) saw much bloodshed across the region. At the time, the Dordogne area was a mighty stronghold of Huguenot resistance, along with the coastal city of La Rochelle. However, the ascendancy of the Roi Soleil (Sun King) Louis XIV did not help their cause; a staunch Catholic, he revoked the Edict of Nantes in 1685, which had guaranteed the Huguenots many civil and political rights, notably freedom of conscience.
In September 1792, France's First Republic was declared by the radical Jacobins led by Robespierre, Danton, and Marat. The casualties were severe; Louis XVI and his wife were publicly executed – the reign of terror between September 1793 and July 1974 saw churches closed, cathedrals turned into "Temples of Reason," and thousands incarcerated in dungeons in Paris' Conciergerie before being beheaded.
But the Republic was not to last. A young Corsican general named Napoleon Bonaparte assumed power as Consul of the First Empire in 1799. However, Napoleon was ultimately exiled to the island of St Helena, and the Second Republic was declared in 1848. Napoleon's nephew was initially proclaimed president, but he led a coup d'etat and proclaimed himself Emperor Napoleon III of the Second Empire in 1851. But, like his uncle, he embroiled France in various costly wars – the people revolted, and France's third, and final, Republic was declared in 1870.
Despite a difficult start, the Third Republic ushered in the glittering belle epoque (beautiful age), with art-nouveau architecture and impressive advances in science and engineering, including the construction of France's first metro line in Paris. During this time, the Atlantic coast, and indeed the Dordogne, became a popular spot for wealthy Parisians to take a vacation.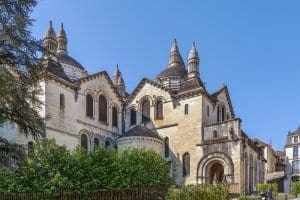 Modern Times
The specter of the Two World Wars still haunts France to this day. Perigueux was relatively unaffected by the 1st World War, but during the Second World War, southern France fell under the puppet Vichy regime's control, subordinate to the Nazis. The Vichy government was viciously anti-Semitic, and in 1940, many Jews living in the Alsace region were evacuated to Perigueux for their protection.
Contemporary Perigueux provides a fitting ode to the complex and turbulent history of the Dordogne region. Part modern city, history still seeps through the cracks: Roman remains, including a ruined temple and a luxurious provincial villa discovered in 1959, can be found in the suburbs of the old quarter, while medieval buildings and Renaissance mansions are dotted around the rabbit-warren city center. It all adds up to a wonderful package of culture and hedonism for discerning visitors and is well worth raising a glass to!
Gastronomy & Wine
Strictly speaking, the Dordogne is a departement, not a region: this part of France is better known to the French as the Perigord. It's been divided into four color-coded areas for easy navigation: Perigord Vert (green), Perigord Noir (black), Perigord Pourpre (Purple), and Perigord Blanc (white) after the limestone hills that surround Perigueux. Each of the four sub-regions offers many gastronomic delights – this is a food culture that emphasizes tradition, above all else. Indeed, traditional ingredients abound and end up in dishes that are legendary throughout France; stuffed goose neck, preserved goose and duck confits, foie gras, and truffles. The time-honored practice of preserving meats by cooking them slowly and lovingly in their own fat, then storing them in earthenware pots, is responsible for flavors that verge on the scandalous. Confit de Canard, served with local wine, really is something quite special. The custom is said to date back from the time of the Moorish invasion of Spain.
Pate de Foie Gras will be seen everywhere on your trip to Perigueux – locals are justly proud of this venerable gastronomic delicacy. But even more revered is the "black diamonds" of Perigord; black truffles from the Perigord region are said to be the finest in France. It is a rare type of fungi, concealed beneath the shady oak trees, which produces a network of white threads at the soil's surface – mycelium – allowing foragers to recognize it. Even a small shaving offers an incredibly concentrated and potent aroma and flavor. Walnuts and chestnuts are also highly prized, as is the pastis, the queen of local patisserie, made from paper-thin pastry and flavored with apples and Armagnac from neighboring Gascony.
Of course, all this excellent gastronomy deserves a good wine pairing, and in this regard, the Perigord does not disappoint. The wine you'll see everywhere is from Bergerac – both a famous city and wine appellation. Reds are usually composed of Cabernet Sauvignon, Cabernet Franc, and Merlot, while the whites are blends of Semillon and Sauvignon Blanc, often with Sauvignon Gris or Muscadelle added. The sweet wines from Monbazillac are also justly revered, offering an excellent alternative to Sauternes.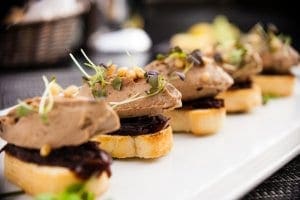 Highlights
Perigueux's most distinctive landmark is this gorgeous 12th-century cathedral, known for its five Byzantine bump-studded domes (inspired by St Mark's Basilica in Venice). The interior is laid out in a Greek cross, with the soaring domes supported by svelte arches.

Medieval quarter

Perigueux's medieval quarter is north of the cathedral, a captivating tangle of cobblestone streets lined with haphazard houses and charming cafes.

The remains of a once-thriving Roman outpost is located west of the city center. The ruins of the Roman amphitheater are particularly impressive – designed to hold over 30,000 baying spectators; it was one of the biggest structures in Gaul.

The museum of Perigord houses archeological finds, including some fine Roman mosaics and unique examples of prehistoric scrimshaw.