What could be more romantic than waking up in luxury splendor with views of majestic vineyards or historic wine villages like St-Emilion? Wine lovers searching for a special weekend break this Valentine's Day are spoilt for choice in France. Will you spend the afternoon sipping Dom Perignon in the beautiful Champagne capital of Reims, or dine at one of Bordeaux's many Michelin-starred restaurants, sampling the finest vintages money can buy? For there has never been a better time to pay a visit to one of France's historic wine regions – the nation's wine estates have forcefully embraced wine tourism for the 21st century. Indeed, historically French wine producers regarded the concept of wine tourism as entirely alien. However, French Vignerons have cast an appreciative eye at the commercial success being enjoyed in Napa Valley's tasting rooms or Rioja's cellar doors. So France is now fully equipped to receive visitors and promote its wine schools, excellent hotels, superb vineyard restaurants, and a wealth of properties that now welcome tourists.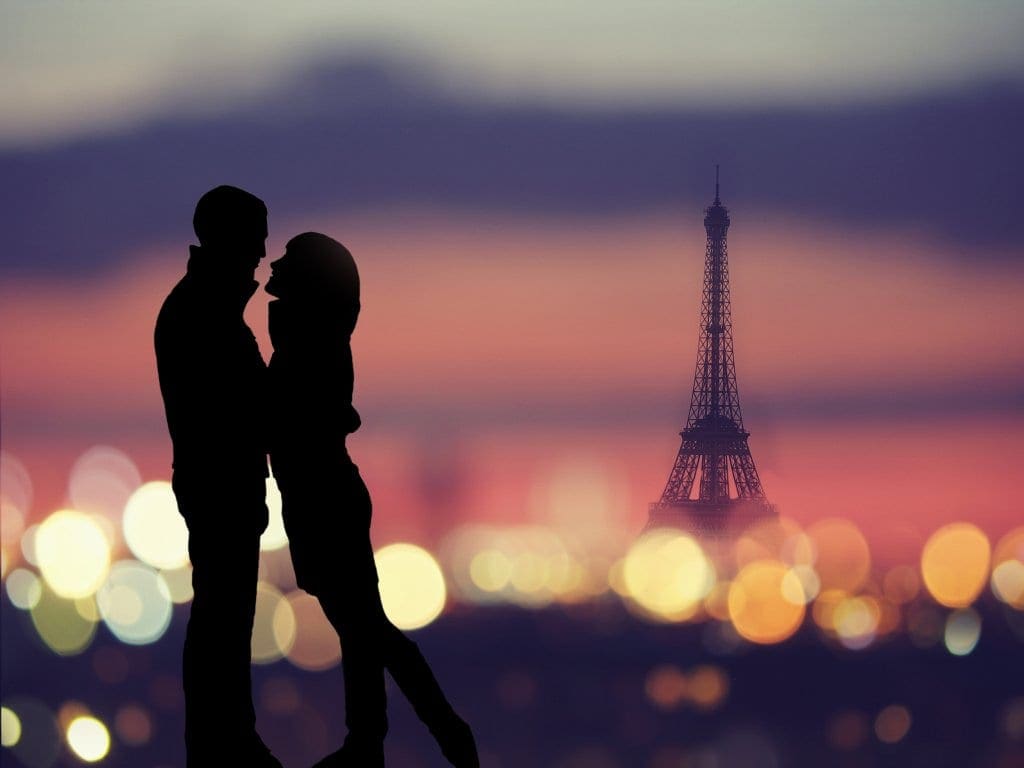 As for the origins of the first official Lothario, well, we like this Roman myth. In the third century Rome, Emperor Claudius II outlawed marriage for men under a certain age to keep men focused on fighting his battles. Valentinus, a young priest, defied Claudius and married young couples in secret until he was discovered and put to death!
So in honor of that brave man, who put love before all else, here are some suggestions for a romantic wine-themed break this Valentine's Day.
Champagne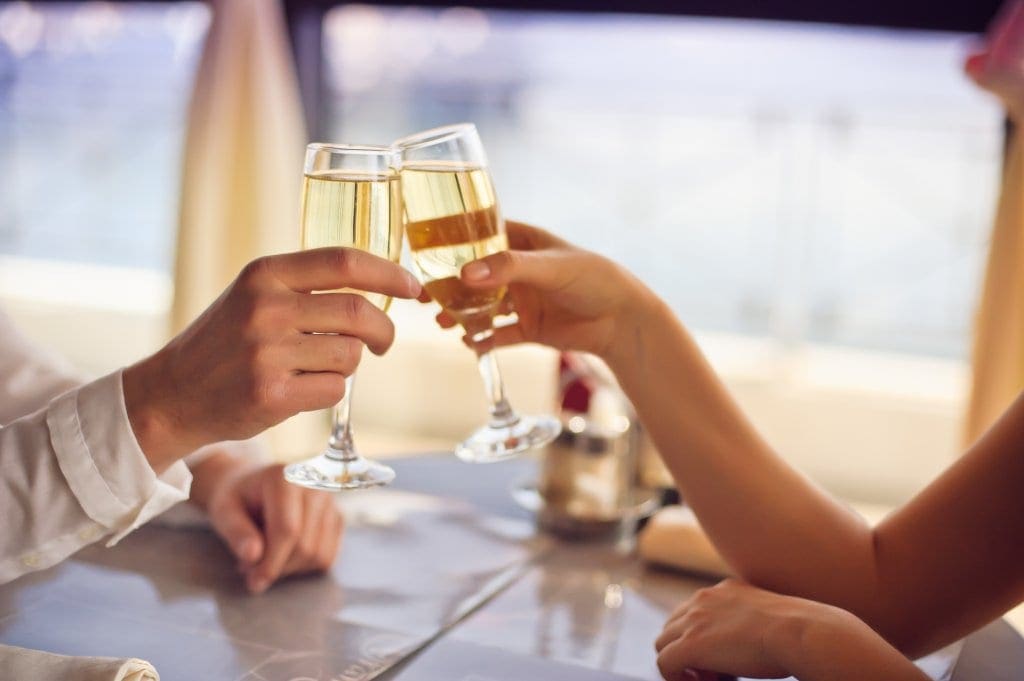 Why visit?
Because everyone knows that great Champagne is the drink of love and romance, that's why! The very mention of the word Champagne carries almost mystical properties. It invokes sophistication, luxury, and glamour and has been the drink of choice for celebrities and the aristocracy for over a century. But, bubbly is only part of the attraction. The Champagne region itself is a beautiful and fascinating place to visit, full of historic towns and cities, great gourmet adventures, and naturally, grand Champagne Houses where you can share a glass of recently disgorged Champagne in ancient cellars.
A brief history of Champagne
Champagne as a region has been making wine since early Roman times. By the ninth century, it had become an important wine-growing area for supplying the citizens of Paris with their evening tipple. However, it was not until the 17th century that the first sparkling wines started to appear, and not until the 19th century that Champagne was synonymous with great fizz. The man most credited with mastering the Champagne hallmark of blending different wines to achieve something far greater than the sum of its parts was a monk called Dom Perignon. His name lives on today in what is arguably the most famous luxury Champagne, owned by Moet-Hennessy.
Where to stay
Prepare to be seriously pampered and indulged at the legendary Chateau Les Crayeres in Reims. This gorgeous mansion, built at the beginning of the 20th century, boasts elegant, lavishly furnished, and adorned bedrooms, extensive grounds, and arguably the best restaurant in the region, Le Parc by Philippe Mille. Prepared to be dazzled, for Mille is one of France's great chefs; for a memorable and romantic Valentine's Day meal, we cannot imagine a finer restaurant.
Giving Les Crayeres stiff competition is L'Assiette Champenoise, which offers a more modern, contemporary experience with chic, stylish bedrooms & suites and an informal, relaxed ambiance. But the star attraction is undoubtedly Arnaud Lallement's superb 3 Michelin-starred cooking, using only the finest local ingredients and his culinary imagination to spectacular effect. And if that wasn't enough, the bar is the only place in Champagne – to our knowledge – that offers Krug by the glass. Formidable.
Highlights
Veuve Cliquot
For a great introduction to the history, folklore, and science behind Champagne's prestigious image, we cannot imagine a finer candidate than the house of Veuve Clicquot. The brand was founded in 1772 by the banker Philipe Cliquot, who decided to make use of his family's vineyards to start a wine business. However, his son's widow, the famous Madame Clicquot, really built up the brand's reputation, and today, Veuve operates as part of the LVMH luxury goods empire. Expect a fascinating tour through the cellars, plenty of interesting history, and more than one glass of their delicious Champagnes.
Reims
Renowned throughout the world from countless Champagne labels, Reims offers a rich historical legacy, great restaurants, and vibrant nightlife. Its most famous monument is the magnificent Gothic Cathedral Notre-Dame, which was begun in 1211. It served as a setting for the coronation of French kings and is rich in history and intrigue. The city also contains many of the noble Champagne Houses' headquarters, such as Krug and Taittinger, who are happy to welcome visitors.
Epernay
A short drive south of Reims is the delightful small city of Epernay. Although it lacks the grandeur of Reims, it does boast one of the most beautiful streets in the world: the Avenue de Champagne. Quite a few of the most famous firms have their headquarters here, and again they welcome visits from passionate Champagne lovers. You could, for example, treat your loved one to a tour of the historic cellars at Moet Moët & Chandon, which has a statue of the great Dom Perignon outside the entrance. And, of course, all tours must end with a glass of that famous wine!
Cellar Tours can organize a Romantic Champagne Weekend Away for you and your loved one.
Burgundy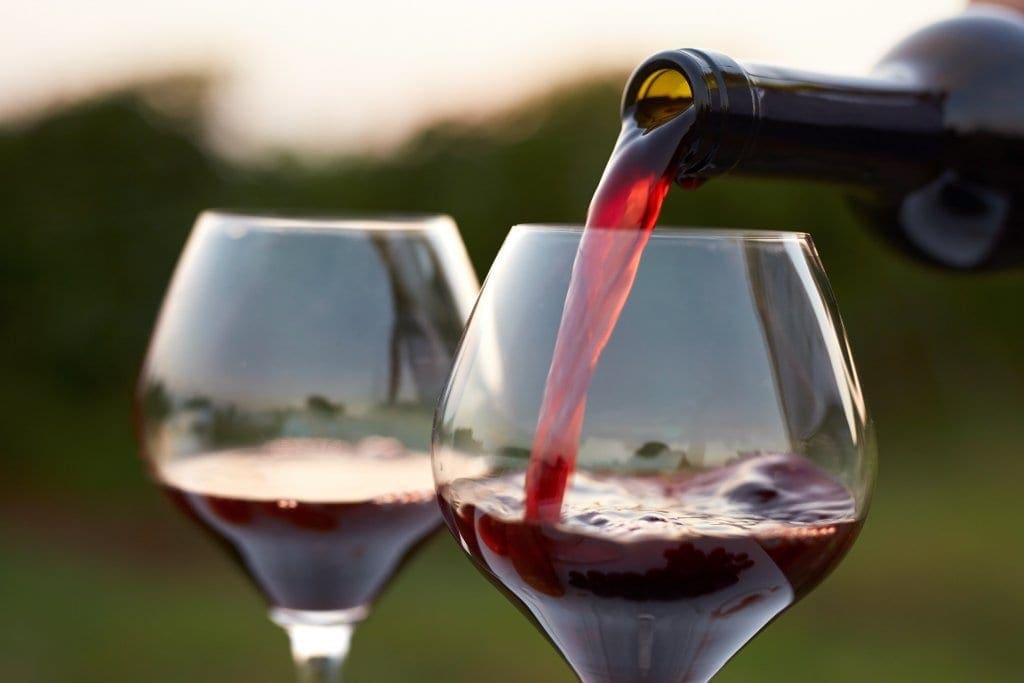 Why visit?
Welcome to France's richest province, culturally, historically, and gastronomically! The region's fine wines and beautiful landscapes have inspired awe for centuries, and for a couple with romance on their mind, we cannot imagine a better location for a wine-themed Valentine's Daybreak.
A brief history of Burgundy
Burgundy's splendor reached its heyday in the 15th century, when the Dukes of Burgundy built up one of the most powerful states in Europe, controlling parts of Holland and Belgium. During their reign, the nobility started acquiring the vineyards as part of their estates, and the power and importance of the church subsided. Centuries later, the red and white wines of Burgundy are in high demand, the finest wines fetching prices beyond belief.
Where to stay
Or, more accurately, the question is, where do you begin? Burgundy is now full of romantic Chateau accommodation and boutique guesthouses, perfect for couples who want to escape the outside world for a few days. Our top choice would be La Cueillette, in the white wine village of Meursault. Gorgeous Chateau accommodation is complemented by a state-of-the-art luxury wine spa specializing in treatments based on the healing power of the compounds found in grape skins. The restaurant is also top-notch; Alexander Bellini will prepare a gastronomic feast for your perfect Valentine's Day evening.
Couples who like smaller, more private affairs will love Le Clos du Cèdre in the charming town of Beaune. It offers individually tailored rooms, friendly, discrete service, and outstanding cuisine from head chef Christophe Canati, who was appointed in 2012 and has since earned its first Michelin Star. Modern luxury personified!
Highlights
Burgundy is a wine lover's dream come true. But even if the great wines of Chambertin or Meursault don't interest you (unlikely but hey), the range of attractions is still stunning impressive scenery – including a 1000 square mile natural park – historic and beautiful towns and cities, renowned gastronomy, and fine architecture await so make sure your guide includes the following gems:
Chassagne Montrachet
One of Burgundy's most important white wine villages is also one of the prettiest in the region, boasting a historic Chateau that today welcomes visitors with open arms. Chateau de Chassagne Montrachet was built in the 11th century and today boasts a modern tasting room, wine shop, and even a boutique hotel within the grounds. It's the perfect opportunity to get acquainted with white Burgundy's finer points in a gorgeous setting.
Chambertin
The Cote d'Or, most revered red wine village, is a surprisingly friendly, bustling, and relaxed place, with several good restaurants, hotels, and the beautiful Chateau, constructed in the late 13th century by Yves de Chazan, Abbot of Cluny. The surrounding vineyards are where the Pinot Noir grape is brought to perfection – rich, concentrated wines with a touch of the exotic and sensual. Visiting wine lovers should head to Domaine Rene Leclerc. The owners, Rene, and Francois Leclerc, are two of the most renowned and respected winemakers in Gevrey-Chambertin and offer a fantastic introduction to the commune's wines.
Beaune
Located between Dijon and Lyon in the Cote d'Or region, Beaune has been the nerve center of Burgundy since medieval times. Its historical and commercial importance to the wine-making region has left the city with an unrivaled architectural heritage – inside this walled city, the atmosphere is still largely medieval, full of Renaissance courtyards, hidden alleys, and many more surprises for the unsuspecting visitor – ideal for a late evening romantic stroll!
For more information on a Wine Tour in Burgundy
Bordeaux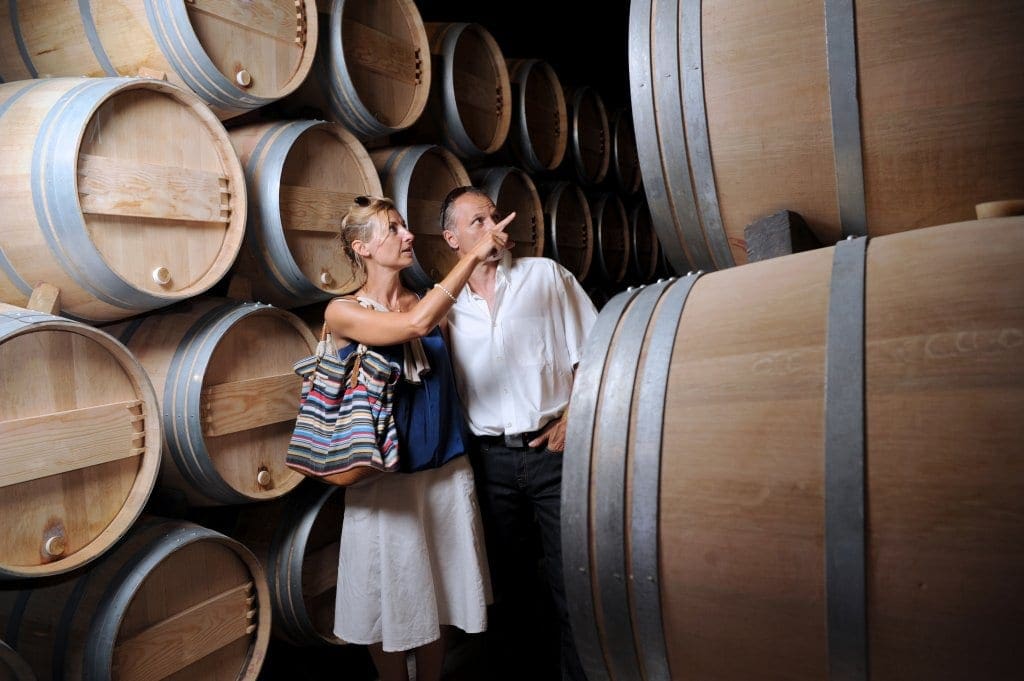 Why visit?
No area is more synonymous with fine wine than the dynamic and beautiful city of Bordeaux. Standing outside such legendary Chateaux as Margaux and Lafite is an extraordinary experience for wine lovers; the export of wine has always been the basis of the city's prosperity and renown. But, its attractions stretch far beyond imbibing superb wines, including the architectural wonder of the city itself.
A brief history of Bordeaux
Built on a Garonne river curve, Bordeaux has been a major port since pre-Roman times and, for centuries, a major focal point for European trade. The Romans planted vines in Bordeaux to satisfy their army's thirst, with the initial sites based just south of the city, in what we now call the Graves zone of Bordeaux. However, the industry started to flourish in the 17th century, when Dutch engineers began draining the Medoc's marshland for vine cultivation. The area's importance as a center of the fine wine trade remains undiminished today.
Where to stay
Magnificent Chateau with lavish dining rooms and vineyard views, cozy boutique hotels in picture-postcard villages, or modern accommodation in the center of Bordeaux – take your pick. Bordeaux caters to every possible whim and desire. But for a romantic weekend break, you can't go wrong with Cordeillan Bages in the Medoc. The restaurant is one of the region's finest. The Chateau's utter seclusion in the famous vineyards of Pauillac makes it an ideal candidate for couples who wish to escape and relax.
Another top choice is the Grand Hotel de Bordeaux & Spa. It has long been one of Bordeaux's finest hotels. Behind the gorgeous facade lies a panoply of perks, such as a Michelin-starred restaurant, a fantastic pampering spa, and extremely professional and gracious service. The more informal Brasserie L' Europe is the place to be at weekend lunchtimes.
Highlights
Where to start? Apart from the famous Chateau of the Medoc and Bordeaux's right bank, many attractions await the oenophile and gastronome. The region is full of great restaurants for starters, whether classical French Bistros or formal, elegant Michelin-starred establishments. Moreover, in recent years Bordeaux has become full of trendy wine bars, where you can sample as few or many vintages of local wines are you like in a lively and educational setting. Of course, there is the idyllic countryside, splendid historic villages, and numerous museums and architectural gems waiting to be discovered.
Medoc – Chateau visits
Welcome to the world's most important fine wine region. This famous wine-producing area lies close to the Gironde river, known as the Medoc; it contains the Chateaux of legends, including Margaux, Latour, and Mouton Rothschild. One of our top favorites for a friendly and engaging visit is Chateau Kirwan in Margaux. Its current owners, the Schyler family, are a well-established group of merchants who restored the estate to its former glory. Today Chateau Kirwan now produces some of the most powerful, elegant, and rich wines in Margaux. But more importantly, they welcome visitors and offer fascinating site tours and tutored tasting.
St-Emilion
Undoubtedly the region's prettiest village, it's not hard to see why couples are drawn to this bastion of history and fine wine. It's a UNESCO World Heritage site, thanks to its largely unspoiled character and medieval monuments. The place is bursting with chic boutiques, great cafes, and restaurants; indeed, simply taking a stroll around the center is a highlight in itself. Vineyards stretch in all directions from the old town hub, and many of Bordeaux's most famous estates are located in the region. We'd recommend visiting Chateau Angelus, recently promoted to the same status as Chateau Cheval Blanc and Ausone. With a new visitors center and tasting room, the multi-lingual staff will ensure a great tasting for all.
Explore Bordeaux
There is far more to this fascinating and lively city than simply fine wine. Exploring Bordeaux reveals a wealth of attractions, especially along the waterfront, where a long sweep of classical facades is broken by the Esplanade des Quinconces, with its striking fountains and statues. Another must-visit is the Basilique St-Michel, which was started in 1350 and took 200 years to complete. Make sure to see the 18th century Grand Theatre, a magnificent example of French Neoclassical style. For nightlife, head to the trendy St Pierre district.
More information on a Wine Tour of Bordeaux
The Loire Valley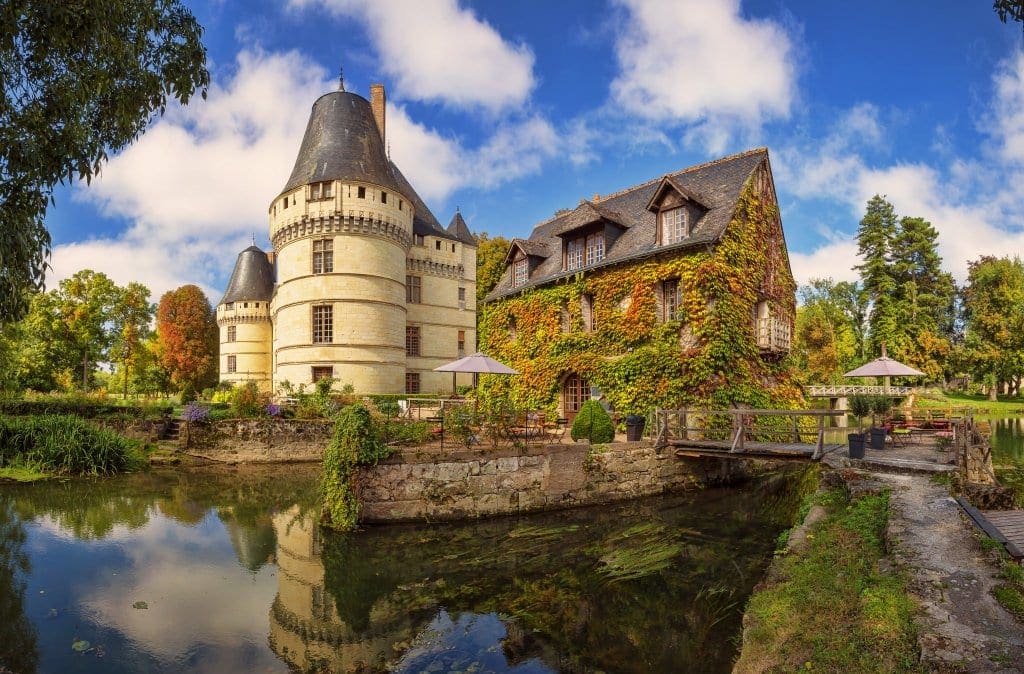 Why visit?
Renowned for its delicious wines, sumptuous Chateaux, and beautiful towns and villages, the glorious valley of the Loire is rich in both history and gastronomy. As the Loire runs through the heart of France, so the region embodies the essence of the French joie de vivre; sophisticated cities, luxuriant landscape, and magnificent food and wine offer the ultimate Valentine's Daybreak for any discerning wine lover.
A brief history of the Loire
The Loire Valley plays host to some of France's most historic towns and cities. The ancient port of Nantes, for example, was the ducal capital of Brittany for 600 years, and three of the greatest battles in French history were fought around Poitiers. Vines, like most French wine regions, were planted by the Romans in the 1st century AD. By the 5th century, viticulture flourished on these fertile river banks, and during the Middle Ages, the wines were held in greater esteem than those of Bordeaux further south. In particular, Sancerre has always been celebrated for its pungent, food-friendly Sauvignon Blanc and Vouvray for its delicious Chenin Blanc wines.
Where to stay
If stately, grandiose Chateau accommodation is your thing, then welcome to paradise! Our first suggestion would be Chateau de Noizay, a gorgeous Chateau amid the Vouvray appellation between Amboise and the city of Tours. The grounds are exquisite – in the summer months, you dine on a terrace surrounded by parkland, with majestic views of the Loire Valley. The restaurant is also one of the finest in the region, presided over by maestro Frederic Collin. You're simply going to love Chateau de Noizay.
Or perhaps a stay at the opulent Chateau de la Barre is in order. Near the charming village of Sarthe, guests are warmly welcomed by the resident Count & Countess Guy and Marnie de Vanssay. Arriving at the Chateau, you feel more like an old friend than just another hotel guest. Your hosts will arrange any activity you desire during your stay and invite you to join them for afternoon tea and special dinner events, with a mouth-watering selection of fine Loire wines accompany your feast.
Highlights
Blois
The utterly charming and chocolate box Blois is a quintessential Loire town. It rose to prominence during the reign of Louis XII, who established his court here in 1498. The town remained at the center of French Royal and political life for many decades after. But today, Blois offers a sedate, pedestrianized old quarter full of romantic courtyards and fine mansions. It's the perfect place to spend a leisurely afternoon with a loved one before enjoying an aperitif at one of the many lovely cafes dotted around. Also, make sure to visit the Chateau de Blois, home to kings Louis XII, Francois I, and Henri III.
Chateau de Chenonceau
No other Loire Chateau is as architecturally splendid or romantically positioned as Chateau de Chenonceau. Stretching across the River Cher, it is a fairy tale place, surrounded by elegant formal gardens and wooded grounds. But in fact, this Renaissance building started life as a modest manor and watermill. Over the centuries, it has been transformed by its various owners as a Palace solely for pleasure and relaxation—a great Valentine's Day out for any couple.
Sancerre
The Loire's most famous sub-region, Sancerre, has been renowned for decades for its pungent, singular expression of the Sauvignon Blanc grape, now much imitated the world over. But the original is still the best, and in recent times winemakers have been experimenting with barrel fermentation and extended lees aging, giving more depth to the wines. The village itself is charming and full of small outfits that will happily share their wines and history with visitors. We'd recommend Domaine Jean-Paul Balland for a great introduction to the wines of Sancerre. This superb, small family Domaine produces ripe and expressive whites from limestone and chalk-based soils. A great tasting awaits.
More information on a Luxury Loire Wine Tour
Related Blog Posts