Profile of Château Cos d'Estournel
If there is one stand out feature of this property, it must surely be the architecturally stunning winery itself. It is the first building you will see when entering the St-Estephe Appellation from Pauillac. It's impossible not to be impressed by the exotic grandeur, complete with genuine carved doors from Zanzibar and Asian inspired Pagodas. Unusually, there is no mansion at Cos (the owners lived off-site), and visitors often mistake the winery for the Château. St-Estephe is arguably the last of the great Medoc Appellations as you travel up the Gironde towards the Atlantic Ocean. Last is by no means least, however, as the region is full of delightful properties to visit, full of history and of course, fantastic wines.
Cos d'Estournel took its modern form after 1811, although there were probably vines on the gravel soils in the 18th century. Louis d'Estournel, a wealthy merchant who amassed his fortune in Asia, developed the estate and expanded its vineyards in the early 19th century. He commissioned the winery design to remind him of the time he had spent as a trader in the Far East. As is always the case in Bordeaux, ownership would pass into different families, and in 1852 the property was sold to English Bankers, who being generous souls (really, bankers?), continued to invest in the estate. In 1889, the Charmolue family brought Cos, before selling it in 1917 to Fernand Ginester. His daughter Arlette married into the Prats family, which is how in 1971, it came into the hands of Bruno Prats, who became an internationally known ambassador for the wine.
Bruno was a good ambassador for the estate, but he was also a hands-on owner and invested substantially in the property and reconstructed the vineyards. Although the property passed into the hands of Michel Reybier, a French food manufacturer in 2000, Bruno's son Jean-Guillaume has stayed on as general manager of the estate. Since 2004 the technical director has been Dominique Arangoits, who has made wine for the famous Hungarian dessert wine producer Tokaj. He produces rich and sumptuous wine, a firm favorite amongst critics, wine lovers, and anyone in the know. The interior of the property has recently been redesigned by Jacques García, one of France's leading cutting edge interior designers, and is simply gorgeous. Think elephant statues, flickering candles, Arabian nights…. If you like rich, delicious wines, stunning architecture, and a warm welcome, well, then you have come to the right place!
Wines produced
Château Cos d'Estournel (Grand Vin)

58% Cabernet Sauvignon, 38% Merlot, 2% Petit Verdot, 2% Cabernet Franc 18 months in 60% new oak barrels.

Les Pagodes De Cos (Second wine of the property)

58% Cabernet Sauvignon, 38% Merlot, 2% Petit Verdot, 2% Cabernet Franc, made from younger vines. Less concentration and power than the first wine
Winery details
St-Estephe
33180 Bordeaux
France
Tel +33 (0) 556 73 15 50
Fax +33 (0) 556 59 7259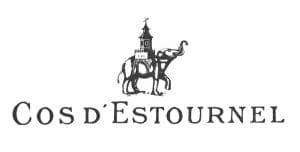 Appellation

AOC St-Estephe / Second Growth

Founded

1811

Area under vine

64 Ha

Age of vines

35 years+

Oak barrel origin

French
Winemaker

Dominique Arangoits

Owner

Michel Reybier

Production

360,000 bottles

Grape varietals

Cabernet Sauvignon, Merlot, Petit Verdot, Cabernet Franc